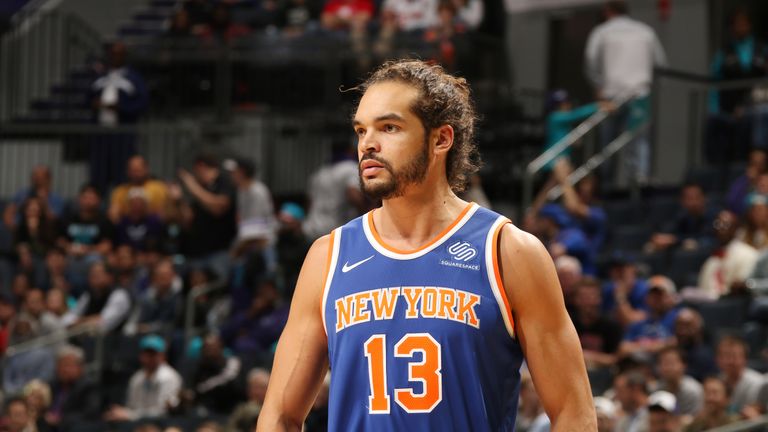 Joakim Noah's New York Knicks career has ended after just two seasons.
Unable to find a trade, the Knicks waived the 33-year-old center on Saturday with two years and $37.8m remaining on his contract.
Noah had been away from the team since clashing with former coach Jeff Hornacek last season, when he appeared in just seven games.
The Knicks had already decided he would not be rejoining the club under new coach David Fizdale but were hoping they could find a long shot trade to get something back for him without having to cut him.
The New York native signed with his hometown team in 2016 and drew a loud ovation in his first appearance at Madison Square Garden, where he was introduced as being from the Hell's Kitchen section of the city, rather than from Florida, the team he helped win two NCAA championships.
The Chicago Bulls selected him with the ninth overall pick in the 2007 draft. He had great years with the Bulls and was voted Defensive Player of the Year and first-team All-NBA in 2014.
But Noah had begun battling injuries and was already in decline by the time former Knicks President Phil Jackson gave him a $72m, four-year contract, and Noah failed to regain his old form.
His first season in New York ended early when he was suspended for 20 games by the NBA in March 2017 for a failed drug test, a suspension that carried into the 2017-18 season.
He was unable to regain his rotation spot once he was eligible to return and did not play again following his argument with Hornacek after playing four minutes in a defeat at Golden State on January 23.
Noah finished with an average of 4.6 points and 7.9 rebounds with New York. His $18.6m salary for this season will count fully against the salary cap and the Knicks can stretch out the remainder of his salary over multiple seasons.
The Knicks also waived Kadeem Allen and Jeff Coby, a move that reduced their roster to 17 players.