Mayweather vs McGregor: Conor McGregor vows to stop Floyd Mayweather inside one round
By Michael Kelleher
Last Updated: 23/08/17 12:32pm
Conor McGregor predicted he will knock out Floyd Mayweather inside one round as the pair faced the media at their Grand Arrivals event in Las Vegas.
McGregor, 29, will make his professional boxing debut against the former five-weight world champion at the T-Mobile Arena, in a match-up which will be live on Sky Sports Box Office.
The UFC lightweight champion previously predicted Mayweather would be stopped inside two rounds but revised that on Tuesday, saying he believes he can win inside the opening three minutes.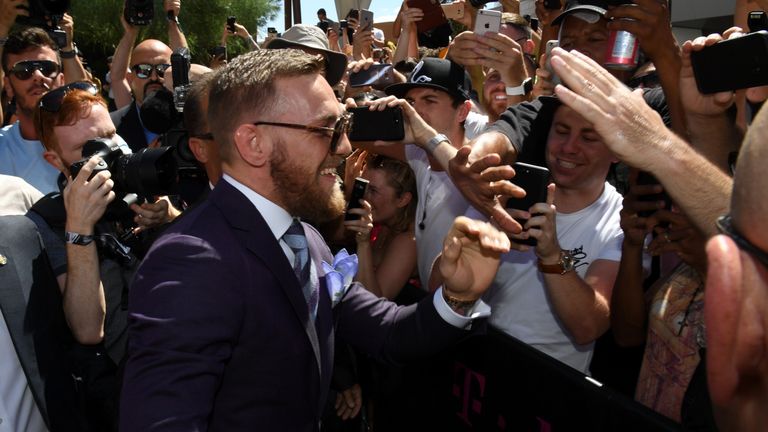 "I am calm and cold - the same way I am before every contest. I am ready to get in and do the business. I am fit, I am sharp and I am going to be ruthless in there," McGregor said.
"I believe he will be unconscious inside one round.
"It's just another day for me - another day, another fight. I have already whooped one of the faces of boxing. I am going to whoop another on August 26."
McGregor was greeted warmly by the fans in attendance with many Irish tricolour flags visible.
"Over the course of this next week, Las Vegas is Ireland," McGregor said. "We run Las Vegas so we are going to go and have fun with it.
"The Irish come to support me and you can't beat the Irish fans so we are here to take over this whole city."
Mayweather is also predicting a knockout victory and he promised his fans will be far happier after Saturday's event than they were after his drab victory over Manny Pacquiao.
"I told you guys before that this fight wouldn't go the distance," Mayweather said. "If you are going to bet, bet it won't go.
"The game plan is to be aggressive. I'm pretty sure his game plan is to be aggressive. So let's go out there and give the fans what they want to see.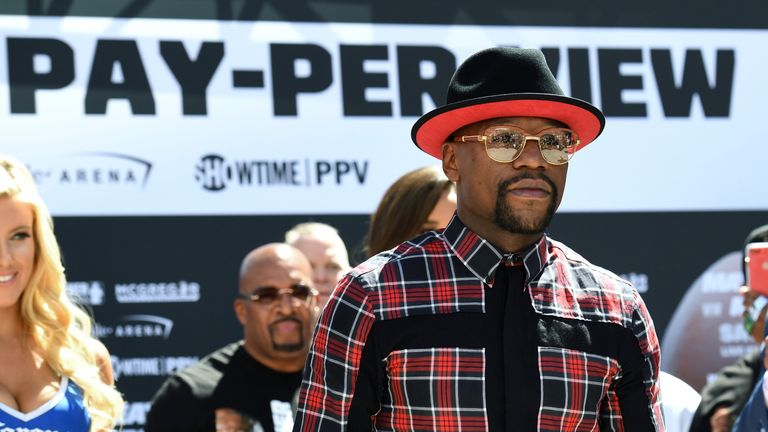 "The fans want to see blood, sweat and tears and that is what they are going to see on Saturday night.
"I owe the fans for the Pacquiao fight. I will go out there and give the fans what they want to see."
Watch Mayweather vs McGregor, from the T-Mobile Arena, Las Vegas, from midnight August 26, live on Sky Sports Box Office. Book via your Sky remote or online here.