Astana's UCI WorldTour licence at risk after UCI request withdrawal following audit
Last Updated: 27/02/15 7:16pm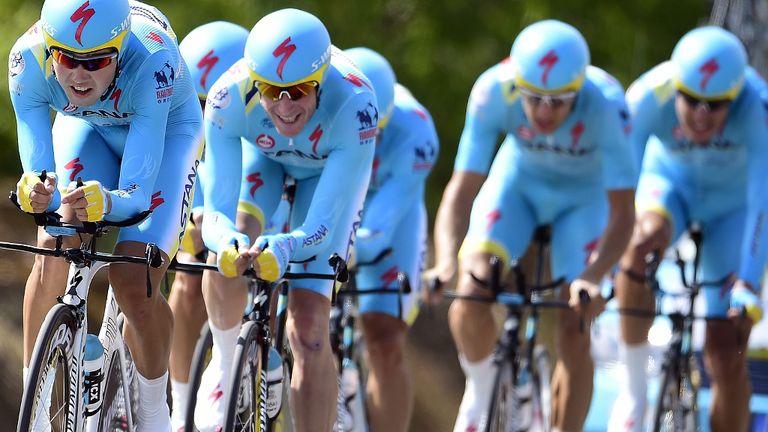 The International Cycling Union has asked for Astana's WordTour licence to be revoked following an independent audit.
The Kazakh team were placed on probation by the UCI in December after five riders from their senior and development teams failed drugs tests in 2014.
The UCI decided to grant Astana a WorldTour licence for 2015 but simultaneously ordered an audit into their practises and warned the licence could be withdrawn if it was found that the team's management had been responsible for doping within the team.
The audit was carried out by the Institute of Sport Sciences of the University of Lausanne (ISSUL), which discovered "a big difference" between the team's practises and the structures it had committed to in order to combat doping.
'Compelling grounds'
The UCI has consequently asked its Licence Commission to revoke Astana's WorldTour Licence.
A statement said: "The Union Cycliste Internationale (UCI) today confirms that it has now reviewed the audit produced by the Institute of Sport Sciences of the University of Lausanne (ISSUL) (1) on Astana Pro Team and its anti-doping culture, policies, structures and management systems. The audit was one of the conditions attached to the registration of the team in the 2015 UCI WorldTour.
"After review, in minute detail, of this extensive report, the UCI strongly believes that it contains compelling grounds to refer the matter to the Licence Commission (2) and request the Astana Pro Team licence be withdrawn.
"The UCI considers that the ISSUL audit has, amongst other things, revealed a big difference between the policies and structures that the team presented to the Licence Commission in December and the reality on the ground.
Padova link
"In addition, the Italian authorities have provided the UCI with the sections of the Padova investigation which it has been authorized to share. As some evidence concerns Astana Pro Team members, the file has been passed to the Licence Commission as part of this referral."
Astana's problems began in September last year, when it emerged that Valentin Iglinskiy had tested positive for EPO on August 11. News then following that Valentin's brother Maxim Iglinksiy had returned traces of the same banned substance at a doping control on August 1, five days after helping Vincenzo Nibali to victory at the Tour de France.
It then came to light that three riders from Astana Continental, the team's under-23 development squad, had also failed doping controls, with Ilya Davidenok, Viktor Okishev and Artur Fedosseyev all testing positive for steroids.