Chris Froome set to lead Team Sky at the Tour de France according to Dave Brailsford
British Cycling supremo Dave Brailsford has confirmed that Chris Froome is likely to lead Team Sky at next year's Tour.
Last Updated: 28/11/12 11:17am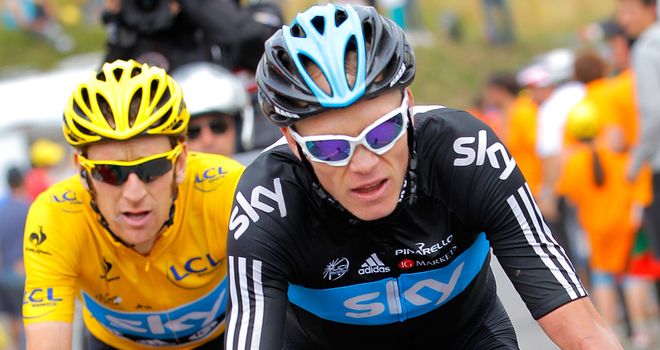 Froome had to play second fiddle in support of victorious team-mate Bradley Wiggins during this year's Tour, sometimes to his obvious frustration, but he will be the main man in the saddle next year under Brailsford's plan.
With this summer's Tour victor Wiggins seemingly set to focus on the Giro d'Italia, Brailsford, speaking to reporters at UK Sport's world class performance conference in Leeds, said: "We are just getting back into training now and need to do quite a lot of planning.
"But it does look as though the plan going into next year, which has still not completely been signed off, is that the Tour of Italy would be a very good target for Bradley and leave Froomey then to focus on the Tour de France."
Team Sky boss Brailsford is also British Cycling's performance director and he admitted the poaching of top staff has to be expected after the success of the team at the London Olympics - but that it could help the organisation stay at the top.
Three have gone to the Rugby Football Union - including this month the head of marginal gains Matt Parker, who worked closely with Wiggins - while psychologist Steve Peters has been snapped up by UK Athletics, though he will retain some involvement with cycling.
Brailsford insisted their replacements would bring new thinking into British Cycling and move the organisation forward.
New ideas
He added: "It's inevitable, but it means you get fresh people and new ideas.
"Matt Parker and our two performance analysts went off to rugby, but Matt had been there 10 years and if you carry on with the same group at some point in time you are going to get myopic.
"So I think bringing in people with new ideas that we listen to is healthy."
Brailsford also warned UK Athletics not to have unrealistic expectations about Peters.
He said: "If people buy into his ideas then they are the ones that can change the culture - but he can't do it on his own."