Bradley Wiggins and Mark Cavendish warned over track cycling return
Bradley Wiggins and Mark Cavendish will have to put their road careers on hold if they want to return to the track.
By Matt Westby
Last Updated: 12/02/13 3:11pm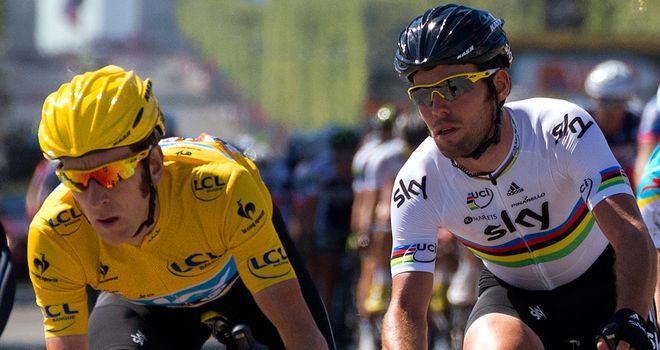 The duo are Britain's most successful road riders in history, having won 25 stages of the Tour de France, a yellow jersey and a world title between them, but both have hinted that they would like to return to the track in the four-man, 4km discipline in Rio de Janeiro.
Wiggins is keen to add another Olympic pursuit gold medal to the three he already has from Athens and Beijing, while Cavendish was romanced by the drama in the London Velodrome last summer and openly stated his desire to join the team.
Newton, the men's team pursuit coach, admitted he would welcome the pair putting their names forward for selection, but warned that they would only be considered if the track was their sole focus.
"We would like to break the world record," he said. "That is the benchmark and what we are aiming at. But it takes a huge commitment for an athlete to do that. They can't just walk in from the Tour de France and say, 'Oh, by the way, I want to be a team pursuit rider now'. It doesn't work like that any more.
"The event has moved on and for an athlete to commit that much time will impinge on their road career, so that is the athlete's choice."
'Huge commitment'
Asked the period of time Wiggins and Cavendish would have to take out of their road careers, Newton responded: "I think two years. It's a huge commitment. I don't know whether a road career will allow that."
Newton's stance will also apply to Geraint Thomas and Peter Kennaugh, who won team pursuit gold in London alongside Ed Clancy and Steven Burke, and Ben Swift.
All three riders were part of the endurance programme leading into last summer's Olympics but have since switched their sole focus to careers on the road with Team Sky.
Like Wiggins and Cavendish, Newton would be happy to consider them for selection, but with a fresh crop of young team pursuit riders coming through, he cannot guarantee they would still make the final four.
He added: "I have got a really good group of athletes to work with and some of these aren't at that level of Brad and Geraint and Pete, but they will soon get there and they will soon surpass that, so that's the point where those athletes [the senior road riders] need to say either 'Yeah, we want to be part of it again', or 'No', let it go and focus on their road career."
Clancy, a two-time Olympic team pursuit champion, would also welcome Wiggins and Cavendish into the fold, and revealed the latter was thrilled by the prospect after London 2012.
"Immediately after London, Cav was very excited," Clancy said. "He was all over it. He was super-excited about riding the team pursuit.
"I would love Cav and Brad to come back for one last hurrah, but I don't know whether it will happen. Those boys have got so much going on on the road for them. I don't know if it would be hard for those guys to justify it to their sponsors.
"I can only say it would be fantastic if they did want to come back and give it a crack."