Great Britain's women's team pursuit quartet can catch men, says Shane Sutton
Great Britain's women's team pursuit quartet can catch some men's squads, says Shane Sutton.
By Matt Westby
Last Updated: 05/11/13 9:32am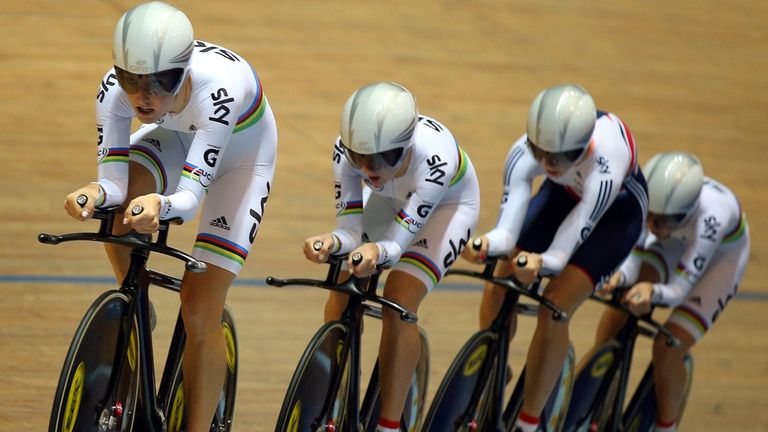 Laura Trott, Dani King, Elinor Barker and Joanna Rowsell knocked a huge seven seconds off their own world-best time on the way to winning gold at the Track Cycling World Cup in Manchester on Friday night in a time of 4min 19.604sec.
It was the latest in a series of staggering performances from one of the most dominant teams in world sport and Sutton, their head coach, is confident their times will continue to fall.
The event was changed from three riders over 3km to four riders over 4km ahead of the 2013/14 season and while these are early, experimental days in terms of what is possible, Sutton believes a mark somewhere around that of the slower men's teams is attainable.
When asked how fast they could go, he said: "I would say around about a 4:07 to 4:10. We've got to look at how we can be around that 4:10 mark. There is still plenty to come, plenty of work to do as well."
Brailsford confident
Six men's teams failed to clock 4min 7sec at the Track Cycling World Cup last weekend and such a mark would have placed Trott, King, Rowsell and Barker in the men's top 10 at this year's world championships in Minsk.
Brailsford is more reticent to predict times, but is equally certain that the quartet's potential is far from fulfilled.
"You have always got to be a little careful with a time-based goal, but I think we will keep seeing that world record being chipped away," he said.
"They are the star act in many respects. The performance here was so far ahead of the other teams and they have maintained that performance and desire for so many years. It is impressive. It is fantastic to see. But they can get better, that's for sure."
Brailsford also believes that the changes to the women's team pursuit have served to strengthen Britain's status as the dominant force in the world.
"They changed the event, made it longer, added another rider, which for some nations has killed them off," he added. "They just don't have the depth. For us, it's the dream scenario really. We were very happy with the change."
Commonwealth focus
That depth is being provided by emerging young talents such as Barker and, more recently, Katie Archibald, who helped the team pursuit squad win gold at the European championships in the Netherlands but represented a Scottish team at the Track Cycling World Cup, winning two individual medals.
More young prospects are beginning to flourish in other events, too, with the likes of Becky James and Owain Doull helping British Cycling move on in the post-Chris Hoy and Victoria Pendleton era.
Brailsford is already mapping out the route to the 2016 Olympic Games in Rio and is keen to utilise next summer's Commonwealth Games in Glasgow to give his fledglings a taste of peaking for an end-of-season event, rather than the mid-season world championships in February and March.
"For Glasgow, it makes absolute sense, for the age and experience of this group, to go there and take it very seriously," he added.
"We can use this as great experience for the youngsters to experience what it's like to try to hit a peak in the middle of summer."