Raymond van Barneveld set for Leeds leg of Premier League despite health problems
By Keith Downie, Sky Sports News reporter
Last Updated: 08/03/18 5:27pm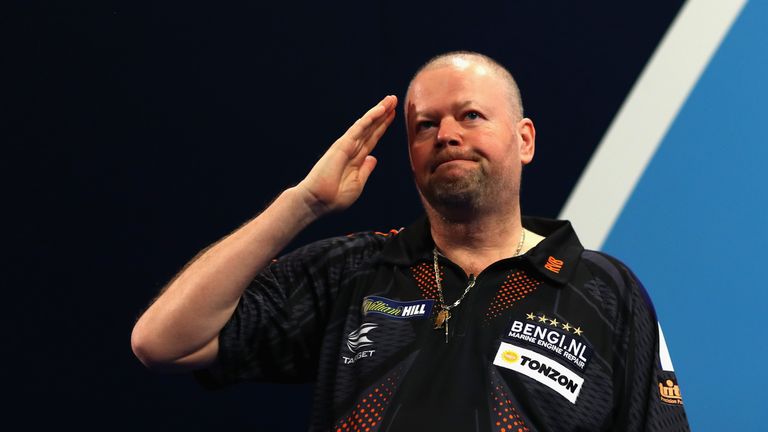 Raymond van Barneveld is set to take part in Premier League Darts in Leeds tonight despite admitting he struggled to see at the UK Open on Friday.
The five-time World Champion lost to journeyman Mervin King in Somerset, and has blamed his diabetes for the shock defeat.
The Dutchman appeared dishevelled throughout the match, repeatedly blinking in between throws.
At one point, the 50-year-old even seemed to close his eyes, as if he was sleeping. He also frequently took breaks to drink water, prompting fans to question whether he was unwell and even fit enough to take part in the match.
Van Barneveld said: "Last Friday was a disaster. I watched the footage of me on stage back and I was really terrible due to my diabetes.
"Yesterday I went to the gym back in Holland and I'm doing that every day now.
"I keep on fighting and training until I can make good results again. So for now it's hard work at the gym every day."
Van Barneveld has lost his last two Premier League rounds and sits seventh in the standings.
The 2018 Premier League heads to the First Direct Arena in Leeds on Thursday with coverage underway from 7pm on Sky Sports Action & Sky Sports Main Event from 9.45pm. Ten weeks of tungsten action will then continue through to the season's conclusion with the Play-Offs on May 17 at The O2 in London.
Keep up to date with the latest darts news, previews, reports, reaction and expert analysis. Get all the latest at www.skysports.com/darts and join in the conversation @SkySportsDarts- don't forget to use #LoveTheDarts