LGBT in sport stories to mark National Inclusion Week
Ryan Atkin, Kate Richardson-Walsh, Adam McCabe and Sophie Cook describe their experiences
Last Updated: 28/09/17 11:08pm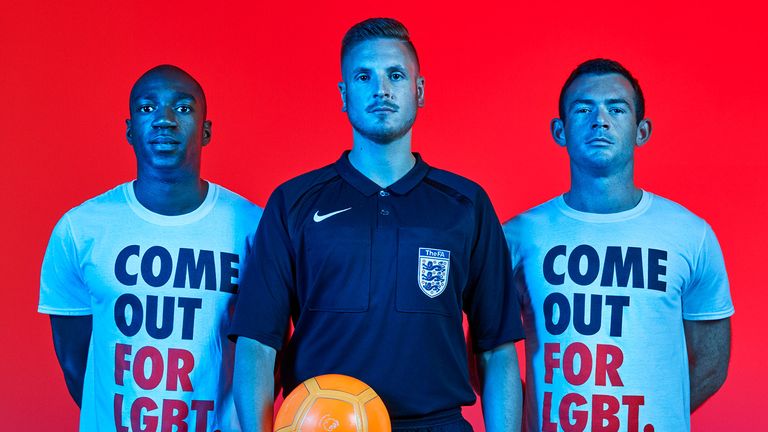 Inspirational, intense and often incredible... sport at its very best is something we all want to share in.
It's no different for lesbian, gay, bisexual and transgender people, who are increasingly finding sport a more welcoming environment.
Incidents of homophobia, biphobia and transphobia continue to be tackled in sport, but governing bodies, key figures and organisations like the charity Stonewall are helping to make sport accessible and accepting for all.
To mark National Inclusion Week, Sky Sports is sharing stories from four LGBT people who have talked to us about their experiences in sport...
'For referees, equality is integral'
Ryan Atkin, a referee who takes charge of games in the National League and serves as fourth official in EFL fixtures, spoke to Sky Sports last month about being a gay man working in professional football. Atkin is the first man with a current 'on-the-pitch' role in the English pro game to come out since Justin Fashanu in 1991. When he's not refereeing, Ryan works in the rail industry, and he explained to us why inclusion is so important in the workplace and in sport...
People would probably still say the rail industry is male-dominated and 'masculine' - but that doesn't mean it's not accepting.
It's funny - of all the people who have asked me if I'm gay or who I've chosen to tell, the best-received comments have probably been from work colleagues. They've become some of my best friends who I keep in regular contact with and meet up for beers. They think it's great that I referee and when I was previously officiating in the EFL [as an assistant referee], they would come and watch and support me.
A lot of my friends who are also gay have no interest in sport, especially football (I don't count going to the gym as sport, but they would probably argue that point!) So when I've achieved something in refereeing or I've had a bad game, they often don't understand the pressures or think to ask.
Sometimes that can be hard, but I've recently dragged a couple of them to games which, to their surprise, they've enjoyed. Perhaps that's more because I'm being shouted at, but it's progress!
It makes sense for referees to speak up on equality - it's integral to our job. For starters, regardless of gender, we're all treated the same - the fitness test for the professional game is the same whether you're male or female.
As for sexuality, I've chosen to tell some of my refereeing colleagues that I'm gay, purely because I've become friends with them. When you're in good company, you share things about your own life. That happens even more as you move up the pyramid - it becomes tighter at the top and if you're good enough, you'll get to where you want to be.
You can also have games where everything doesn't run as smoothly as you'd like. That's when your fellow referees act as a support network to pick you up, dust you off and help you for the next stage of that game, or your career.
Ryan says the response to his story in August has been "so positive" and he has since been featured in LGBT charity Stonewall's new 'Come Out For LGBT' campaign, which aims to create communities where everyone is accepted without exception.
'Be aware of each other'
Kate Richardson-Walsh is one of Britain's most successful sportswomen. She made her international hockey debuts for both England and Great Britain in 1999, going on to captain both and winning 375 international caps in total.
Her career was capped with a gold-medal triumph at last year's Olympics in Rio, an achievement she celebrated alongside her GB team-mate and wife Helen. Here, Kate explains how the teams she played in benefitted from acceptance, and how leaders can set the tone...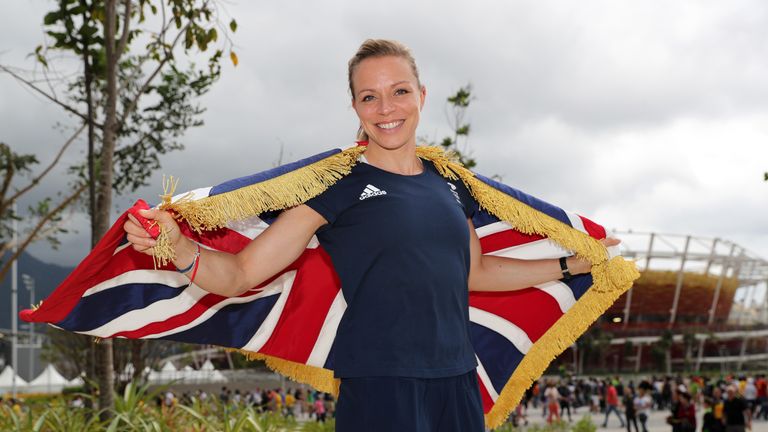 Sexuality came under the huge bracket of diversity and difference in our squad. It was more about accepting and understanding everybody for who they are, whether that's to do with their sexuality, background, ethnicity, or beliefs. To be aware of each other in that close-knit environment is so important when you play and train together as a team.
Throwaway, banter-type, locker-room comments have an immediate, strong and lasting effect on people hiding parts of themselves and parts of their lives. I think it goes across lots of topics, but particularly LGBT stuff. Mental health is becoming more talked about, but I feel this is going to be the last taboo. You've got to be in a place where you're comfortable in your own skin.
My first hockey club, Didsbury Greys, had all sorts of women playing in it - of different backgrounds, ethnicities, sexualities. I was immersed in that world from a young age, so for me it was absolutely normal whether somebody had a relationship with a man, or a woman, or a man one time and then a woman the next. It was not even an issue for me.
[So] if one of those natural leaders in a squad hears someone say 'that's so gay, you're so gay'... if someone immediately stamps on that and says 'it's not OK for you to say that' and shuts it down, then that's a really strong message. It can seem like such a small thing, but really it's understanding how those small behaviours every day add up to a big meaning and a purpose.
Kate and Helen, who received an OBE and an MBE respectively in an investiture ceremony at Buckingham Palace in February, spoke to Sky Sports ahead of the Rainbow Laces Summit event in Manchester in May.
'Homophobic language can be very damaging'
Adam McCabe was born and raised in Florida and moved to West Yorkshire in 2011 on a football academy programme, which led to him playing regularly for Bradford City reserves and other local teams at a semi-professional level.
Adam knew he was gay but didn't feel able to come out to his team-mates and coaches because he felt excluded by their language and behaviour. Here, he describes his difficult experiences in English football to Sky Sports...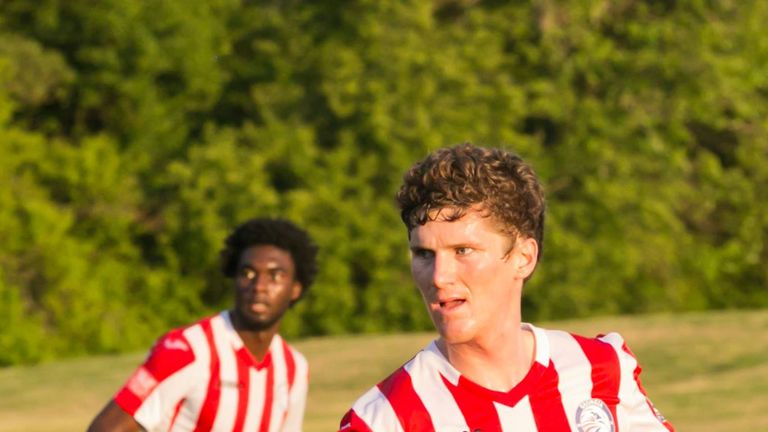 In the locker room, there is banter - and for a closeted athlete, it can be intimidating in two different ways.
One is that you can't really connect with some of the other athletes over what they're discussing. They're talking about women a lot of the time, and you've got to put on this facade of 'oh yeah, I sleep with women, I'm interested in women, when I go to the club I'm looking for this, this and this'... when in reality, you're so far removed from what they're talking about. You're trying to keep up with your own lies, thinking 'what did I say last time? Are my lies lining up OK? Am I able to fool them?' That's always on your mind.
Then there are occasions when team-mates and coaches are trying to pep you up - they're talking about the other team, and there's language that goes around that can be homophobic. When people use words like 'faggot', 'poof' or 'queer', it's usually a split-second decision and they're not really thinking about what they're saying.
But when you're a closeted athlete sitting there, looking at your coach saying these things, you're taken aback. I would sort of close down, I couldn't look at my coach, only at the floor... in a way, with these words, it would feel like he was directly talking about me. He wasn't - he would be talking about the other team - but you still get that sense of disappointment, that sense of 'they don't like someone who's like me'.
There are so many negative connotations with those words and particularly within sport, so when you hear them being used in a pep talk or about the opposition, it can be very damaging. It makes you want to stay closeted and keep your secret even more.
With one of the teams I was with, there was a kit man among the staff who was a gay guy. Some of the things that were said about him in the locker room... that's when I really thought 'I can never come out to these people'.
They were joking around, saying 'we've got to wait until this guy leaves before we can change'. And I'm thinking, 'man, what if they knew that I was gay and they're changing in front of me? Would they have that same mindset?' Again, it was just banter and they're trying to be funny, but when they're joking about someone being gay who's part of our staff at the club, and making little snide comments here and there, that was even more damaging than the homophobic language used in my coach's pep talks. I'm hearing them say stuff directly about a gay person, and I'm a gay person. It really hits home.
Adam returned to his homeland in 2014 and soon afterwards, he felt able to come out to his family and friends. He has since returned to football with Georgia Revolution, who play in the fourth tier of the US pyramid, the National Premier Soccer League.
'Fans have been supportive and positive'
Sophie Cook was working as Bournemouth's club photographer when she came out as transgender in summer 2015, between the Cherries' Championship title-winning season and their first campaign in the Premier League.
She feared she would not be able to return to her job in football, but was warmly welcomed back to the club as Sophie and continued in her visible pitchside role for two full seasons. She is now a highly sought-after public speaker, and stood for parliament in the General Election in June in the constituency of East Worthing and Shoreham, where she increased the Labour vote share by 114%.
She is an ambassador for Kick It Out, and has assisted in the creation and promotion of new resources to help matchday stewards deal with incidents of homophobic, biphobic and transphobic abuse in football stadia.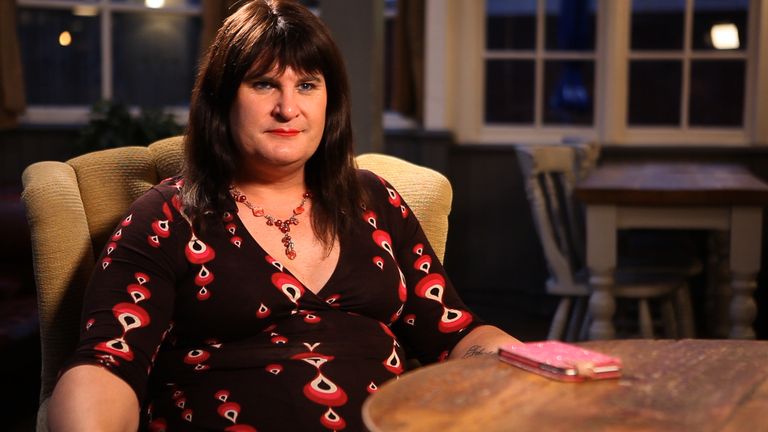 Since I came out as trans, football fans have been very supportive and positive towards me. Football is often seen as bigoted and homophobic, but things are changing - and resources like these [the Kick It Out toolkit to help stewards tackle anti-LGBT language and behaviour], to stamp out the abuse that is there, are positive steps.
I'm not very invisible. The invisibility is the LGB; unfortunately, trans people are often very visible, because we're not all gifted with being stunning and able to pass. When I came out, I knew that every person that I would meet would always know I was trans, and I had to come to terms with that. I remember hearing from a Stoke City fan who'd had a season ticket for over 20 years. They'd given it up because after their transition, they were scared that they could never go back.
I hope that I've shown there is a space for LGBT people within football, and that encourages more people to go, and that more people become aware. Then it becomes less of an oddity for those fans who previously had little or no knowledge of what it means to be trans, or even to be LGB.
To learn more about Sophie and her story, visit her website at www.sophiecook.me.uk.
National Inclusion Week, an annual campaign run by Inclusive Employers, continues until October 1.