Nick Bonino scores Pittsburgh Penguins' winner in Stanley Cup Final opener
By Andy Charles
Last Updated: 31/05/16 7:52am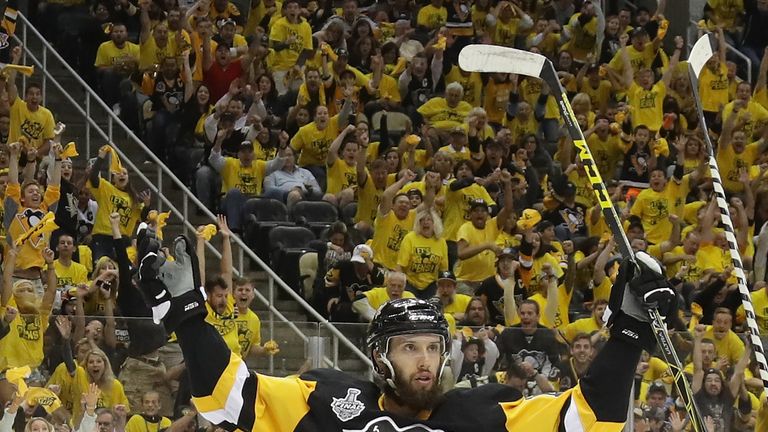 The Pittsburgh Penguins claimed an early advantage in the Stanley Cup Final with a 3-2 win over the San Jose Sharks in the opening game of the series.
Nick Bonino grabbed the winner for the Penguins, continuing his fine run of form during the play-offs, as the Penguins snatched victory after giving up a two-goal lead.
The Eastern Conference champions took the lead 12:46 into the first period when Bryan Rust scored his sixth goal of the post-season, and just over a minute later they doubled their lead through Conor Sheary.
But the Sharks responded well in the second and cut the deficit three minutes in, when Tomas Hertl jammed a shot through Matt Murray's legs.
The scores were level two minutes before the end of the period when Murray could not hold on to a shot from Brent Burns and Patrick Marleau responded quickly to beat the goalie with a wraparound effort.
Pittsburgh stepped up the pressure in the final 20 minutes, peppering Sharks goalie Martin Jones with shots, and their onslaught finally paid off with 2:33 remaining.
Defenseman Kris Letang battled to win the puck in the corner and flashed a pass across Jones' crease, where Bonino was in perfect position to smash home the winning goal.
"It's one game, but I think we did a lot of good things," said Penguins captain Sidney Crosby.
"First and third, we were really strong, generated a lot of chances. We saw a lot of their strengths, especially in the second, with how good they are at getting pucks to the net and holding on to pucks down low. They play pretty fast. Just two teams who want to get to the exact same game."