Dakar Rally accident leaves at least 10 people injured
By Charlie McFaulds
Last Updated: 03/01/16 4:10pm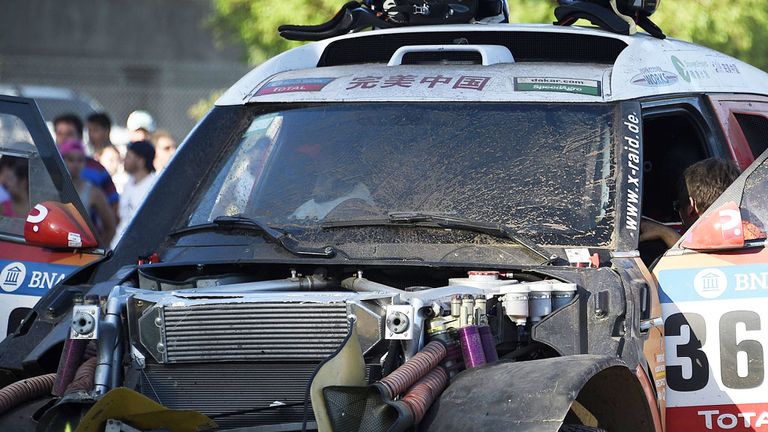 A speeding car careered off the road and smashed into spectators during the prologue of the Dakar Rally on Saturday.
The incident, which involved the Mini of Chinese driver Guo Meiling, left at least 10 people injured, five of them seriously.
And the prologue, which takes place before Sunday's first stage, was "neutralised" and immediately suspended amid horrific scenes.
Guo's car veered off the course shortly after the midway point of the 11 kilometre prologue on a stretch of straight country road near Arrecifes, a small town 120 miles from the Argentine capital Buenos Aires.
Race chiefs immediately deployed four medical helicopters, three medical vehicles belonging to the organisers and eight local ambulances to the scene of the accident.
A man and his 14-year-old son were the two most serious cases and had to be rushed to hospital according to Carlos Mondino, the health secretary of Arrecifes.
"In total, we had 10 patients, including four children and one pregnant woman, who is ok," said Daniel Modesto, head of the local hospital.
Etienne Lavigne, the race director, confirmed in a statement that a dozen people were hurt, including Guo.
The accident left Guo's car battered, its bonnet strewn on the ground, as emergency workers carted the injured off on stretchers.
Between 50,000 and 60,000 people were expected along the route of the prologue.
In 2015, Polish motorbike rider Michal Hernik died at the end of a stage, but the last accident involving spectators at the Dakar Rally was in 2011, when one person was killed.
Nine-time world rally champion Sebastien Loeb had safely negotiated the prologue in his debut on the Dakar Rally.