Europe increased their overall lead over the USA with a second session win in the Mosconi Cup in Las Vegas on Tuesday.
With two days still to play, Europe extended their advantage winning the session 3-2 to move their overall lead to 6-4.
The Tropicana Hotel and Casino was packed and the lucky crowd witnessed five thrilling matches.
USA got off to the perfect start when their combination of Skyler Woodward and Justin Bergman secured a 5-3 victory over the Netherlands' Neils Feijen and Nick van den Berg.
But Europe responded when Albin Ouschan got the better of Mike Dechaine in the singles, the Austrian edging it 5-3.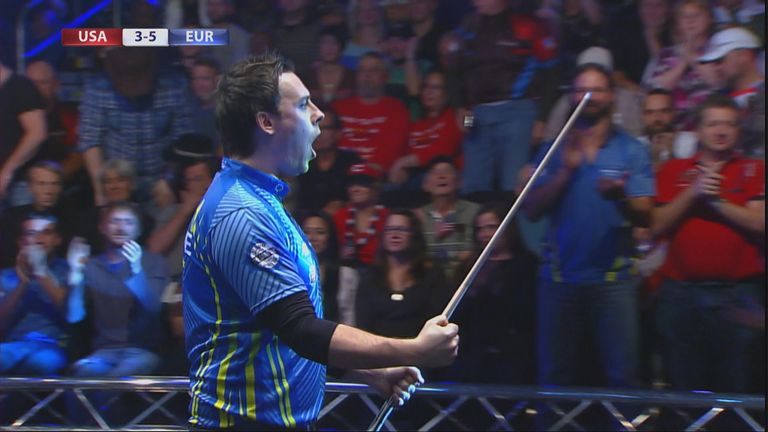 English pair Karl Boyes and Darren Appleton then furthered Europe's advantage, sweeping aside the American pairing of Shane van Boening and an out-of-sorts Corey Deuel 5-2.
With Europe leading 5-3 overall the pressure was on Skyler Woodward to stop of the rot for the Americans, but he was no match for Boyes in what was an entertaining singles match.
The last match was a must-win for the home team and so it proved for Van Boening and Dechaine, who ended a great night of pool with an exciting hill-hill match against Appleton and Van den Berg to leave the overnight score at 6-4 to Europe.
Day 3 of the Mosconi Cup starts live on Sky Sports 1 at 7pm on Wednesday December 9 and concludes at the time and channel on Thursday December 10.
Results:
Feijen / van den Berg 3-5 Bergman / Woodward
Albin Ouschan 5-3 Mike Dechaine
Appleton / Boyes 5-2 Van Boening / Deuel
Karl Boyes 5-3 Skyler Woodward
Appleton / van den Berg 4-5 Dechaine / Van Boening