Team Europe complete 11-3 victory over USA to win Mosconi Cup
By Raz Mirza
Last Updated: 10/12/16 11:42am
Team Europe wrapped up the one win they required on the final day of action to seal the Mosconi Cup in front of a full house at Alexandra Palace.
Rookie Jayson Shaw was the hero as he ensured the talented Europeans an historic seventh consecutive Mosconi Cup triumph with victory over Mike Dechaine.
After Scotland's Shaw wrapped up the first rack, Dechaine struck back with a somewhat lucky 2-9 combination which missed the middle pocket it was intended for and found the top right corner instead.
Despite a scratch off the next break, Shaw showed poise and control to move into the lead before showing nerves of steel to open up a 3-1 advantage.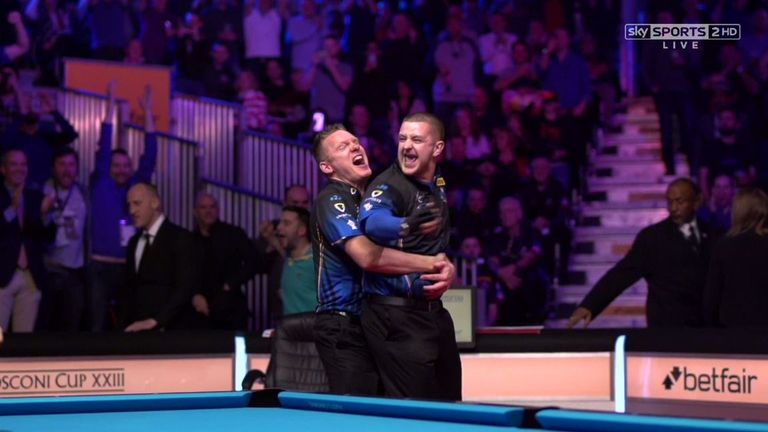 He came close to a Golden Break in the next, but a sweet 6-9 combination was enough to extend his advantage.
A costly miss on the 2 ball by Dechaine handed Shaw the opportunity he was craving as he cleared the table for an emphatic win.
A delighted Shaw told the official Matchroom Pool website: "There were a lot of nerves out there but you have to stay calm and take every ball one at a time. It is easy to get hyped up with everyone screaming. It felt pretty good to make the winning 9 ball. I had a pretty good year and had a couple of dreams about making the final 9 ball and it came true.
"We have five great guys on the team who all fight for each other and support each other, stick together. Now I have played in it, I want to play the Mosconi Cup every year."
America have now won the Mosconi Cup just once in the past 11 years with bleak prospects for next December in Las Vegas.
Europe 11-3 USA
Shaw 5 - 1 Dechaine