Max Litchfield on returning to pool after months of injury woe
By Mark Ashenden
Last Updated: 28/05/18 10:19pm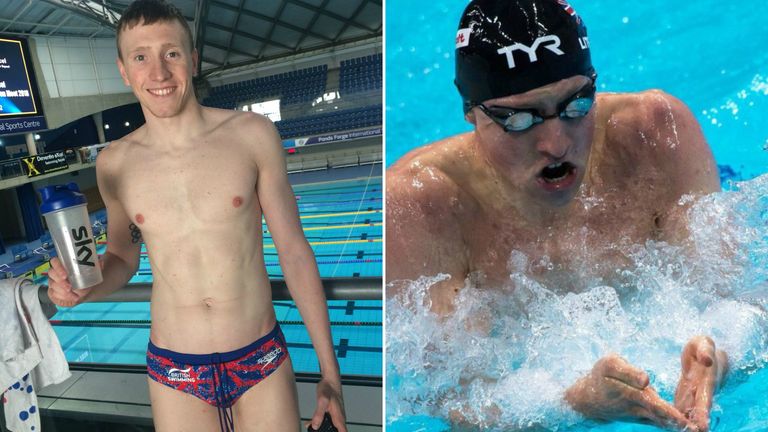 After fighting a niggling shoulder injury for nearly a year, Sky Sports Scholar Max Litchfield finally made his competitive return at the weekend.
Times were irrelevant. Climbing out of the pool without pain was everything. Relief. Joy. Hope. "Nothing flashy," he said. "But now ready to kick on."
The 23-year-old from Sheffield swam in the Derventio Excel meeting in front of his home crowd and is delighted to get back on his journey towards the 2020 Tokyo Olympics.
---
The last few months have been a tough time but nothing beats the feeling of being back racing again.
We went back to basics over the weekend, swimming at Ponds Forge in Sheffield and it was a great place to reset and start again on working to Japan in two years.
It was a great first weekend back racing over two days and it was just nice to finally be back competing after such a long time out.
I swam 4x200 metre races in the Backstroke, Freestyle, Individual Medley and Breaststroke. Having not raced properly in almost nine months I was pretty chuffed with how I got on.
On the Saturday, I swam 200m Backstroke in 2 mins 3.95 secs. In the 200 Freestyle it was 1min 49.57secs.
On Sunday, it was the 200 IM (2mins 2.11 secs) and the 200 Breaststroke 2mins 21.72secs.
The times are nothing flashy but it's a great start and lots to build on moving forward for the rest of the season.
The shoulder reacted really well to my races and I was very pleased with how it was able to hold up under more pressure than in my training environment.
I had been pretty nervous before my first race back but that's normal for me. I use my nerves as positive energy and make sure they don't get in the way of my races!
Overall I'm really chuffed and just ready to kick on now.
Over the next few months I will be racing at a meet in Italy called the Sette Colli in late June and will then finish my season with the European Championships in Glasgow in August.