Jim Ross on John Cena v Daniel Bryan and Brock Lesnar v CM Punk
Cena versus Bryan and Lesnar against Punk. Jim Ross previews the SummerSlam main events...
Last Updated: 22/08/13 4:15pm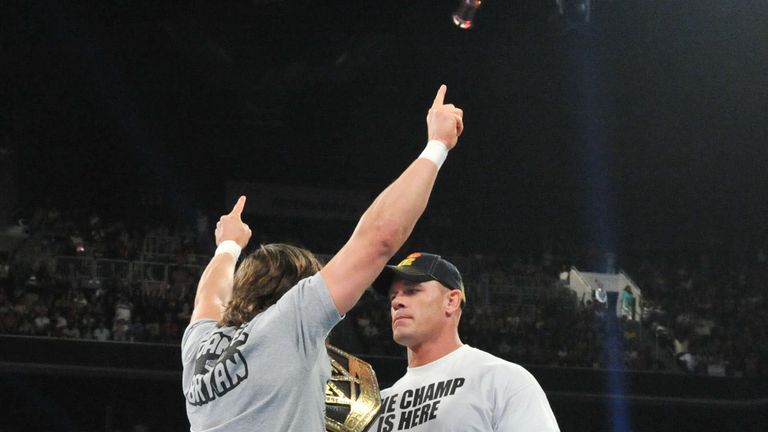 "Good Ol' JR" was a regular at the announce desk between the early 1990s and late 2000s and famed for quotes such as "It's a slobberknocker!" and "Business is about to pick up".
Ross makes just sporadic appearances in the commentary booth these days but he will be be glued to SummerSlam on August 18, and will have his eyes on two matches in particular.
Read below for his take on the WWE Championship duel between John Cena and Daniel Bryan and CM Punk's grudge match with Brock Lesnar...
"I have been involved in some of the most illustrious SummerSlams in history but I believe Daniel Bryan versus John Cena and Brock Lesnar against CM Punk are two of the most compelling main events in recent memory - for different reasons.
"Bryan, without the orchestrated, corporate promotional hype, has somehow organically connected with the masses and is the hottest guy in the WWE right now.
"Perhaps it's because of his size, perhaps it's because he is the underdog, perhaps it's because of his passion, and possibly it's because he is an amazingly gifted in-ring performer, but he has that intangible 'it' quality.
"Daniel's WWE Title match-up with Cena will be an intriguing one but it is one I believe he has an excellent chance of winning because his style will be problematic for John.
"Cena - who has been the face, albeit a polarising face, of the WWE for a long time - is more deliberate and structured, whereas Bryan has that second gear that most guys don't.
"As for Lesnar-Punk, it's a classic, easy-to-process story: you have got an underdog hero in Punk, who is naturally defiant and has no fear of any man, and, in Lesnar, a freak of nature.
"I signed Brock out of university when he was a national wrestling champion and one of the most highly regarded heavyweights that the United States college system has ever produced.
"You don't find guys of his size and strength who are as athletic as he is; normally guys Brock's size are plodding but he is a very agile big man.
"Another fascinating part of this match-up is that both Punk and Lesnar have egos - which is not a negative because I believe to you have to have a healthy ego to be successful in entertainment and sports.
"And what that means for the fans is that they will both be intent on stealing the show and make it almost impossible for any match, even if it's Cena-Bryan, to follow them.
"I like both the emotion in the Cena-Bryan and Lesnar-Punk match-ups and how I visualise those matches playing out on what will be an intriguing night in Los Angeles."
Click here for JR's thoughts on his UK tour, and here for his take on commentary and Jerry "The King Lawler", and stay tuned to skysports.com over the coming weeks for his views on what he looks for in new wrestling talent and his opinion of WWE Chairman Vince McMahon.
WWE SummerSlam Booking details
WWE SummerSlam will be shown live on Sky Sports Box Office (channel 743) and in high definition on Sky Sports HD Box Office (channel 752) at 1am on Sunday, August 18 (Monday morning).
WWE SummerSlam will be repeated on Sky Sports Box Office (channel 743) - but NOT on Sky Sports HD Box Office (channel 752) - between 9am on Monday, August 19 and 9pm on Saturday, August 24. Repeat showings will last for three hours.
The event is priced at £14.95 for UK customers, €21.95 for customers in the Republic of Ireland.
You can order WWE SummerSlam from Friday, August 9 by pressing the Box Office button on your remote. Select 'sports & events' and follow the on-screen instructions.
Viewers will be able to call 08442 410 888 to book WWE SummerSlam from Friday, August 9. (There may be an additional charge for telephone bookings).
You can also book WWE SummerSlam online from Friday, August 9 by visiting this link: https://my.sky.com/orderboxoffice/
Cable customers should contact their local cable operator.