Sailing: Olympian Annie Lush ready for 'tough' Volvo Ocean Race with Team SCA
By Dev Trehan
Last Updated: 03/10/14 3:07pm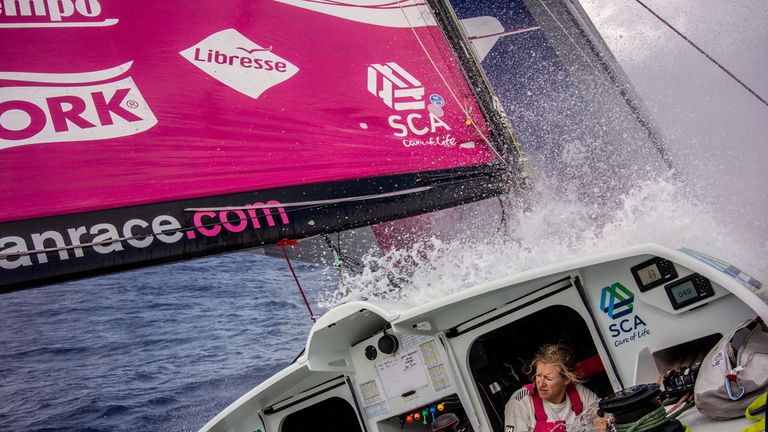 Former Olympic short course sailor Annie Lush likens her participation in this year's Volvo Ocean Race to a sprinter climbing Mount Everest.
Lush is part of the all-female Team SCA crew that will start racing against six other teams this weekend in the nine-month race which will take them 40,000 miles across the globe.
But Lush has never competed in a test of endurance quite like the Volvo Ocean Race and the 34-year-old is under no illusion about the task that lies ahead.
"We've been training for over a year-and-a-half now and it's time to get on with it now," she told Sky Sports.
"My background is in Olympic sailing and I competed in London at the shortest sailing event at that Olympic Games. Typically my races would be about 12 minutes and I was probably the closest to shore of all of the classes.
"I was like a 100m sprinter and now I'm about to go and climb Everest, so it's pretty different."
Lush is one of five British girls aboard the Team SCA vessel. Her longest competitive outing prior to the Volvo Ocean Race was a mere five days and the Olympian admits she faces a journey into the unknown with her crewmates.
"I sometimes say naivety is a strength," she said. "I don't really know what the Southern Ocean looks like yet. I have an idea. I think it's pretty bad and anything can really happen out there.
"It's going to be really, really tough and I know I'm going to come back a changed person.
"I have no idea what I'm going to experience over the next nine months with these girls. I don't know when I step off that boat in nine months time whether I'll want to step on another one or be with my teammates again or not.
"I think it's going to be tough but it's the challenge of a lifetime and an opportunity as well."