Michael 'Venom' Page wants to revolutionise combat sports
'Martial arts teaches discipline and confidence'
By James Dielhenn
Last Updated: 20/02/15 7:45pm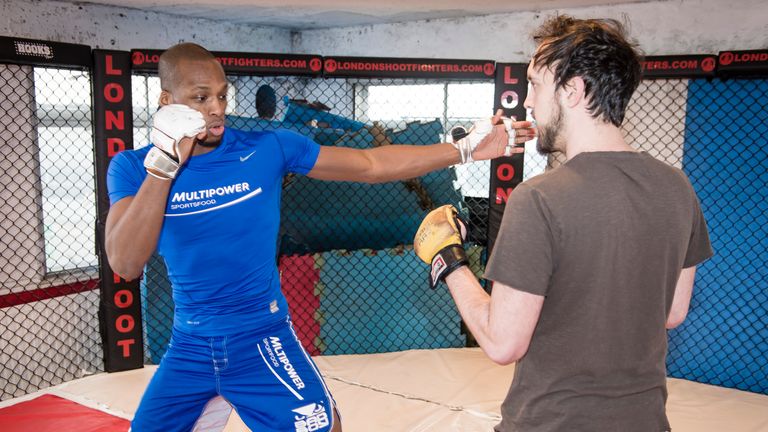 The first thing Michael 'Venom' Page teaches you in his martial arts gym is to "keep your hands up", but he doesn't follow that sensible advice himself.
The enigmatic mixed martial artist has become a YouTube sensation for his unique brand of showmanship and acrobatic knockouts.
With his hands relaxed by his hips and his chin exposed, Page's ability to dance past an opponent's strikes and deliver his own blows have made him a bizarre prospect in combat sports.
"I'm in this to be known as a revolutionary for stand-up fighting, I don't throw the same punches or kicks that you always see," he exclusively told Sky Sports while putting us through our paces at London Shootfighters.
"I'm not scared to try crazy shots. Fighters can get so preoccupied with winning they stay in a comfort zone but I'm focused on being the face of the sport of MMA.
"I want to be bigger than MMA itself. I want to be the Michael Jackson of music or the David Beckham of football – you know these characters even if you don't follow their careers."
Bruce Lee
Page's remarkable antics inside the cage stem from a disciplined martial arts upbringing that he would recommend to future generations.
"I started in Lau Gar kung fu," he explained. "Think of all the old Bruce Lee movies, that's what I was doing.
"I did points kickboxing competitions from the age of five. I'd go around the country every weekend, it's an amazing thing for children to learn.
"You're very heavily padded and it's about the skill aspect rather than knocking somebody out. It's speed, agility and awareness.
"I wasn't in the best of areas but I never got involved in what the other guys were doing. I was comfortable to say 'no', I never felt peer pressure because of the confidence martial arts gave me. Bullies at school would never ask me to do anything because they saw how confident I was."
Showmanship
Page, now 7-0 in MMA, claims the spinning and jumping techniques he uses are not just for show but admits his celebrations certainly are.
"Keeping my hands by my side is not showmanship, that's the style I've developed. Go to a points kickboxing competition and you'll see five-year-olds competing with their hands by their side. That explains my general style, but the added dancing is my flair and creativity.
"I started to add showmanship. It happens naturally. I finished an opponent and then did the 'robot' but I was in a mode that I can't explain.
"My style makes people go and tell their friends who have no interest in fighting about me."
Michael 'Venom' Page fights Curtis Millender on February 27 at Bellator's British Invasion. He uses Multipower Sportsfood who are celebrating 25 Years of Fit Protein #StillGoingStrong