Stacey Copeland 'proud' to win Women's Sport Trust Award
By Peter Rutzler
Last Updated: 25/05/18 2:18pm
Professional boxer Stacey Copeland and the England Women's cricket team were among the winners at the Women's Sport Trust #BeAGameChanger Awards on Thursday.
Copeland, 36, won the Individual Sporting Role Model award for using her influence to help drive women's sport forward as one of only six professional boxers in the UK.
The footballer-turned-boxer started her career with Doncaster Rovers Belles and represented England's U18 side before switching to the ring, turning pro in 2017.
"It just feels amazing," Copeland told Sky Sports News.
"I actually feel quite emotional. One because I was completely shocked and I didn't expect to win it, but also because starting out as a young girl in boxing it wasn't even legal for me to compete, and the comments that were made, how I got called names at school.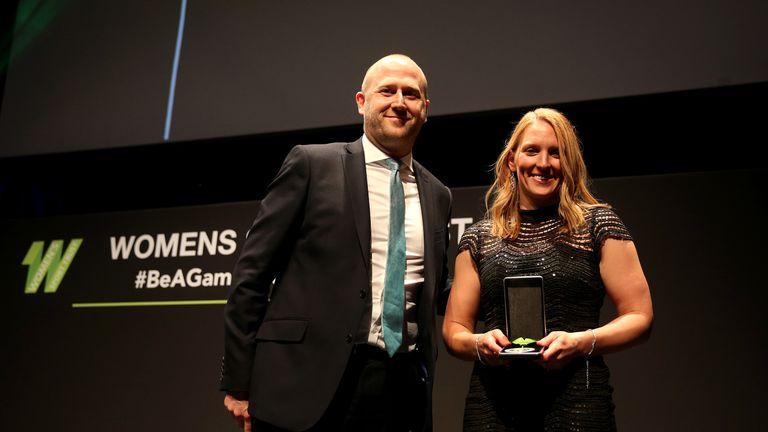 "To get to this point where I am being recognised for challenging those stereotypes is a very very proud moment for me, and a proud moment for women's sport."
Stacey Copeland
"I didn't exactly feel proud of who I was, if anything I felt a bit ashamed of who I was.
"So to now get to this point where I am being recognised for challenging those stereotypes is a very very proud moment for me, and a proud moment for women's sport."
The England Women's cricket team picked up the Team Sporting Role Model award, while the England and Wales Cricket Board were also named as the National Governing Body of the Year for "making huge strides to make cricket a sport for all."
This was largely down to England's captivating World Cup success in July last year, where Heather Knight's side overcame India in a thrilling final, supported by a record-breaking crowd at Lord's.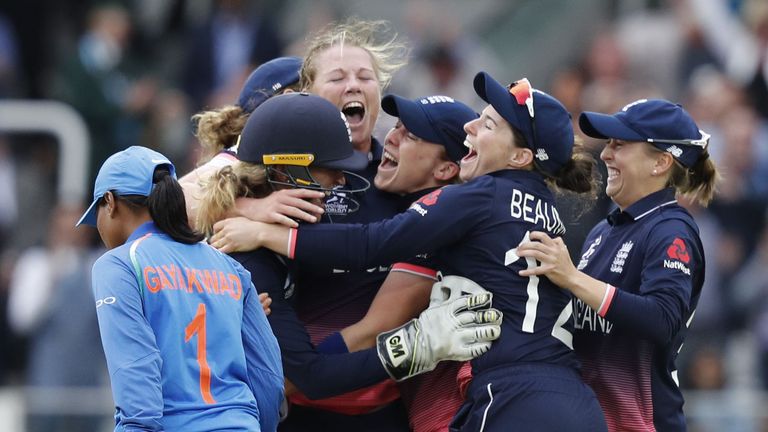 An award for Outstanding Contribution to Women's Sport was presented to former England captain and founding member of the Rugby Football Union for Women Carol Isherwood while the National Inspiring Initiative award was presented to England Rugby's inner warrior campaign, which aims to encourage more female players into the sport.
Former double Olympian and Commonwealth gold and silver medallists Lorna Boothe won the Ambassador for Women's Sport award, recognising her work as the most senior black women in athletics administration.
Women's sport has made great strides in 2017, but the Women's Sports Trust, in partnership with Sky Sports, is determined to get more people to improve attendances, something former Team GB runner and World Championship bronze medallist Donna Fraser is firmly behind.
"I really want the media and the brands to get on board with it, you know we are a great commodity, women's sport is," she told Sky Sports News at the awards ceremony in East London.
"We need bums on seats to go down, to go to whatever games it is, get into the crowd, enjoy it, because that's what we need, we need more people, we need bums on seats."
The Women's Sport Trust was founded in 2012, with the aim of raising the visibility and increasing the profile of women's sport.
Jo Bostock, Co-founder and Joint CEO of the Women's Sport Trust added: "Why is the Women's Sport Trust so committed to running the Be A Game Changer Awards? Because compelling stories about the trailblazers need to be told.
"They set the pace and show what's possible. Most importantly they stimulate other brands, sport and the media to step up and take action. Building this momentum will ensure the future of women's sport."
The award winners in full:
Sporting Role Model - Individual: Stacey Copeland
Sporting Role Model - Team: England Women's Cricket Team
Ambassador of Women's Sport: Lorna Boothe
National Governing Body of the Year: England and Wales Cricket Board
Brand / Sponsor Partnership of the Year: Investec is 'Principal Partner of GB and England Women's Hockey'
Inspiring Initiative - National: England Rugby's Inner Warrior campaign
Inspiring Initiative - Local: Crawley Old Girls (COGs)
Media Initiative of the Year: The Tough Girl Podcast
Imagery of the Year: Standing in the Light
Outstanding Contribution: Carol Isherwood