Nicholls wins British crown
Scott Nicholls claimed a sixth British title after barging his way past Chris Harris to win a chaotic British Final.
Last Updated: 06/06/11 11:25pm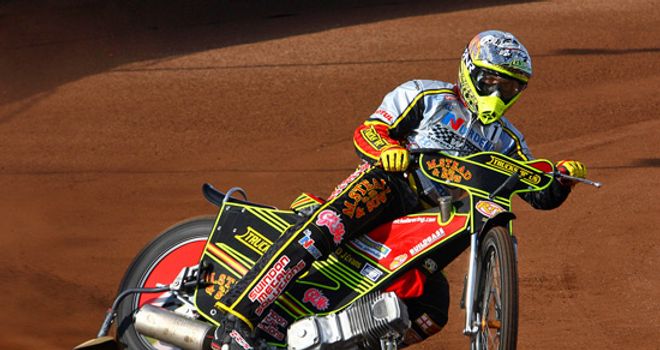 Scott Nicholls claimed a sixth British title after barging his way past Chris Harris to win a chaotic British final in Wolverhampton.
The Swindon Robins rider also grabbed a wildcard spot in this year's British Grand Prix with the win while Tai Woffinden, who had taken maximum points from the heats, was third.
Harris appeared to jump the start as he took the lead from gate one but the race was allowed to continue on a night that had already seen numerous delays.
Nicholls then made his move on the second lap, accelerating past Harris with some contact thrown in for good measure before holding on to the chequered flag.
"I didn't really get it together all night until the final but I've said all along - it's heat 22 that's the important one," he told Nicholls told Sky Sports.
Champion
He added: "For me it was all about being British champion, I knew if I was British champion I'd be in the grand prix in Cardiff. I'm excited about that now and I'm looking forward to it, but this was first and foremost."
The controversial final was completed after all four riders collided in the first corner but eventually managed to get to their feet and return to the line for a restart.
However, the second attempt saw surprise package Edward Kennett excluded for his part in an incident with Woffinden, who was still feeling the effects of an earlier spill, leading to a third start.
Earlier on Woffinden gave a sign of things to come when he took victory in the opening heat of the night, with Nicholls also setting the tone by crossing the line first in heat two.
Harris took wins in heats four and six, but Woffinden beat Nicholls home in heat five before the meeting took a dramatic turn in the ninth heat.
Woffinden hurt
Woffinden fell at the first corner and although the spill was at low speed, the 20-year-old landed on the same shoulder that had recently been responsible for a six-week lay-off.
After a lengthy delay in which he looked in considerable pain, Woffinden managed to take the restart and was able to maintain his perfect record after a Ricky Ashworth crash had led to a second restart.
Heat 10 saw Nicholls get back to winning ways, while Woffinden moved two points clear when he took a dominant win in heat 13 ahead of Harris in third.
Woffinden went on to secure maximum points thanks to a fifth win, with Nicholls winning in heat 15 to set up a showdown with Harris for the second automatic spot in the final.
Harris eventually came out on top by winning the final heat as Lee Richardson, Ben Barker and Kennett joined Nicholls in the race-off, which ended with the latter two reaching the final.