Diving World Championships: GB divers Jack Laugher and Chris Mears fail to make final
GB divers Jack Laugher and Chris Mears have failed to make the World Championships final in the three-metre springboard.
Last Updated: 25/07/13 7:02pm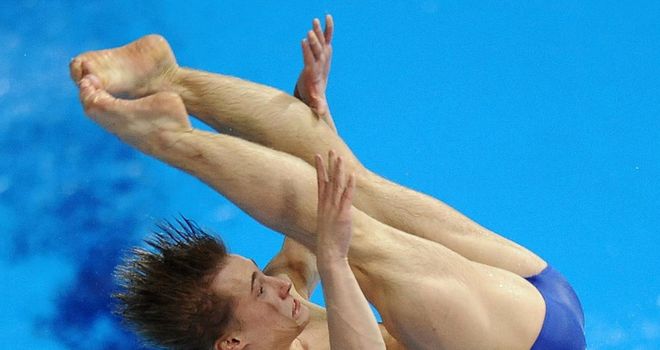 Laugher was four places off qualification in 16th in Thursday afternoon's semi-finals just hours after being top of the preliminaries.
However, Chris Mears did not make it out of the heats, finishing 31st after a disastrous third dive which saw him end up on his back.
Laugher had been consistent Thursday morning at the Piscine Municipal de Montjuic and he made a good start to the semis, placing fourth after the opening round.
But his following two dives only earned him marks of 4.5 and 5 and, at the halfway stage, the 18-year-old was 18th and last, 24.70pts off 12th, the last qualifying position.
Deficit
The four-time world junior champion began to claw back the deficit and with one dive to go, Laugher was 16th, 10.85pts off making the final.
Despite an adequate final dive the Leeds diver could not make any real inroads and finished 11.00pts outside the final.
By winning this morning, Laugher was last to dive in each round and he admitted that created extra pressure, a new experience which he knows will stand him in good stead.
He said: "In the end, it was a mistake, it's sport. David Beckham missed a penalty and skied it. I just need to try to minimise them. It's another stepping stone... to fulfil my ability. I want to reach what I can do."
Fourth
Elsewhere, Sarah Barrow missed out by one place on becoming the first British woman to claim a World Championship diving medal as she came fourth in the 10 metre platform.
Barrow finished 11.95 points off Ukrainian Iuliia Prokopchuk at the iconic Piscine Municipal de Montjuic as she became Britain's most successful female individual diver at a world titles.
Barrow said: "I'm pretty pleased - better than the other day. I've not done the individual for a long time. I'm really happy, I didn't have anything to lose in the final so I just went out there and enjoyed it."
The 24-year-old adds the fourth place to the fifth she and Tonia Couch claimed in the synchro earlier this week, although the pair had been disconsolate after a medal slipped from their grasp.
There were tears from Couch after she finished ninth despite qualifying second. The competition was won by 14-year-old Chinese diver Si Yajie, who shocked double Olympic champion Chen Ruolin.