Superstar of the Year
Who will be crowned WWE's Superstar of the Year for 2011? Make sure you vote for your favourite...
Last Updated: 09/12/11 5:27pm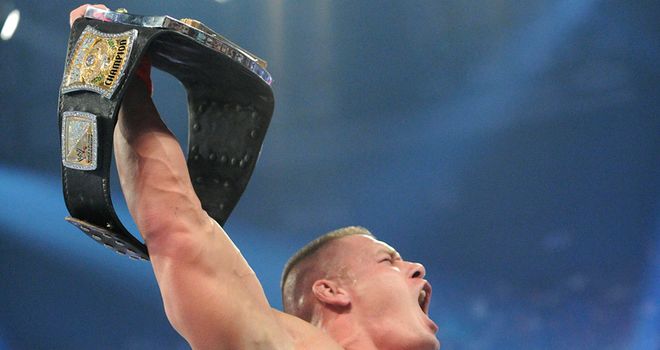 The 2011 Slammy Awards take place this Monday on Raw, with the 'Superstar of the Year' gong the most prestigious one up for grabs.
Alberto Del Rio, CM Punk, John Cena, Mark Henry, The Miz and Randy Orton are the six men in contention to win the much-coveted golden statue.
You can submit your vote at this link but if you need a little reminder of each candidate's accolades, read their biographies below...
Alberto Del Rio
Height: 6'5"
Weight: 239 lbs.
From: San Luis Potosi, Mexico
Signature Move: Cross armbreaker
Career Highlights: Royal Rumble winner (2011); Raw Money in the Bank winner (2011); WWE Champion
Alberto Del Rio came to WWE from the Mexican elite. A Superstar of tremendous society stature and culture, he has been linked to the bloodline of Spanish royalty Ferdinand and Isabella. Everything about him, from his education to his sense of honour and his very appearance exudes an image of carefully-calculated majesty. He is, in every sense of the word, a Superstar of boundless means.
With pure aristocratic arrogance, Del Rio chose to make his WWE debut in the summer of 2010 by interrupting and insulting Rey Mysterio on SmackDown. Later that night, Del Rio stunned the WWE Universe by making the two-time World Champion tap out in his first WWE match! Alberto Del Rio clearly prides himself on excellence. Armed with talent that appears to match his superior attitude, his zest for the finer things in life makes him destined for in-ring glory
CM Punk
Height: 6'2"
Weight: 218 lbs.
From: Chicago, Illinois
Signature Move: G.T.S. (Go to Sleep); Koji Clutch; Anaconda Vise
Career Highlights: WWE Champion; World Heavyweight Champion; ECW Champion; World Tag Team Champion; Intercontinental Champion; Raw commentator
Luck is for losers, at least according to CM Punk. Even though his arm is tattooed with good-luck charms, Punk believes you make your own good fortune through hard work and preparation. Growing up in Chicago, the Superstar's childhood consisted of watching the likes of "Rowdy" Roddy Piper and Jimmy Snuka exchange words, then blows. Such heated rivalries helped Punk realise WWE was where he belonged.
Adopting the "Straight Edge" movement - in which one bases their life around personal development, and avoids drugs, alcohol and a dependency lifestyle - Punk has brought his own style to WWE. Punk's in-ring repertoire is an assimilation of fighting styles he has learned from his travels around the world.
In his WWE pay-per-view debut as a part of Team DX at Survivor Series 2006, Punk brought down the house in Philadelphia where fans showed their respect for his talents. After becoming the only multiple-time Straight Edge World Champion in WWE history, Punk set out to convert his fellow Superstars as well as members of the WWE Universe to his way of thinking. Through his use of persuasive arguments and keen intellect, "The Second City Savior" has acquired a devout following.
Punk would later use his silver tongue to target his superiors in the hope of inspiring change in WWE as the self-appointed "Voice of the Voiceless" shortly before his monumental first WWE Championship victory over John Cena on July 17, 2011 - the final night of his contract. After the bell, Mr. McMahon watched helplessly as The Straight Edge Superstar vanished through the Chicago crowd with the coveted title as Punk's hometown fans passionately chanted his name.
When a re-signed Punk returned on Raw with his title to confront the newly crowned WWE Champion, Cena, it would mark the first time in the championship's rich history that two Superstars held claim to the WWE Title simultaneously. Punk's re-emergence as WWE Champion was controversial but, then again, Punk has always thrived on controversy. Whether a sole champion of his cause or flanked by supporters, verbally - from the commentary booth - or by force in the ring, CM Punk continues to preach from his self-appointed pulpit at the epicentre of the WWE Universe.
John Cena
From: West Newbury, Massachusets
Signature Move: Attitude Adjustment; STF
Career Highlights: World Heavyweight Champion; WWE Champion; U.S. Champion; World Tag Team Champion; WWE Tag Team Champion; 2008 Royal Rumble Winner; 2010 Superstar of the Year Slammy Award winner
Let's be honest: hailing from the rolling hills and broad valleys that constitute West Newbury, Mass., will likely never earn you "street cred" - unless, of course, you're John Cena. Then again, it didn't happen overnight for him, either. Long before he became the Dr. of Thuganomics, young Cena had to endure the neighborhood rocker kids' taunts about his baggy pants and rayon Kwamé shirts. His love for freestyling lyrics about rebellion and individualism just didn't fit within the small rural community.
By the time he turned 15, however, those same kids would stop teasing him, for it became apparent that Cena had been developing another passion: hitting the gym. After applying to more than 60 colleges (and being accepted by 58), Cena attended Massachusetts' Springfield College, where he excelled as a Division III All-American offensive lineman and team captain for the Pride. But as much as he fondly remembers his college football accomplishments, he's equally as proud of earning his degree in Exercise Physiology, which he attributes to making him a smarter, more durable performer in the ring today.
Though a huge WWE fan since childhood, rooting for heroes like Hulk Hogan, Ultimate Warrior, and Shawn Michaels, Cena had honestly never even considered a career in WWE. Instead, he flew out to California in 2000, to pursue a profession in bodybuilding (a move he now admits to making simply because his father had told him he wouldn't make it out there). But while working behind the counter of Gold's Gym in Venice, a discussion with a wrestler-in-training encouraged Cena to enroll in classes at Ultimate Pro Wrestling.
He was instantly hooked, and became motivated to learn everything he could about his newfound craft. He proved a quick study; within a year, World Wrestling Entertainment signed Cena to a developmental contract to train at Ohio Valley Wrestling. By June 2002, he had joined the SmackDown roster, and less than a year later headlined the first of what has become countless main-event matches.
That said, Cena has never forgotten his roots. In fact, remembering where he came from has helped him evolve into the man he is today: A well-versed hip-hop artist, a successful movie star and a blue-collared Superstar who's always ready to fight. He leads his WWE fan-based army into battle with the mission statement he's been down with since Day One: Hustle, loyalty and respect.
Mark Henry
Height: 6' 4"
Weight: 412 lbs.
From: Silsbee, Texas
Signature Move: World's Strongest Slam
Career Highlights: ECW Champion; European Champion; World Heavyweight Champion
Breaking records, pumping iron and devastating opponents with his unmatched strength, it's no wonder they call Mark Henry "The World's Strongest Man." Henry's rise to fame began in 1992 at the Olympics in Barcelona, where he competed in weightlifting in the super-heavyweight division.
Three years later at the Pan American Games, Henry captured a gold, silver and bronze medal, solidifying his place as one of the strongest men ever to walk the planet. He has also engaged in Strongman competitions, including the 2002 "World's Strongest Man" competition at the Arnold Schwarzenegger Classic, where Henry earned first prize.
The intimidating powerhouse began his WWE career in 1996, instantly igniting a nightmarish squared circle onslaught in which he laid waste to one adversary after another, both in tag team and singles competition. This included the immense Superstar's membership in the infamous faction known as The Nation of Domination, which also featured The Rock.
Over the years, Henry has gone toe-to-toe with top stars such as Shawn Michaels, Undertaker, Kane and Big Show. In every instance, his commanding presence has demanded the fear and respect of any Superstar he steps into the ring with. "The Second Strongest Man That Ever Lived" - according to Flex Magazine - continues to use his strength to destroy any Superstar in his path.
And the future looks frightening for anybody that gets in Henry's way. After battling back from many obstacles including periods of down time and uncertainty due to injuries suffered through the years of his career, he stands tall at the top of his game, more ferocious than ever and ready to take on all comers.
The Miz
Height: 6'2"
Weight: 220 lbs.
From: Cleveland, Ohio
Signature Move: Skull-Crushing Finale
Career Highlights: WWE Tag Team Champion; World Tag Team Champion; United States Champion; Unified Tag Team Champion; WWE Champion
If you ask the self-proclaimed "Awesome One," all the ladies want him and all the guys want to be him. And, quite frankly, it's hard to argue otherwise. A devoted WWE fan his whole life, Mike "The Miz" Mizanin competed on the fourth season of "Tough Enough" in hopes of winning a contract to become a WWE Superstar. After finishing as the runner up, The Miz didn't give up on his dream and continued to train once the "Tough Enough" competition ended. Now, his hard work is being rewarded as the reality TV alum with the frat boy looks, sophomoric humor and explosive intensity is living out his dream as a Superstar in WWE.
The Miz was first introduced to TV audiences as one of the seven strangers on The Real World: Back to New York,"the 10th season of MTV's popular and groundbreaking reality show. Since then, The Miz has certainly made his rounds on the reality TV circuit. He's been on four seasons of the Real World/Road Rules Challenge, The Inferno, The Gauntlet, Battle of the Network Reality Stars, and recently as a competitor on a special edition of Fear Factor.
Alongside John Morrison, The Miz won the WWE Tag Team Championship, defeating Montel Vontavious Porter & Matt Hardy on SmackDown. The "Dirt Sheet" duo dominated WWE's tag team division as well as WWE.com's Original Series with their irreverent antics and shenanigans until they were split apart with the 2009 WWE Draft. Since then, Miz went on to win the United States Championship and the Unified Tag Team Championship, covering himself in gold ... but the egotistical Superstar wouldn't rest until he had the WWE Title in his grasp.
The Miz won the Raw Money in the Bank Ladder Match in July 2010, earning a WWE Title opportunity at the time and place of his choosing. The "Awesome One" was seldom seen without his red Money in the Bank briefcase for months following that pivotal victory, reminding whoever held the WWE Championship that it was only a matter of time before The Miz would strike and take what he believed was rightfully his.
On the Nov. 22, 2010, edition of Monday Night Raw, The Miz finally made good on his persistent threats, successfully cashing in his WWE Title opportunity on a vulnerable Randy Orton to capture the most prestigious prize in sports-entertainment. With a Skull-Crushing Finale on WWE's Apex Predator, The Miz ushered in The Era of Awesome.
With that WWE Title victory, The Miz joined the ranks of history's most elite ring warriors, but he's hardly rested on his laurels since that fateful night. Why? Because he's The Miz, and he's ... awesome!
Randy Orton
Height: 6'5"
Weight:235 lbs.
From: St. Louis, Mo.
Signature Move: RKO
Career Highlights: WWE Champion; World Heavyweight Champion; Intercontinental Champion; World Tag Team Champion; 2009 Royal Rumble winner.
Randy Orton doesn't have many interests. Other than listening to Metallica or Pantera and watching the occasional movie, wrestling is his life...or, as he would tell you, his destiny. It's easy to understand why. His father is WWE Hall of Famer "Cowboy" Bob Orton, his uncle Barry "Barry O" Orton, and his grandfather "The Big O," the late Bob Orton, Sr.
Most kids remember their first ball game or school play; Randy's childhood memories include sitting in the kitchen of his family's St. Louis home with "Rowdy" Roddy Piper and Greg "The Hammer" Valentine, and repairing a broken banister leaned on by Andre the Giant. He wasn't even five years old when he watched his father knock out "Mr. Wonderful" Paul Orndorff in the main event at the inaugural WrestleMania, but he already knew he wanted to be a WWE Superstar.
Randy's parents tried dissuading him; his father even warned that life in the ring meant a life on the road, away from family. Yet Randy, seeing how his friends perceived his world-traveling dad in "a different light," recalls only thinking the prospect was "quite appealing, and something I wanted to do." Still, he agreed to try other avenues first.
After graduating from Hazelwood Central High School in 1998 (where he was an accomplished amateur wrestler), Orton enlisted in the United States Marine Corps. His plan was to serve a four-year tour of duty, then focus on a wrestling career; his reality was a dishonourable discharge one year later, due to unauthorised absences on two occasions (one for 82 days) and for disobeying a superior officer's direct order. After spending 38 days in the brig of Camp Pendleton Base, he would resume his civilian life...and to pursuing his destiny.
Back home in St. Louis, Orton accompanied his father backstage at a local WWE live event in late 1999. He left the show with an opportunity to try out in Stamford, which soon resulted in a developmental deal to train at Ohio Valley Wrestling. Orton quickly rose through OVW's ranks, and in April 2002, made his WWE debut.
Once he was given that chance, he never looked back. Whether as a member of elite factions such as Evolution, Rated-RKO and The Legacy, taking on a barrage of WWE legends or capturing multiple World Championships, Orton has not only lived up to his birthright, he has surpassed it.
The WWE Universe has called Randy Orton by many names over the years: The Legend Killer; WWE's Apex Predator and The Viper to name a few. But, what they can never deny calling him is one of the greatest Superstars in the squared circle today. But, that's no surprise; it's simply in his blood.
The 2011 Slammy Awards will take place live on Raw, Monday, 1am, Sky Sports HD3.