Ryder's 'Mania dream
Zack Ryder looks ahead to WrestleMania XXVIII with Sky Sports - and says he's desperate to be involved.
Last Updated: 23/03/12 12:27pm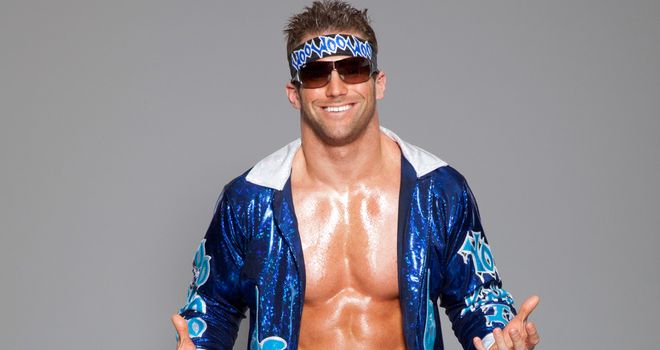 WWE Superstar Zack Ryder has told Sky Sports he is hoping to get his WrestleMania moment in Florida on April 1.
Ryder has been out of action for several weeks through injury and admits he's still not sure if he will be fit to compete on the Grandest Stage of Them All at the Sun Life Stadium in Miami next month.
But after losing the United States Championship to Jack Swagger at the start of the year, he is desperate to get back into the ring and fulfil his lifelong dream of taking part in a WrestleMania match for the first time.
"I'm trying to get healthy and ready for WrestleMania, that's the goal," he told skysports.com
"It's 50-50 at least. WrestleMania is a dream for me. I've been in the WWE since 2007 and I've been involved in WrestleMania with some run-ins, backstage singing and stupid stuff like that, but I want a real match.
"I want to walk out there and have my entrance music playing and have all my Broskis shouting 'woo woo woo' and just dominate.
"For my whole life, all I've wanted to do is be a WWE Superstar, so to be at WrestleMania on the biggest stage of them all would be a dream come true. Hopefully this injury will get healed up quickly and I'll get a WrestleMania match."
Ryder says he'd like to get the opportunity to battle for the United States Championship again, but with WrestleMania just around the corner he will be happy to take part in any type of match.
And if he gets the chance then he says he is planning to dress to impress.
"I will take on anybody. I just want to be on that show," he added.
"I've got special gear made up just in case and I could never wear it again; it says 'RyderMania' on it, so I hope I get to wear it and I hope I get to compete and live out a dream.
"If you had asked me two months ago when I was the United States Champion I would have said 100 per cent I'd be at WrestleMania, but now with this injury I don't know where things are going."
Plenty of matches have been confirmed for WrestleMania, which will be live on Sky Sports Box Office on Sunday April 1, and Ryder told us what we can expect...
Ryder on John Cena vs The Rock
"Even now as a WWE Superstar I look forward to WrestleMania as a fan because a match like Cena v The Rock is going to be crazy. The place is going to hate Cena and they're going to love The Rock and it's just going to be nuts.
If you've watched Cena and The Rock going back and forth on RAW in the last few weeks they have been throwing insults at each other; I don't think they like each other in real life so it's going to be interesting in front of a Miami crowd, The Rock's home town. With fans coming from all over the world you don't know what crowd reaction to expect for Cena or The Rock and it's going to be a moment that cannot be missed. It's going to be a match that people are talking about for a long, long time."
Ryder on CM Punk v Chris Jericho
"Chris Jericho was one of my favourites growing up and now CM Punk says he's the best in the world. Jericho says he's the best in the world, so we're going to find out at WrestleMania who's the WWE Champion and who's the best in the world.
CM Punk right now has taken the WWE by storm. He's the man right now and he's definitely the deserving champion. Chris Jericho came back and wants to take that catchphrase back 'Best In The World' and we're going to find out at WrestleMania who that is."
Ryder on Undertaker v Triple H
"Undertaker has that streak of 19-0 and Triple H tried to take it from him last year, but he couldn't do it. Shawn Michaels tried to take it two times and he couldn't do it, but he's the special guest referee. Is he going to help Triple H or does he not want Triple H to win because he couldn't break the streak either? It's interesting, but I think the Undertaker's going to go 20-0. I don't think he can be beat at WrestleMania."
Ryder on Daniel Bryan v Sheamus
"It's pretty crazy because last year at WrestleMania, the match before the PPV aired was Daniel Bryan v Sheamus - and now a year later they're going for the World Heavyweight Championship. It's great to see two young guys work their way up the card in such a short period of time and it's definitely going to be a hard-hitting match. I think it's going to be more of a brawl and it's definitely a match to look forward to. I think Sheamus might walk away with the championship."
Ryder on Cody Rhodes v Big Show
"Cody Rhodes has been the Intercontinental Champion for a long time and Big Show has never won at WrestleMania - he's like the reverse Undertaker. This might be the year he knocks Cody Rhodes out and becomes the Intercontinental Champion. I think it's time that the title changes for sure."
Ryder on his dream WrestleMania match
"My dream match would be myself against Edge. I was one of the Edgeheads, I was in his little group and it would be like teacher v student because he was one of the guys I looked up to when I was seriously considering being a WWE Superstar as a teenager. I wanted to be like him, I wanted to follow in his footsteps. It was crazy things worked out and how I was under his wing and stuff like that. It's unfortunate that he had to retire, but if he ever came out of retirement I'd like to see Zack Ryder v Edge. That's definitely a dream match for sure."
Ryder on his favourite ever WrestleMania match
"I grew up watching WrestleMania and every year I would look forward to it. I went to WrestleMania X and WrestleMania XX as a fan. They were at Madison Square Garden in New York, so I had to go. I remember Shawn Michaels vs Razor Ramon, the ladder match from WrestleMania X. I was there and I loved it because it was probably the first ladder match the world ever saw on pay-per-view. If you go back and watch that match it's still as good as the TLC and the Money In The Bank matches they have now. The story they told was just amazing."
Sky Sports customers can book WrestleMania online now via this link: www.sky.com/orderboxoffice