Rey Mysterio says Tyson Kidd can become a big name when he unleashes his potential
Luchador reveals how his uncle has played pivotal role in his career
Last Updated: 26/03/14 5:40pm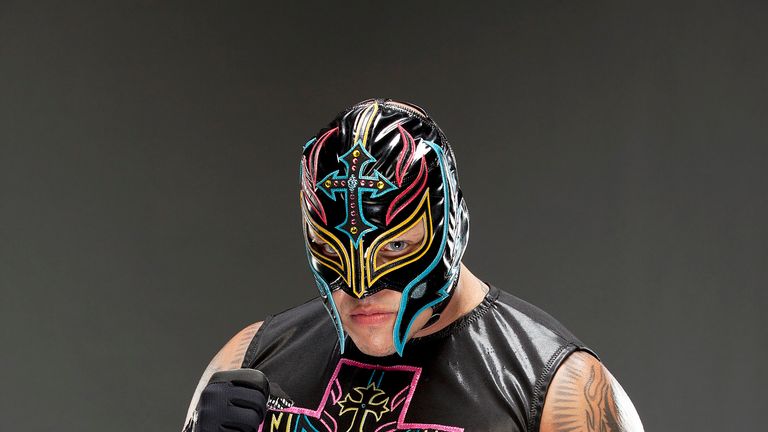 Tyson Kidd has yet to grasp a singles championship since joining the main roster five years ago and spent virtually all of 2013 on the sidelines after suffering a torn knee meniscus.
But the Canadian graduated from the famed Hart Dungeon wrestling house, which also helped launch the careers of grappling legends such as Bret and Owen Hart, Chris Jericho and Edge.
And in an exclusive interview with skysports.com, Mysterio explained that Kidd will stagger supporters and his peers when he is allowed to fully showcase his arsenal of manoeuvres.
"He hasn't really been given the opportunity but when he gets it he will blow people's minds," Mysterio said of Kidd, a former WWE Tag Team Champion with DH Smith, the son of the late British Bulldog, Davey Boy Smith.
"He will wow Superstars - including even myself - and fans because top to bottom and all around he is a complete athlete with a ton of potential."
Updating
Like Kidd, Mysterio is one of the most dazzling men in WWE, with his high-octane moves - including the iconic 619 - and an array of vibrant masks and trunks winning him many admirers.
And the three-time world champion credited his uncle, Rey Misterio Sr, for his eye-catching style and for propelling him into the world of professional wrestling when he was just a teenager.
"I am always on the lookout for new gear," said the high-flyer. "If I walk into a Louis Vuitton store and they have a belt that I don't have, I want it straightaway.
"I am always updating and coming up with something fresh, whether it's a colour, a trend or a design, as my uncle always taught me to be unique and different.
"He told me not to be plain and dull like everyone else, and that you have to spice things up and catch people's attention with more than just your in-ring work.
"My uncle inspired me and it was because of him that I become a wrestler, but besides him, the one Superstar that really caught my attention growing up as a kid was 'Macho Man' Randy Savage."
Anxious
Savage won the first of his two WWE Championships at WrestleMania IV in New Jersey and Mysterio achieved a similar feat at WrestleMania 22 in Chicago, by overcoming Kurt Angle and Randy Orton to seize his maiden World Heavyweight Title.
The veteran readily admits that that Showcase of the Immortals in 2006 was his favourite of all time, but he could earn another 'Mania moment at the event's landmark 30th edition on April 6.
Mysterio will battle the likes of Big Show, Sheamus, Dolph Ziggler, Mark Henry and Christian in the 30-man Andre the Giant Memorial Battle Royal, with the winner receiving a plush trophy.
However, the luchador says that WrestleMania is about more than the evening itself and expects days of excitement for the grapplers and supporters lucky enough to sample the goings-on in New Orleans.
"There are a lot Superstars that are anxious to be on that stage for the first time and there are a lot of fans to anxious to see WrestleMania again having seen the last 29," Mysterio added.
"WrestleMania is a week of activities and family-oriented fun and then there is the special night at the end of it where you can see history being made."
WrestleMania XXX booking details
WrestleMania XXX will be shown on Sky Sports Box Office (channel 743) and Sky Sports HD Box Office (channel 752) at midnight on Sunday, April 6 (Monday morning).
WrestleMania XXX will be repeated on Sky Sports Box Office (channel 743) BUT NOT Sky Sports HD Box Office (channel 752) between 10am on Monday, April 7 and 10pm on Saturday, April 12.
Repeat showings will last for four hours.
The event is priced at £17.95 for UK customers, €24.95 for customers in the Republic of Ireland.
You can order WrestleMania XXX from Friday, March 28 by pressing the Box Office button on your remote. Select 'sports & events' and follow the on-screen instructions.
Viewers can call 08442 410 888 from Friday, March 28 to book WrestleMania XXX. (There may be an additional charge for telephone bookings).
You can also book WrestleMania XXX online from Friday, March 28 by visiting this link: https://my.sky.com/orderboxoffice/
Cable customers should contact their local cable operator.