Commonwealth Games: Anita Navin blogs on England's semi-final heartache
Anita has all the stats from Glasgow event...
Last Updated: 08/10/14 12:28pm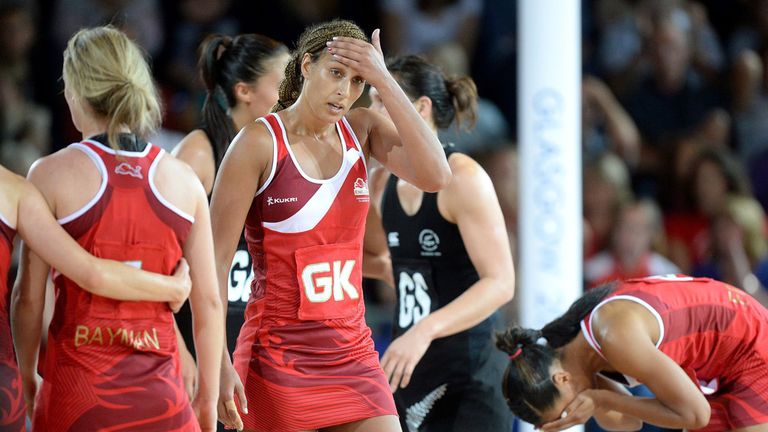 Team England topped the medals table but it was Australia who secured gold in netball and concluded the competition with a slick and skilful performance on Sunday at the SSE hydro arena in Glasgow.
As England supporters were left celebrating very little the consolation was that Anna Mayes' squad had come within one goal of achieving the breakthrough of beating the No.1 and No.2 in the world.  
Faced with narrowest of margins and with seconds on the clock we all dreamed of a Housby style conclusion but it was not to be. England lost the semi-final game to New Zealand by a single goal 34-35 in a nail biting finish to a very exciting game.
New Zealand only managed a 69% shooting percentage scoring 35/51 with England scoring 34/47 and a 72% success rate but came out on top. The defence of New Zealand are the toughest in the game and at times England were showing how they could weave and carve up the strong front line of Laura Langman, Joeline Henry and Casey Kopua.
England, I am sure, will be back much wiser, fitter, faster, stronger and in contention for a place in the World Cup final in Sydney next summer.
Anita Navin
This semi-final was a game won in defence and perhaps some of the following figures show some similarities and differences.  The contact penalty tally for England stood at 89 compared to New Zealand's 27. In the obstruction penalties England's total was similar to New Zealand's being 17 compared to 13. Whilst attacking rebounds were relatively low for both teams it indicates the dominance of both defence pairings.

Taking a leap of faith the England squad re-grouped and entered the bronze medal game against Jamaica. Subtle in their preparation for the games and growing accustomed to life in Glasgow, it was the capacity of ex-Australian coach Jill McIntosh who was aiming high for her sunshine girls. Having been in camp in the north-east alongside the umpire conference it might just prove she did play her cards right. Jill made it quite clear that if her team all turned up to the semi she would indeed come out with the medal.
Jamaica did indeed deliver with some quality performances from Paula Thompson at Centre, Romelda Aiken in the shooter position and Shanice Beckford at goal attack. England in the end were left empty handed, minus a medal after having earlier had two close encounters with the top two nations in the world. It was bitterly disappointing for England and the supporters who had witnessed the game but after coming so close to beating the gold medal winners England must continue on the path to gold in the World Cup next year.
Individuals
There were some outstanding performances in the competition and as of Saturday August 2 the individual statistics really did highlight some of the talented individuals on show in this sport. Mwai Kumwenda not only delighted the crowds with her never ending smile and athleticism but she topped the goal scoring chart achieving 230/255 goals and an average shooting percentage of 90.2%, followed closely by Jhaniele Reid from Jamaica scoring 214/239 and a 89.5% average.  Jo Harten was 5th with a tally of 170/213 achieving a 79.8% average.
Goal assists sparked the most interest with many spectators asking questions as to the meaning. A player delivering a ball outside of the shooting circle to a shooting opportunity was the explanation for this statistic. Madi Robinson was the powerful WA in green and gold delivering 130 passes to shooting opportunity followed closely by Laura Langman from New Zealand with 123.  It was Beatrice Mpinganjira from Malawi who gained bronze in this tally with a total of 117.

Whilst Barbados were disappointed with their overall performance, it was Shonette Azore the GK who delivered a fine tally of 26 defensive rebounds. Romelda Aiken from Jamaica followed with 16 defensive rebounds and also scoring 7 in the attacking rebound tally as she moves from GK to GS. England's Geva Mentor was certainly a major force for the red and white's and never failed to deliver, gaining 21 defensive rebounds. The top two for interceptions were Shonette Azore (Barbados) with 24 and Casey Kopua (NZ) achieving 21.

Scotland the home nation were rejuvenated and put on a fine display under the leadership of Gail Paratta, the newly appointed coach. In terms of deflections, Hayley Mulherron scored 42 to lead the table and was closely followed by Rachel Forbes, her defensive team mate, with a score of 32. I guess the challenge now is to turn those into intercepts and Scotland may be contesting for a higher placing at the World Cup next year.
The penalty tally is a table to avoid but inevitably the circle defence will score highly here and it goes without saying that all defensive units aim to keep their individual tally low. Adele Niemand from South Africa had a combined tally for obstruction and contacts at 102, Eboni Beckford-Chambers 88 and Hayley Mulherron at 81.
Interest
Finally in the team statistics (prior to the medal games) Jamaica topped the goals table, followed by Australia, New Zealand, Malawi and England. To be expected New Zealand achieved the top spot for interceptions (70), followed by South Africa (64) and Australia (61). England were in fourth position with 59 interceptions. Australia led on the goal assists (314) with Jamaica second (300) and New Zealand third (295). England were fifth behind Malawi scoring 261.

So it was all about Australia in the closing stages with the diamonds dominating the netball final and, as Kylie Minogue powered her way through songs at the closing ceremony, it simply highlighted the strength in body and mind of those from the land Down Under!
England, I am sure, will be back much wiser, fitter, faster, stronger and in contention for a place in the World Cup final in Sydney next summer.
Netball certainly appealed to many at the Games and I am sure this will increase interest in the 2015 Super League campaign.
What are your thoughts on the final placings? Get in touch via Twitter: @netballpundit @SkyNetball