IOC bars Russian athletes from marching behind their own flag
Olympic Athletes of Russia win thrilling ice hockey gold medal
Last Updated: 25/02/18 8:30am
The International Olympic Committee (IOC) has dashed Russian athletes' hopes of marching behind their national flag at the closing ceremony of the Winter Games on Sunday.
The IOC have announced that they have decided against immediately lifting Russia's Olympic suspension, following fresh doping violations.
However, the IOC say the Russian Olympic Committee will be reinstated in the near future, as long as there are no new doping cases.
Russians have been competing as neutral athletes at the Games, their Olympic status having been suspended as IOC punishment following allegations that Russia ran a systematic, state-backed drug-cheating programme.
The IOC said two Russian doping violations during the Pyeongchang Games had marred an otherwise clean report card for the Russian delegation at the Games.
IOC President Thomas Bach said: "This was hugely disappointing and, in addition to other considerations, prevented the IOC from even considering lifting the suspension for the closing ceremony.
"We recognise these two cases have cast a serious shadow over the OAR delegation."
The 'Olympic Athletes from Russia' ended the Games on a high with a thrilling 4-3 overtime win over Germany in the ice hockey final.
Once again wearing red and white uniforms which lacked the Russian Coat of Arms, the team gave the OAR team their second gold and 17th total medal of the Olympics.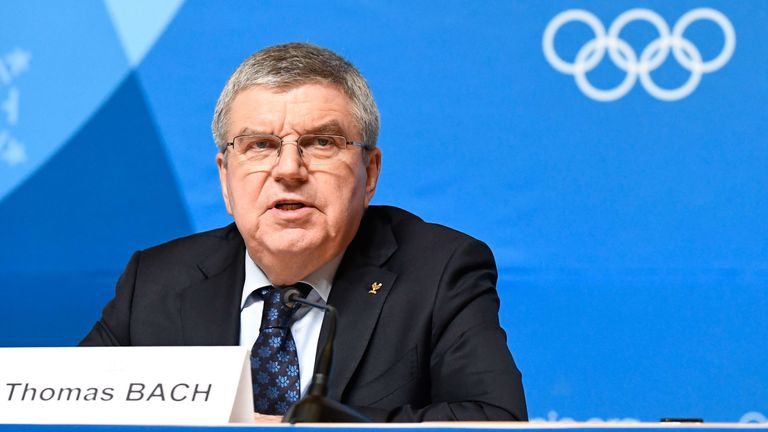 With Germany's Patrick Reimer off for high sticking midway through the extra period, the OAR went on a four-on-three man advantage and Kirill Kaprizov emerged as the hero, firing a pass from Nikita Gusev past German goaltender Danny aus den Birken.
The Germans entered the match as big underdogs but looked set to claim a surprise gold - only for the OAR to make it 3-3 with 56 seconds left to force an extra period.
IOC President Bach says the ban on Russia will be lifted automatically in future if there are no more positive tests.
Nicole Hoevertsz, who led an implementation group detailed to report back on the behaviour of the OAR delegation during the Games, said: "I believe that we should draw a line.
"We have to draw a line and look towards the future.
"We need to bring this story to an end and look forward. It is never going to be business as usual in sport again or in Russia."
Team GB Chef de Mission Mike Hay says boycotting the closing ceremony if Russia were allowed to fly their flag had been discussed.
"We talked about it, absolutely we did," said Hay.
"But we came to the conclusion the right thing to do was march, for the sake of the athletes.
"It's their games, it's their opportunity to enjoy themselves tonight, so that [a boycott] probably would have been the wrong thing to do."