Russian athletes appeal against Winter Olympics ban
By Sky Sports News
Last Updated: 06/12/17 11:46am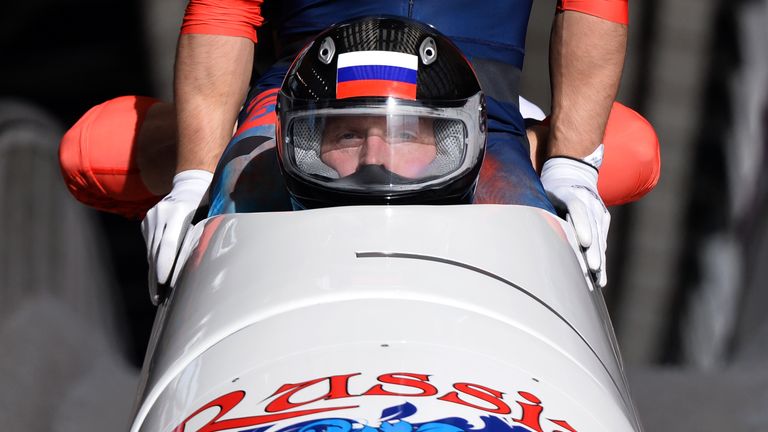 Twenty-two Russian athletes are challenging their life bans from the 2018 Winter Olympics in PyeongChang, the Court of Arbitration for Sport has confirmed.
The International Olympic Committee (IOC) announced on Tuesday that Russia had been banned from sending a team to South Korea and its athletes would only be eligible to compete under a neutral flag, as seen at the summer Olympics in Rio de Janeiro in 2016.
The ban follows a 17-month investigation into widespread doping at the 2014 Winter Olympics in Sochi, which has resulted in a number of bans for the competition's medallists.
As a result of the investigation, former Russian sports minister Vitaly Mutko - now Vladimir Putin's Deputy Prime Minister - has been banned from any involvement in all future Olympic Games.
Mutko is currently leading the organisation of the 2018 World Cup in Russia, but FIFA say the decision to ban Russia from the Winter Olympics will have no impact on preparations for next summer's football tournament.
In his report to the IOC executive board, former president of Switzerland Samuel Schmid said Mutko, as the then minister for sport, "had the ultimate administrative responsibility for the acts perpetrated at the time".
A spokesman for Putin says the Kremlin will analyse the IOC's ruling before making any decision regarding the country's participation at the PyeongChang Games.
Dmitry Peskov said "we need to put emotions aside" and "make a serious analysis" of the ruling before taking any steps. Peskov also said Russia "still needs to answer some questions" from the IOC and that they are focusing on "protecting the interests of our athletes".
Konstantin Kosachev, chairman of the foreign affairs committee at the Russian parliament's upper house, said the ruling is "clearly part of the West's policy to restrain Russia" but insisted that local sports officials are to blame and "ought to bear personal responsibility" for letting it happen.
The 22 athletes, including Alexander Zubkov, Alexander Legkov and Aleksander Tretiakov, are also appealing against their disqualifications from the 2014 Sochi Olympics.