Russian Olympic Committee apologise for doping violations
By Alex Marrow in Kaliningrad
Last Updated: 06/12/17 11:29pm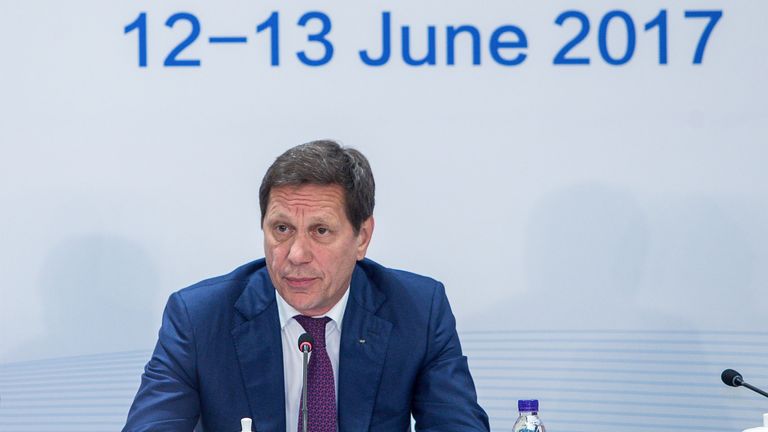 The Russian Olympic Committee (ROC) president, Alexander Zhukov, has apologised for anti-doping violations committed in Russia, but described their suspension as "contradictory".
Based on the findings from a 17-month investigation by the former president of Switzerland, Samuel Schmid, the IOC suspended the ROC with immediate effect.
The deputy prime minister and former sports minister, Vitaly Mutko, was given a lifetime Olympic ban and the ROC was charged 15m USD to cover the costs of the investigation.
Russian athletes now face a choice between competing under the neutral flag or not competing at all.
Zhukov admitted that there were some positives, namely that clean Russian athletes can still compete, albeit under the neutral Olympic Flag, bearing the name 'Olympic Athlete from Russia' (OAR).
However, he took issue with the IOC's stance in a statement on the ROC's website.
"As the president of the Russian Olympic Committee, I apologise for the violations of the anti-doping rules that were committed in our country," said Zhukov.
"At the same time, I want to once again draw your attention to the fact that today's decision will directly affect the fate of a new generation of Russian athletes, many of whom for the first time have the opportunity to speak at the upcoming Olympic Games.
Zhukhov insisted future athletes should not be accountable for the country's prior violations, adding: "Being prohibited from representing your country at competitions not only contradicts the essence of the Olympic movement, but goes far beyond its scope because it limits the athlete's right as a person and citizen.
"This is absolutely unacceptable."
The IOC's decision to ban Russia from the 2018 Winter Olympics in Pyeongchang did not come as a surprise in Russia or abroad.
Studio guests for Match TV, Rossiya 24 and Channel One Russia were ready and waiting to share their thoughts on IOC President Thomas Bach's announcement.
Yana Romanova, a former Olympic biathlete, shed tears on Match TV as she gave an impassioned response to the news.
She said: "For most athletes the Olympic Games is a once-in-a-lifetime opportunity.
"The majority of them won't get another chance. It is absurd that we are in this situation."
Rossiskaya Gazeta, the Russian government newspaper, took a strong stance against the decision, claiming that the IOC has 'broken' the Olympic rings, the main symbol of sport.
The paper described the neutral status for Russian athletes as a 'humiliation', given that they won't be able to compete under the Russian flag or with their anthem.
The Russian media is particularly dismissive of Grigory Rodchenkov, the whistleblower responsible for exposing Russia's state-sponsored doping programme at Sochi 2014.
The former director of the Moscow Anti-Doping Laboratory is often described as a 'WADA Informant' and his testimony is not seen as concrete evidence.