Mosconi Cup: Europe open up a slender lead over USA on first night in Blackpool
Last Updated: 02/12/14 9:38am
Europe fought back for a 3-2 lead over the USA in the opening night of the Mosconi Cup in Blackpool.
Darren Appleton secured a crucial 5-3 win over Shane Van Boening to ensure that Europe head into the second day with a slender advantage.
In the opening Team match, Europe took first blood after Karl Boyes completed a 5-1 win in front of a raucous crowd at the Tower Circus.
But the USA levelled in the following doubles encounter, with Corey Deul and Justin Hall securing a 5-3 win over Appleton and Karl Boyes.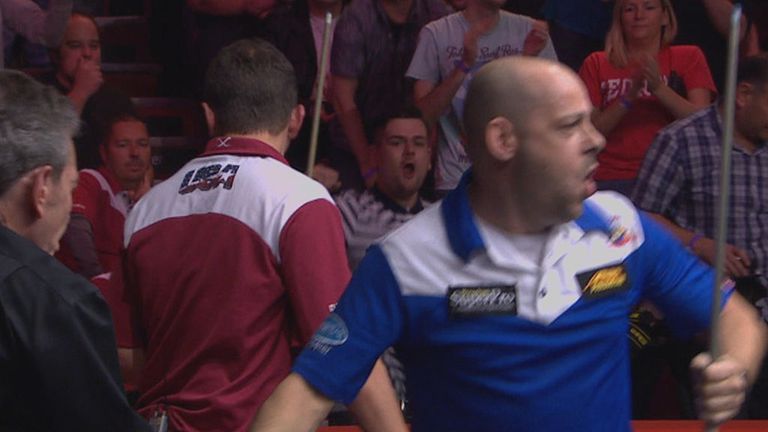 To win the last two matches against one of the best players in the world is a massive boost for us going into tomorrow.
Darren Appleton
Europe then suffered another setback in the singles as John Schmidt claimed a 5-3 win over Mark Gray.
But Niels Feijen and Nikos Ekonomopoulos levelled things up at 2-2, inflicting a 5-1 thrashing on Justin Bergman and Shane Van Boening.
The highlight of the encounter was 'golden break', with Ekonomopoulos potting the nine ball off the break in the opening frame.
It was left to Appleton to edge Europe ahead in the final match, completing victory after careless play from Van Boening had left a ball over the pocket.
"We were very disappointed to lose the first doubles with me and Carl," he told Sky Sports. "I only had myself to blame by missing the nine ball to make it 4-4. I personally was on a bit of a downer.
"America played well, but the last two matches we really dug in and we played really well.
"Obviously you want to win every session. To win the last two matches against one of the best players in the world is a massive boost for us going into tomorrow."