Brock Lesnar: WWE World Heavyweight Champion signs new deal
Anomaly commits to WWE after turning down MMA return
Last Updated: 05/04/15 10:29am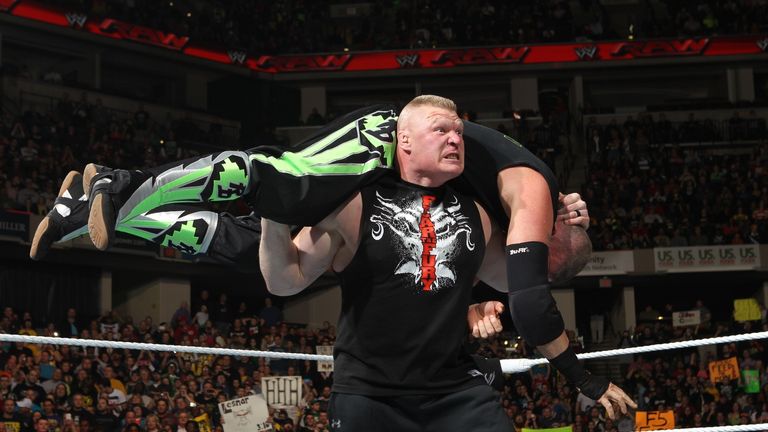 Brock Lesnar has ended speculation over his future by signing a new contract with WWE.
The reigning WWE World Heavyweight Champion's previous deal was due to expire shortly after his title defence against Roman Reigns at WrestleMania 31.
But in an interview with ESPN's SportsCenter programme on Tuesday, Lesnar revealed he rejected advances to return to MMA in order to continue his stint in Vince McMahon's company.
"I'm officially closing the door on MMA," Lesnar said. "I re-signed (with WWE) last night. We came to a conclusion. The offer on the table, I just could not refuse."
Lesnar quit WWE in 2004 and went on to become UFC Heavyweight Champion four years later, beating Frank Mir, Randy Couture and Shane Carwin along the way.
However, The Beast Incarnate headed back to WWE in 2012 and despite losing his return match, to John Cena at Extreme Rules, has flourished in professional wrestling once again.
Lesnar won the WWE World Heavyweight Championship for the fourth time at SummerSlam in August 2014 by beating Cena and has successfully defended the belt in a singles match against Cena and in a Triple Threat encounter also featuring Seth Rollins.
The Anomaly stunned fans in New Orleans last April, too, by smashing The Undertaker's unbeaten streak at WrestleMania, finally conquering The Phenom after a third F5.
Lesnar also won the King of the Ring tournament in 2002 and the Royal Rumble Match a year later.
WrestleMania 31 Booking details
WrestleMania 31 will be shown on Sky Sports Box Office (channel 743) and Sky Sports HD Box Office (channel 752) at midnight on Sunday, March 29 (Monday morning).
WrestleMania 31 will be repeated on Sky Sports Box Office (channel 743) BUT NOT Sky Sports HD Box Office (channel 752) between 10am, Monday, March 30 and 10pm, Saturday, April 4. Repeat showings will last for four hours.
The event is priced at £19.95 for UK customers, €24.95 for viewers in the Republic of Ireland.
Viewers can call 08442 410 888 from Tuesday, March 17 to book WrestleMania 31. (There may be an additional charge for telephone bookings).
You can also book WrestleMania 31  online from Tuesday, March 17 by visiting this link: https://my.sky.com/orderboxoffice/
Cable customers should contact their local cable operator.