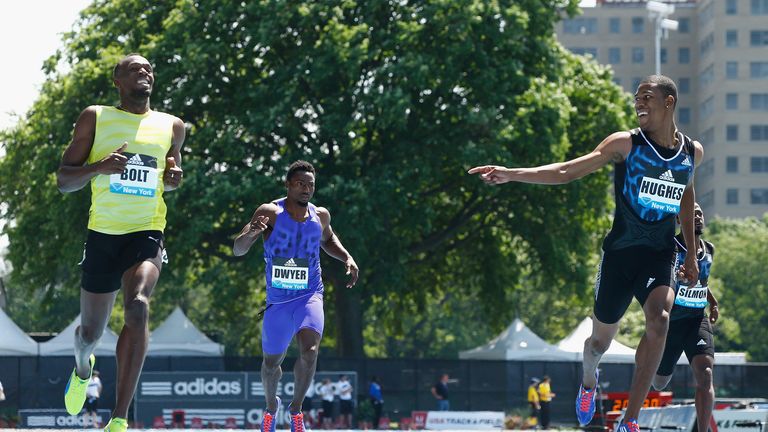 Sprinter Zharnel Hughes has received support from Darren Campbell after coming under fire for being included in Team GB.
British Athletics announced on Tuesday that Hughes, born on the British overseas territory of Anguilla but has held a British passport since birth, was one of five athletes cleared to compete for the country.
Clearance was also granted to 100m hurdler Cindy Ofili, high jumper Victoria Dronsfield, 400m hurdler Shante Little and 400m runner Montene Speight, reigniting the controversy over "plastic Brits".
Hughes comes from the Caribbean island of Anguilla and is now free to compete for Britain as the overseas territory is not recognised by the International Olympic Committee (IOC), while Dronsfield and Ofili - younger sister of Tiffany Porter, whose switch of allegiance previously caused controversy - have British parents.
That did not impress outspoken sprinter Richard Kilty, who sarcastically tweeted: "Good for fans to see home grown talent representing GB... oh wait..."
World indoor champion Kilty also claimed "all sprinters I've spoken to in the team feel exactly the same", before deleting both his tweets. Former GB heptathlete Kelly Sotherton expressed her reservations by tweeting she was "not sure about it".
Sky Sports Gamechangers presenter Campbell said the extra competition would be healthy for Britain and expressed his sympathy for Hughes, who broke Jamaican sprinter Yohan Blake's 100m junior record in 10.12 seconds and almost beat Usain Bolt recently in the 200m.
Campbell, 2004 Olympic relay gold medallist, told SSNHQ: "This is an issue because from an athlete's point of view, the last thing you want is an athlete changing nations just to receive funding.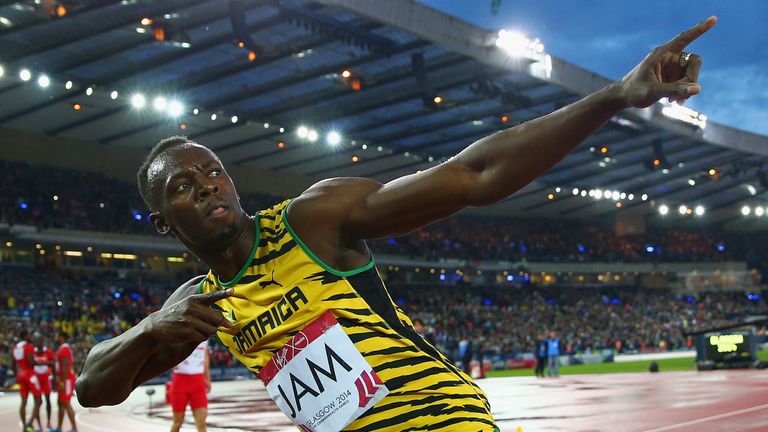 "But it's different if they are coming over and want to compete for GB - someone like Tiffany Porter who came over from the United States. She's won many medals and we are happy to have her. When they see our nation as an easy option to run for and an easy country to get a vest then it's a problem."
When asked if he understood the concerns of Kilty, Campbell added: "If they just come here for funding and support then 100%. If it's because they are a new threat then no I can't.
"When you get involved in an individual sport like athletics, the goal is to be the best in the world. It doesn't matter who they represent because everybody needs to be beaten. In the past some athletes have been so focused on being the best in Britain they have forgotten the ultimate goal of being the best in the world. They should never lose sight of that.
"If an athlete has a British parent then why shouldn't they have a choice? If they are from our colonies, then rules are rules. Saying these athletes are doing wrong is wrong without understanding their story."
Another former GB runner, Daniel Caines, added: "Hughes is in a strange situation – his country doesn't have a team recognised by the IOC so he has to find another nation. Being part of the British colonies we become his home nation.
"Other athletes from the United States with a purpose of perhaps coming to a more 'cushy' team, then I can understand that annoys certain people because there's a sense of national pride and the idea of wearing the GB vest."
British sprint hurdler Lucy Hatton was unhappy with the prospect of going up against an American-born athlete such as Ofili in battling for qualification.
The European indoor silver medallist told the BBC: "She's not taking my spot. Fair enough if she needs to come over because America's a bit too hard for her at the moment. But try and run in the wind, rain and cold because it's not as lovely as it seems."
However, high jumper Isobel Pooley welcomed the addition of Dronsfield, tweeting: "It's great having @VDronsfield as a training partner, she helps/pushes me & in my opinion has every right to compete for GB if she wants to!"