Sky Sports Scholars Freya Anderson and Samantha Kinghorn on YSWOTY shortlist
By Mark Ashenden
Last Updated: 01/10/17 10:56am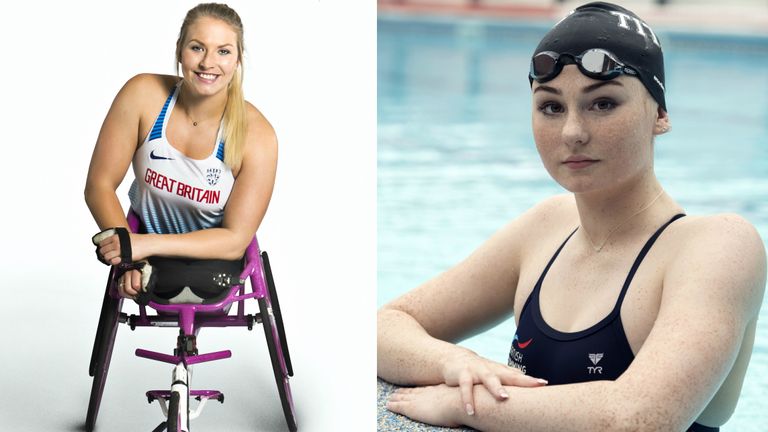 Scholars Freya Anderson and Samantha Kinghorn are in contention to be crowned Young Sportswoman of the Year.
Anderson and Kinghorn were recently unveiled as Sky Sports Scholars and it is their efforts over the last 12 months that have been recognised for the prestigious Sunday Times Sports Women award, in association with Vitality.
The awards, now in their 30th year, have led the way in recognising and celebrating the outstanding contribution to sport made by elite athletes, coaches, administrators, community volunteers and inspirational women.
Former Scholar Elise Christie made the shortlist of six for the Sportswoman of the Year award.
Swimmer Anderson, 16, won her first senior British title in the 100m Freestyle in April and made her senior debut at the World Championships three months later.
Paralympian Kinghorn, 21, made the finals in the 100, 200m and 800m last summer in Rio and is the fastest ever female British wheelchair racer.
"To make the shortlist of four is an incredible feeling," said Anderson who is also joined by gymnast Ellie Downie and para-skiier Millie Knight.
"These past few months have been hectic and this just tops it off. Being unveiled as a Sky Scholar was amazing and now to be on the shortlist with Samantha is even better.
"I feel very proud and a lot of amazing things have happened that are making me more confident!
"Inspiring young girls and other women is definitely important to me. Growing up I had plenty of female role models. I want to let people know that swimming has given me tons of confidence and therefore inspire others to take it up."
Kinghorn was just as delighted to have been nominated and is another welcome boost as she prepares for her debut in the marathon in Chicago on October 8.
"I really can't believe it," said Kinghorn who last week was named Scottish sportsperson of the year. "I've had the most incredible year and all these nominations are really topping it off.
"It really means a lot to me that para athletes and female athlete get the recognition they deserve.
"It also means so much to inspire young girls to get into sport and give everything a shot even just for the health benefits. Being in sport has helped my confidence so much."
The winners will be announced on Thursday October 26 at the awards ceremony in London.
These will be broadcast live on Sky Sports Main Event, Sky Sports Action and Sky Sports Mix, a channel available to all Sky TV customers (8pm to 9.30pm).
Read Freya Anderson's full profile
Read Samantha Kinghorn's profile
Sunday Times Sportswomen of the Year website