Lisa Snowden and Sarah-Jane Mee join Marvin Ambrosius for the new series of Fit in 5 - catch all the episodes On Demand from Wednesday, May 10.
The first series of 'Fit in 5' was a huge success and for the second, exclusively available to Sky customers on On Demand, Sky have announced a partnership with Fitbit - the first time Sky has worked with a partner to create a short-form funded content series.
Fit in 5 creator and personal trainer Ambrosius is joined by Sky News Sunrise presenter Mee and fellow TV personality Snowden for the series which aims to get people fit in only five minutes per day and as well as On Demand is available to Sky customers on Sky Go and Now TV.
As the leader in the connected health and fitness market, Fitbit join forces with Ambrosius and the Fit in 5 product to get heart rates pulsing in five-minute sessions which incorporate fat burning, cardio and heart rate zone workouts.
The campaign will run over a series of 18 ad-funded episodes to be premiered on Sky's On Demand platform for six weeks, beginning from today. It will then be rolled out across Sky Sports Mix in July and will aim to eclipse the success of the first series.
We spoke to Marvin for the Fit in 5 lowdown.......
What is Fit in 5?
If you are going to go to the gym you need to have time and if you don't have time you don't go at all.
So it's something that I came up with to enable people to give themselves that bit of time to say fives minutes is better than nothing at all!
Having something like Fit in 5 and being able to do five-minute workout and add extra time to do another five minutes and then add more when you have the time.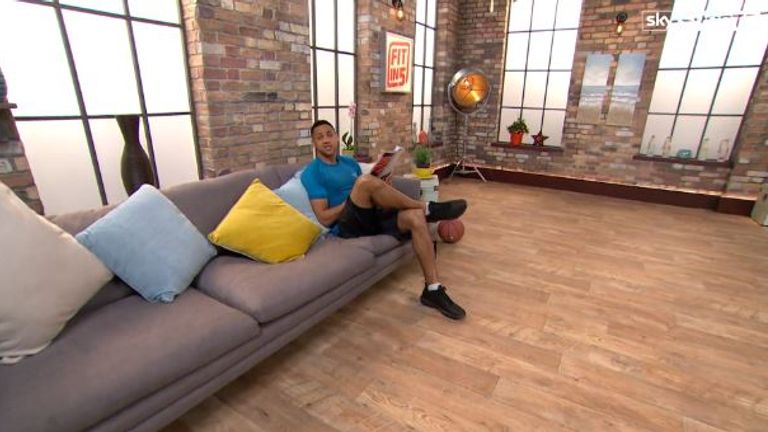 It is for you to make time and have a better understanding that less can be more and that less is better than nothing!
Marvin Ambrosius, Fit in 5 instructor & creator
How did you come up with the idea?
I went through a lot of battles and struggles with my own weight going up and down, going though every diet and trying every fad.
It came down to one thing - what is the balance? How can I maintain and not psyche myself out to keep with a regime that is not realistic.
How hard do I have to work?
It gives you that space to be able to work out when you can - you can do five minutes and say do you know what I'm gonna try 10 mins next week and every week give yourself a new challenge.
Everything is down to the intensity and the levels that you work at. That's what so amazing about collaborating with FitBit - it allows people to understand how they are working out and what goal they are working towards.
The first zone is fat burn, then cardio and then peak and it makes it measurable over time and people can see their successes, the impact on their heart rate.
You can download the first series of Fit in 5 from Sky On Demand with the second series available from Wednesday May 10