Sky Scholar and speed skater Elise Christie to miss Belarus World Cup
By Mark Ashenden
Last Updated: 24/03/17 10:46am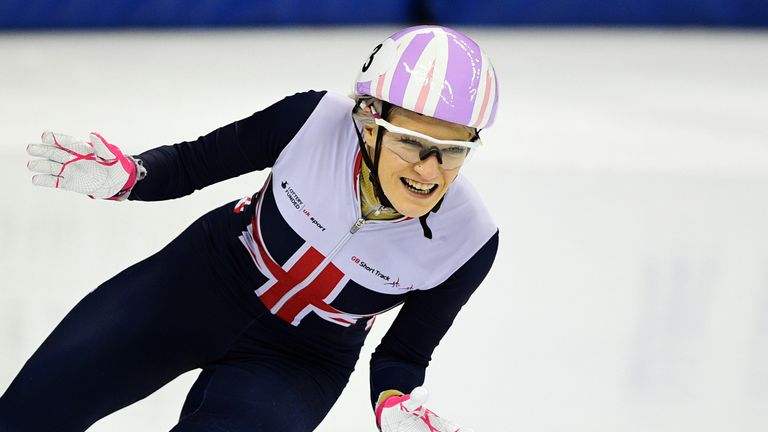 GB speed skater Elise Christie will not race in the final World Cup event in Belarus this weekend as she continues her recovery from concussion.
The 26-year-old from Livingston missed the fifth World Cup in Dresden last weekend and she had been hoping to overcome her injury concerns for the big finale.
But with the World Championships in Rotterdam on the horizon (March 10-12), Christie reluctantly opted to sit out the action in Minsk over the next three days.
"I've had some problems with concussion, so haven't been able to race but I'm getting better," the Sky Academy Sports Scholar said.
"These things take time and my focus is the World Championships and getting better for those.
"I'm feeling really confident on the ice at the moment, and feel like I have a presence which is a good feeling and it's the best form I have ever been in for sure."
Christie, who suffered a bump on her head in the build-up to racing in Germany, had been aiming to finish the World Cup campaign at the top of the world rankings in the 500m and 1,000m.
She has dazzled on the ice this season with a 500m world record and golds in 500m and 1,000m in her first four World Cup races in Canada, United States, China and South Korea.
The GB Short Track Speed Skating team are preparing for the sixth and final World Cup this weekend with exactly one year to go until the start of the the 2018 Winter Olympics in South Korea.
It will take place in PyeongChang, between February 9-25.
Christie has already enjoyed success at the Gangneung Ice arena, where the Olympic competition will be held, at the end of 2016 when she won double 1,000m gold ahead of home favourites Min Jeong Choi and Suk Hee Shim as part of the World Cup series.
---
WHAT'S COMING UP FOR OUR SCHOLARS....
FEB 9/10: Jack Bateson, World Series of Boxing in Rome, Italy
FEB 24-26: Quillan Isidore, Gator Nations Supercross Series in Oldsmar, USA
MARCH 4: Sam Oldham, American Cup in New Jersey, USA
MARCH 10-12: Elise Christie, World Championships in Rotterdam