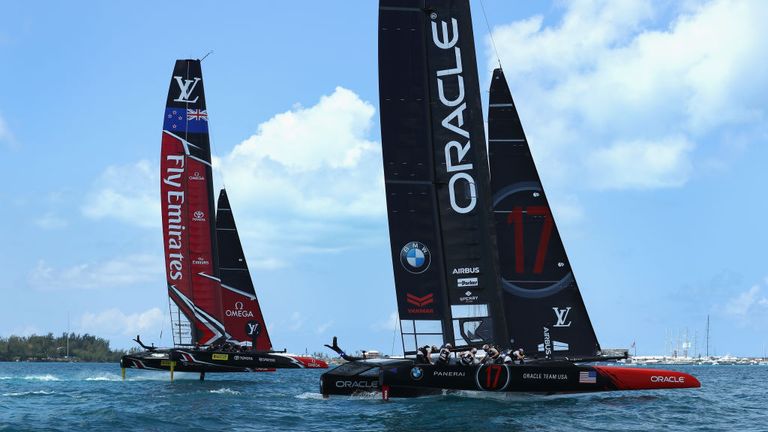 Emirates Team New Zealand dominated the opening day of the 35th America's Cup, handing defenders Oracle Team USA two defeats on Bermuda's Great Sound.
Skipper Jimmy Spithill, who is trying to pilot the USA to a third straight America's Cup title, virtually gifted the challengers the opening race when he was seconds early across the startline.
Forced to drop back two boat-lengths, the Americans couldn't recover as the Kiwi catamaran displayed impressive speed in the light winds.
A late mistake by New Zealand, helmed by Peter Burling, saw them plunge off their foils and slow dramatically, but even that wasn't enough of a window for Spithill, with New Zealand winning by 30 seconds.
"It's pretty pleasing for us as a group to be able to win by that much with so many errors around the track," Burling said before the contenders headed out for race two.
Burling, the 26-year-old whose pre-start prowess was called into question during challenger qualifying, won the start of the second race and New Zealand steadily built their lead.
The USA were able to capitalize on a wind shift to narrow the gap dramatically, but a poor manoeuvre cost them and New Zealand went on to win comfortably.
With the victories, New Zealand put themselves up 1-0 in the first-to-seven points series. The Americans had gone in with a one-point advantage thanks to topping the qualifying round-robin.
New Zealand are trying to expunge the bitter memory of 2013, when they led the United States 8-1 only to fall 9-8 as Oracle mounted one of the great comebacks in sports history in San Francisco.