Snooker World Championship: John Higgins, Graeme Dott advance at the Crucible
Last Updated: 25/04/15 3:03pm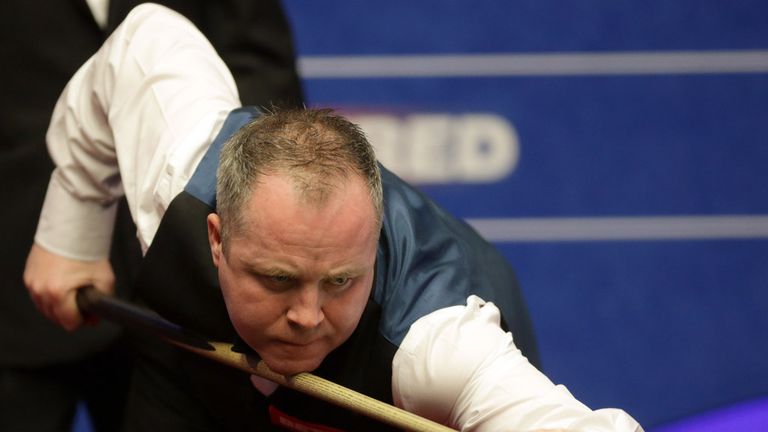 Crucible thoroughbreds John Higgins and Graeme Dott led the Scottish charge on Sunday in the first round of snooker's World Championship in Sheffield.
And another Scot Anthony McGill provided the gloss late on with a 10-9 win over compatriot Stephen Maguire to set up a second-round shot at defending champion Mark Selby.
Four-time winner Higgins impressed with a 10-5 first-round victory over Robert Milkins, and looked to be approaching the form that last saw him take the title four years ago.
The 39-year-old fired breaks of 77, 75, 69 and a clinching 106 in the second session as he coasted home against Gloucester potter Milkins, who took the match beyond its evening interval but was thoroughly outplayed.
Milkins said of his conqueror: "It's going to take a good man to beat him on that form. He's playing really good stuff. I think I did well to get five frames."
Dott, unseeded this year but a proven Crucible class act and champion in 2006, was a 10-8 winner earlier as he ousted Ricky Walden.
Higgins has sprung back to competitive form level this year, notably in taking the Welsh Open title in February to end a two-and-a-half-year major trophy drought.
He had openly expressed fears his days as a winner were over, but Higgins is daring to dream of a fifth world title.
He said: "I'm feeling relief and pride to beat Robert because he's a dangerous player. I knew I'd lost my last four matches to him. I thought I hit the ball well. I missed a few but I felt good in amongst them."
Asked directly whether he was a potential champion, Higgins initially said: "Nah. There's more and more contenders out there. I probably know what it takes to win it but there's more favoured players than me."
But the desire is there, and unmistakably he does have one eye on the trophy.
Higgins added: "It would be amazing if I could win it and go level with somebody like Ronnie O'Sullivan on five titles. That would be beyond my wildest dreams. The fire is still there.
"I've had a few sleepless nights thinking I'd never get back into the winners' circle. Luckily it happened at the Welsh Open and that's given me a bit of a boost.
"You doubt yourself definitely, especially in dark times, but now hopefully there's some good times."
Dott, 37, survived a series of nervy moments in the 18th frame close to the winning line before clinching a 10-8 victory over Ricky Walden.
He bungled a yellow but was reprieved when Walden blazed the green off the table and although Walden scoured for snookers, his tournament was over once Dott dropped in the blue.
World No 19 Dott said. "If you compare it to horse racing, I'm a Grand National horse but all I'm ever running is seven furlongs, it's just not long enough.It was nice to win because I wasn't here last year which was a horrible feeling.
"It's nice to know you can still do it at the Crucible. I'm 37 and you think maybe that's me finished. I played a good game and I'm delighted to win."
McGill, 24, was reeled in from 9-5 in front by Maguire courtesy of breaks of 51, 81 and 56, but on his debut, McGill ploughed in an astounding break of 122 in the deciding frame to get over the line.
Elsewhere, Australian Neil Robertson, the 2010 champion, fired breaks of 143, 109 and 94 in establishing a 7-2 lead over Welshman Jamie Jones.
And Hong Kong's Marco Fu booked his place in the second round by fending off Bexhill's Jimmy Robertson 10-6, while Barry Hawkins built a 7-2 lead over Matt Selt.