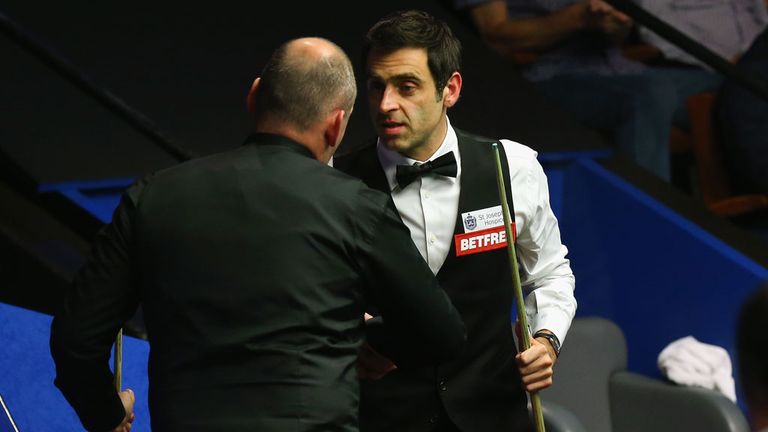 Ronnie O'Sullivan tumbled out of the World Championship in Sheffield on a sorry night for the five-time winner as Stuart Bingham claimed a 13-9 victory at the Crucible.
While 38-year-old Bingham advances to a semi-final against Judd Trump, O'Sullivan will head home before the final for the first time in four years.
His body language in the arena suggested O'Sullivan was lacking the enthusiasm and focus necessary for the battle, meaning Bingham's win was fully deserved as he reeled off five successive frames after losing the opening frame of the evening session.
The world No 10 sealed it with a break of 66 and O'Sullivan stepped forward to offer his congratulations.
While Basildon's Bingham was raring to go, O'Sullivan looked to be playing out of obligation, showing flashes of his brilliance but also making elementary errors.
Former Australian Open and reigning Shanghai Masters champion Bingham led 5-3 after the opening session, was still firmly in the match at 8-8 after Wednesday morning's eight frames, and returned to seize control of a match many would have expected O'Sullivan to sweep through.
Bingham, who lost 13-4 to the Rocket in the last eight two years ago, had made no secret of his desire to reach the last four in Sheffield for the first time, and it showed, putting behind him a shaky first frame of the evening which went O'Sullivan's way to reel off four in a row.
He ploughed in breaks of 74, 51 and 85, plus an 88 which consisted of 11 reds and blacks, and had Bingham and the crowd willing for a maximum but he missed a red with the rest that under different circumstances he would probably have tucked away.
Come the moment of victory, that was long forgotten, Bingham walking out of the famous theatre with a huge smile across his face.
'Unbelievable'
"It's unbelievable," Bingham said. "I lost the first frame tonight but then didn't miss a ball, or that's how it felt.
"I'm so looking forward to tomorrow for the one-table set-up. Hopefully I'll get some sleep tonight and come back and enjoy it.
"I've been an underdog all my life. I'll just do my own thing.
"Judd is a very confident person, a good lad. He's got to a final before and feels like he can beat anyone. We all do in this situation."
O'Sullivan pointed to his limited playing schedule as a factor in the defeat.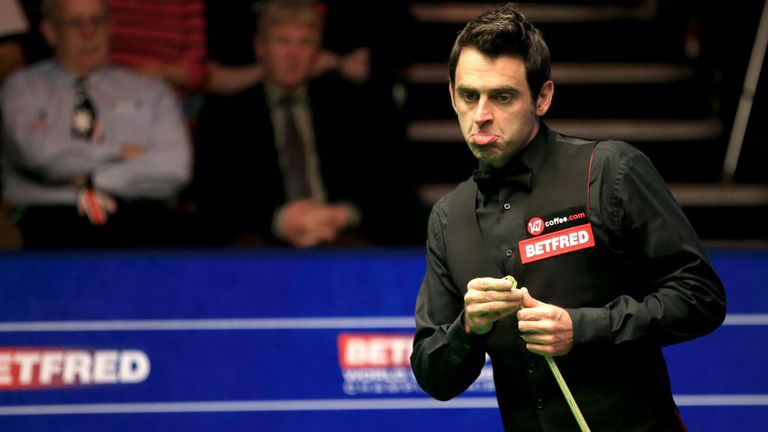 "I was off the pace," he said. "I've no complaints, I was the second best player and deserved to lose the match.
"You can't start looking for form these days. I made so many unforced errors. Before you might have got away with it but now you get punished by all the players.
"I'm not surprised and I'm not prepared to play in all the little events either. I'm not prepared to travel around in and out of a suitcase.
"I don't know if its getting away from me, but a lot of players are very sharp and playing well.
"I've had 20 years at the top, eventually there has to be a changing of the guard."
Asked how he would react, O'Sullivan said: "Hopefully I'll be gutted and hurt.
"But tomorrow I'll go for a run in the morning and sparring in the afternoon. Life has to go on and will go on."
Meanwhile, World Snooker has confirmed O'Sullivan will face no punishment over Tuesday's curious incident involving his chalk.
O'Sullivan, who earlier in the tournament played some of a frame in his socks and was then warned about his behaviour following a hand gesture in the second-round match against Matthew Stevens, caused a stir when he placed the small cube of chalk on the baize while lining up a shot.
It is deemed to be against competition rules if any object is used to measure gaps or distances, and therefore subject to a foul with a seven-point deduction.
However, referee Terry Camilleri failed to call the penalty, and a tournament spokesman said that was the end of the matter, with no prospect of retrospective action.