UFC 218: Jose Aldo's opportunity to banish memories of Conor McGregor defeat
By James Dielhenn
Last Updated: 01/12/17 2:41pm
The victim who lost inside 13 seconds to take Conor McGregor's success to a new level deserves to be remembered for more than that. Jose Aldo can finally redefine his own legacy, writes James Dielhenn.
Months of baiting and tormenting had left Aldo, the long-reigning world champion whose reputation never transitioned over to the mainstream, a ball of pent-up frustration. When it was finally time to fight he missed his punch, and was flattened by McGregor's. Aldo, for too many people, became synonymous only with the 13 seconds that it took McGregor to knock him out.
And there appeared to be very little sympathy for the memory of an all-time great being devalued to a mere step on McGregor's ladder to eventual supremacy.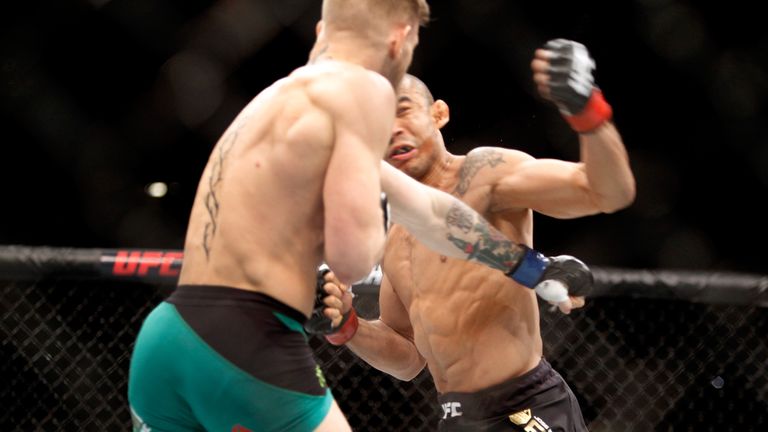 Brazil's Aldo had been the featherweight champion for seven years, the best ever fighter in his division, unbeaten apart from his eighth fight which now looks like an anomaly. Celebrating the exciting rise of McGregor overshadowed his demise but other factors were also at play, leading to Aldo failing to receive the credit his career deserved.
His irritating habit of pulling out of scheduled fights was a constant scourge of his title reign (six in total, including the first proposed meeting against McGregor after a world tour of promotion). Fans felt robbed.
He was never a particularly active champion, and hasn't fought three times in a year since 2009. Aldo's peak years included sensational performances but they were only biannual, and it felt like a waste.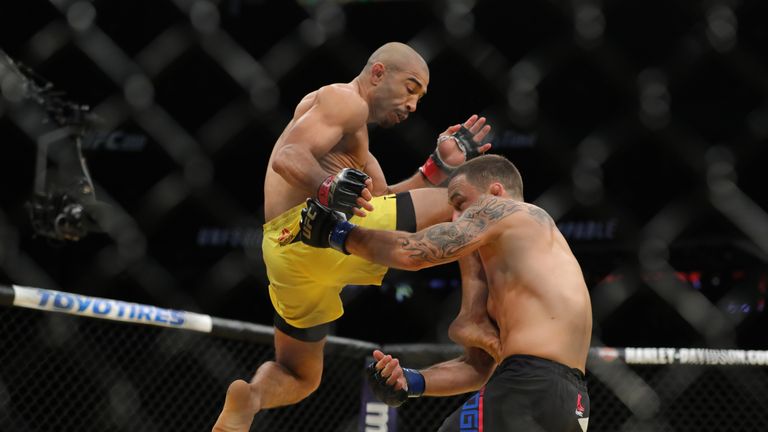 The McGregor episode overshadowed him almost irreparably - he failed to produce a showing of any note in his quick defeat, crowed about a rematch, then rejected the opportunity to fight again on short-notice when an opportunity arose a few months later.
Perhaps it was wise not to dive straight back into the water after such a notable defeat but, at UFC 218 in Detroit, the tables have turned. Aldo has accepted an unscheduled chance to avenge a defeat against Max Holloway, who holds the belt left behind by McGregor, in a seemingly out-of-character decision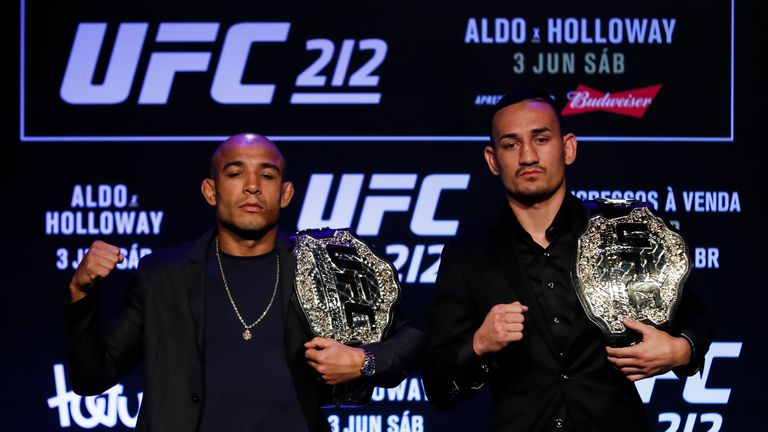 So I still think Max top 145er. His toughest fight will be Frankie. But I think this is good shot for Aldo. Underdog, away from home, challenger - can see him being as relaxed as is possible. Then again might get KO'd in 2nd. So in summary, who knows! #UFC218

— Coach Kavanagh (@John_Kavanagh) December 1, 2017
Aldo challenges a champion for the first time since his original reign began but Holloway is younger, in-form, less shop-worn and dealt him a stoppage defeat earlier this year. There is some reason to be optimistic for the Brazilian veteran - he was winning the early exchanges with Holloway before succumbing and traditionally excels in rematches.
His second fights with Chad Mendes and Frankie Edgar (albeit after winning the first meetings) allowed Aldo to fine-tune his game-plans. Perhaps he senses the chance to do the same against Holloway but the decline of his leg kicks, once a trademark weapon that impairing Urijah Faber in particular, is a worry. He threw just one attempt in 11 minutes against Holloway last time which would have been unheard of during his pomp.
It is historically unusual to see Aldo in this position, with his back to the wall, but his willingness to embrace the opportunity should provide him with the kudos that his brilliant career is lacking.