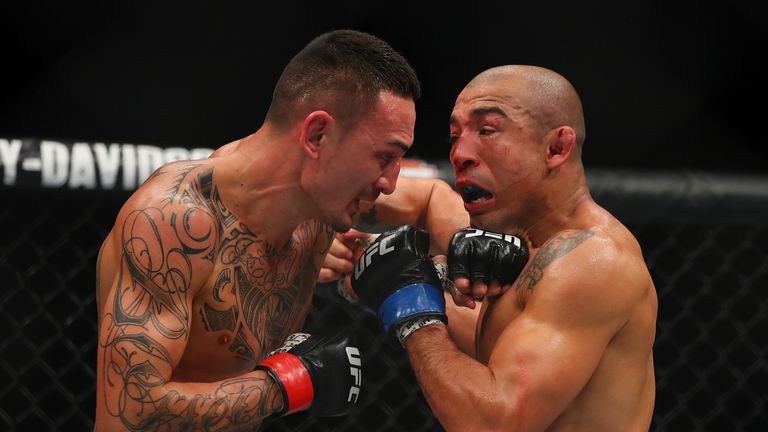 Max Holloway made it 12 straight victories as he defended his UFC featherweight title with a third-round stoppage of Jose Aldo in Detroit.
Holloway, whose last defeat came at the hands of Conor McGregor in 2013, dominated most of the fight at Little Caesars Arena and referee Herb Dean ended things 4:51 into the third, in the highlight bout of UFC 218.
The Hawaiian's winning streak is now the third longest in UFC history while former champion Aldo (26-4) is left to contemplate his mixed martial arts future after suffering a third loss in four fights.
Holloway (19-3) had taken Aldo's belt in Brazil earlier this year and Saturday's victory was similar, both in terms of timing and fashion.
He out-struck Aldo with ease and constantly had the Brazilian on the back foot with a combination of jabs and leg kicks.
But the finish of the bout, which almost matched the timing of his initial June victory in Rio, was brutal and left Aldo bloodied.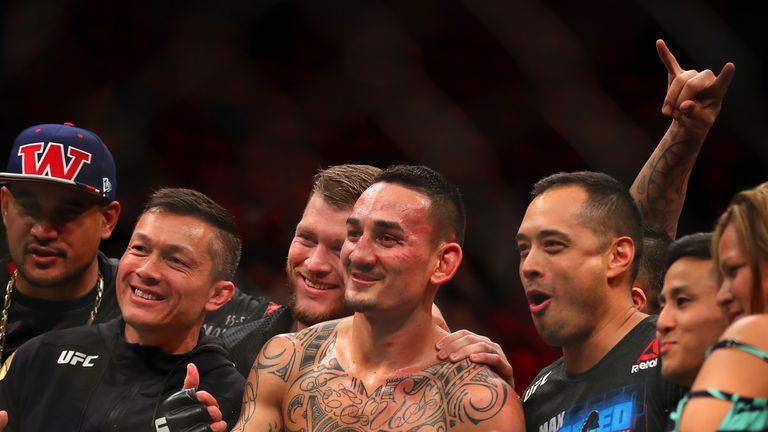 Aldo, who was taking significant punishment, tried a desperation takedown but Holloway stayed strong and caught the former champion flush on the jaw, with Dean stepping in to end the bout nine seconds before the end of a punishing round.
"All due respect to the man, Aldo is a hell of a champion," Holloway said. "I told you guys, though, this is the Blessed Era. It's something new. I told you he was going to get tired."
A rematch with McGregor was talked about after the fight but UFC president Dana White said: "I still don't know if Conor will ever fight again. So, I'm rolling like he's not. If Conor comes back and defends the title, anything is possible."
McGregor has not fought in UFC since November 2016 when he claimed the lightweight title by beating Eddie Alvarez, having spent 2017 preparing for an August clash with boxing great Floyd Mayweather - the Irishman was stopped in the 10th.