WWE Raw: Roman Reigns, Triple H clash ahead of WrestleMania 32
Watch WrestleMania on Sky Sports Box Office on Sunday night
Last Updated: 29/03/16 5:45pm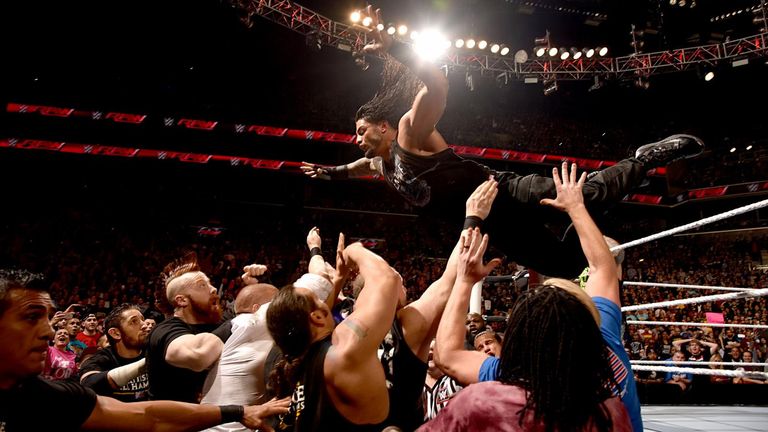 Roman Reigns and Triple H engaged in an epic brawl on Monday Night Raw ahead of their main-event match for the WWE World Heavyweight Championship at Sunday's WrestleMania.
Reigns - who will be aiming to claim sports entertainment's richest prize for the third time when he battles Triple H in Texas this weekend - was jumped backstage by the champion and The Dudley Boyz when WWE's flagship show hit Brooklyn, New York.
However, as Triple H bragged about how he would defeat Reigns, The Big Dog attacked his opponent to begin an almighty fight, which culminated in Reigns leaping out of the ring and onto The Game as a horde of Superstars tried to intervene.
CLICK HERE TO ORDER WRESTLEMANIA 32
WRESTLEMANIA 32
Live on Sky Sports Box Office
Midnight, Sunday

Elsewhere, Shane McMahon elbow-dropped The Undertaker through the announce desk to gain the upper-hand prior to their high-stakes 'Mania match, with McMahon to assume control of Raw if he wins and The Undertaker banned from competing at another WrestleMania if he loses.
Chris Jericho and AJ Styles will also go one-on-one at WrestleMania after the former accepted the latter's challenge - but only after Styles' distraction caused the Ayatollah of Rock 'n' Rolla to lose his singles encounter with Zack Ryder.
Ryder will compete in a seven-man match for Kevin Owens' Intercontinental Championship at 'Mania, with the remaining six competitors engaging in a tag-team tussle on Raw as Ryder battled Jericho.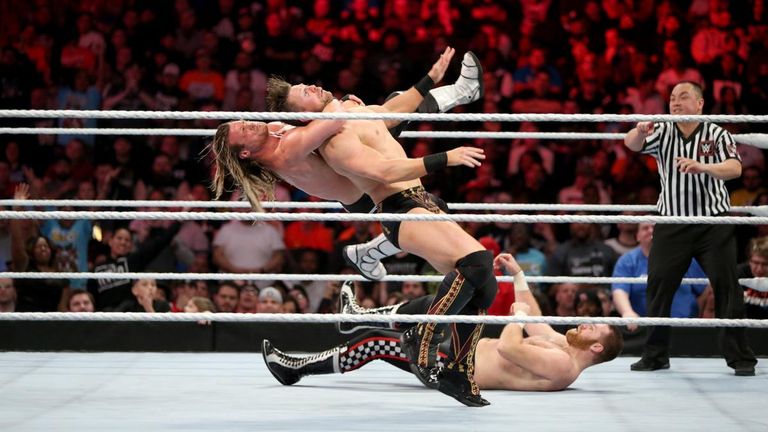 Owens, The Miz and Stardust took on Sami Zayn, Dolph Ziggler and Sin Cara, with Zayn's squad emerging victorious when he cracked Owens with a Helluva Kick after the Intercontinental Champion was abandoned by his partners.
Elsewhere, Ric Flair's distraction allowed Charlotte to beat Becky Lynch with Natural Selection; Kalisto bested Konnor with Salida del Sol; and Kofi Kingston countered Alberto Del Rio's Cross Armbreaker to pin the Mexican with a roll-up.
Plus, Big Show and Kane choke-slammed each member of the Social Outcasts - Heath Slater, Curtis Axel, Bo Dallas and Adam Rose - before they and a host of other grapplers compete in the Andre the Giant Memorial Battle Royal at WrestleMania.
Finally, Dean Ambrose displayed the array of weapons he plans to use against Brock Lesnar during the pair's No Holds Barred Match on Sunday night - which included Terry Funk's chainsaw and Mick Foley's baseball bat wrapped in barbed wire.
CLICK HERE TO ORDER WRESTLEMANIA 32
WrestleMania 32 booking details
WrestleMania 32 will be shown on Sky Sports Box Office (channel 491) and Sky Sports HD Box Office (channel 492) at midnight on Sunday, April 3 (Monday morning)
WrestleMania 32 will be repeated on Sky Sports Box Office (channel 491) but NOT Sky Sports HD Box Office (channel 492) between 10am, Monday, April 4 and 10pm, Tuesday, April 5.
Repeat showings will last for four hours, with the final showing STARTING at 10pm on Tuesday, April 5.
The event is priced at £19.95 for UK customers, €24.95 for viewers in the Republic of Ireland.
Viewers can call 03442 410 888 to book WrestleMania 32. (There may be an additional charge for telephone bookings).
You can also book WrestleMania 32 online by visiting this link: https://my.sky.com/orderboxoffice/
Viewers can also book using their Sky TV remote. (Only bookings via Sky TV remote are recordable using Sky Plus).
Sky TV residential customers only. Commercial customers contact Sky for price and to order. Sky Box Office terms apply. 
Cable customers should contact their local cable operator.
You will also be able to follow a live blog of WrestleMania 32 on Sky Sports' digital platforms.