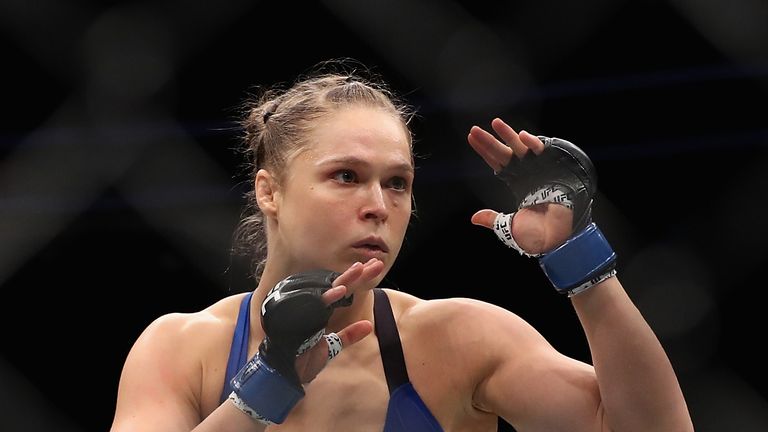 Ronda Rousey's potential arrival in WWE has created a lot of buzz, especially after she was involved in her first storyline this week by confronting three future rivals.
The former UFC Champion is a huge sports entertainment fan and a debut match at next year's Wrestlemania would create more buzz than anything else on the card.
We look at who Rousey could be put up against in a WWE ring.
Battle of the Horsewomen
The most likely storyline will see Rousey and her former UFC training partners, known as 'The Four Horsewomen', enter WWE at the same time.
Shayna Bazsler is already in the final of WWE's Mae Young Classic, Marina Shafir is married to NXT superstar Roderick Strong and Jessamyn Duke hasn't competed in the octagon since July 2016.
This scenario has already been teased by WWE this week when Rousey & Co stepped up to WWE's Charlotte Flair, Becky Lynch and Bayley.
Asuka
This would be the battle the purists would love to see.
Asuka has just left NXT after going 523 days unbeaten as champion and she hasn't been pinned since joining WWE almost two years to the day.
There'd be a big fight atmosphere if the Japanese superstar put her unblemished record on the line against Rousey, something the former UFC Champion would revel in.
Charlotte Flair
Flair is one of the best athletes in WWE and arguably the biggest female star in the company.
Despite the huge gains in the Women's Division over the last few years, there's still a gap between the top performers and those used to being at the bottom of the card.
Rousey would be an intriguing proposition for Flair, who could bring the best out of the rookie.
Stephanie McMahon
We had a glimpse of this at Wrestlemania 31 when Rousey was brought into the ring by The Rock and put McMahon in an arm lock.
McMahon rarely competes these days but a power battle against 'Rowdy' Ronda Rousey would be something WWE could tease for weeks.
A good way to make Rousey popular with the fans would be to characterise her as an anti-establishment figure and who better to take on than a McMahon?