Lando Norris' F2 diary: Monaco GP 2018
Missed flights, crashes, penalties, but somehow still extending his championship lead - it was a crazy weekend
By Lando Norris, Carlin F2 driver: @LandoNorris
Last Updated: 30/05/18 12:49pm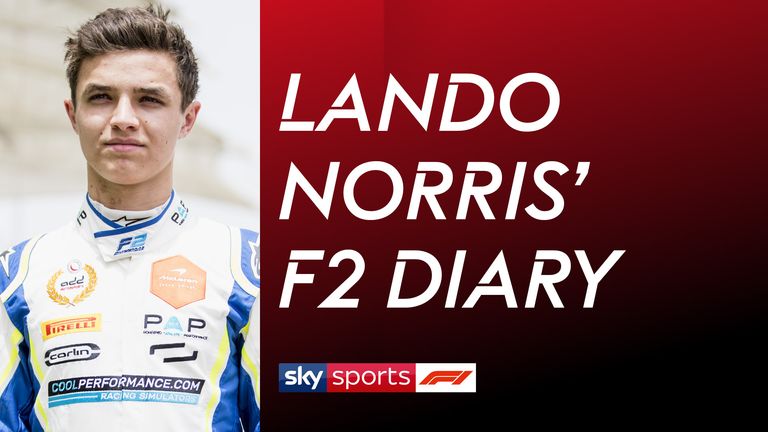 Well, it's looks like I've a love-hate thing going on with Monaco...
Previous Formula Renault disqualification, a missed flight, qualifying accident, running out of fuel, a podium then a time penalty... that just about covers everything!
I had really enjoyed the track when I went there for the first time in Formula Renault two years ago. I qualified on pole but lost my times due to something technical that had no effect on the car's performance.
Then the race was red-flagged after just two laps due to heavy rain. So I thought it would be better this time especially as it's such a fun track to drive, demanding, so I looked forward to going back there.
But I should have known it was not going to be straightforward when I missed my flight out from Gatwick because of heavy traffic - but it was my fault and a lesson learned.
I arrived in Monaco on Wednesday morning and went for a track walk that afternoon. It was pretty hairy as the roads aren't closed off so you're dodging scooters, cars and buses.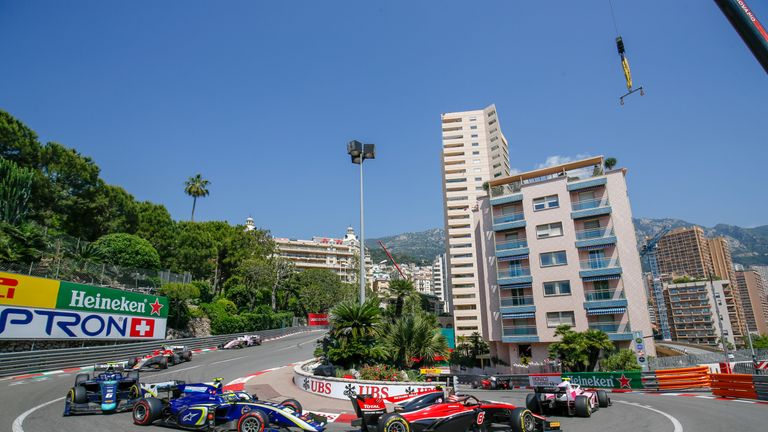 Practice early on Thursday morning was pretty good, I was on the pace quickly with both Carlin and I starting off the event much better which is exactly what we both wanted.
We made a few changes to the car for qualifying a few hours later which was unusually split into two groups, odd and even numbers, due to the short length and narrowness of the street track. So I was in the first group to head out on track.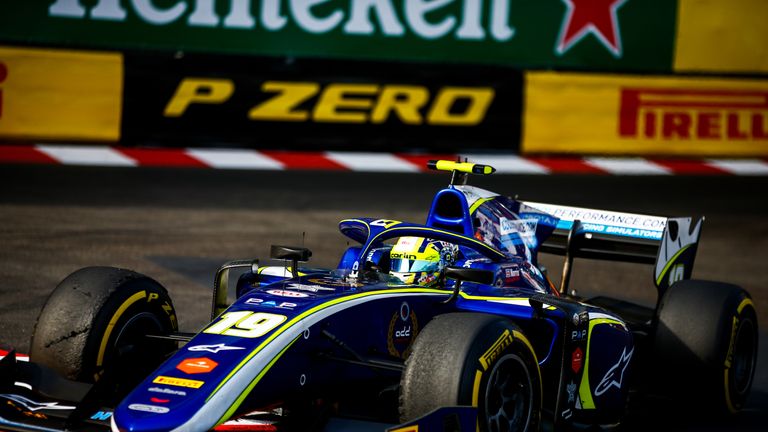 After practice I felt confident of challenging for pole and knew it was all about nailing the lap in the 15 minutes session. My first run was on tyres from practice, just to warm the car up and get a feel for the track.
In P1 I was on old tyres and we were bound to improve after I pitted for new ones. Sector 1 and Sector 2 were pretty decent, going purple [outright fastest] in both but then, because I went 'flat' going in to the swimming pool section, I had to shift up a gear which I hadn't done in the previous session.
I went into the next element pushing a tiny bit more, and I just couldn't get the second downshift done in time. I didn't have the engine braking that I needed. I carried a bit too much speed and hit the left curb at slightly the wrong angle. I landed and there was a massive snap where the car bottomed out and it put me into the wall with big oversteer.
It was a fairly large hit but it didn't damage the car as much as I thought, just the front wing and the suspension. I carried on, and the steering was completely bent but still managed to complete the lap. The car was good enough for pole but I made a mistake. I apologised to the team. It was costly and I honestly thought at the time that it had ruined my race prospects.
That evening I attended a McLaren Team BBQ - was just a shame I hadn't got better news when I was getting asked about qualifying!
I started Friday's Feature race with the attitude that anything could happen - and it did!
I couldn't actually see the start lights at the very front of the grid and I couldn't turn my head any further to the left to see the ones beside me on the grid. I needed to get the job done, and immediately make up places off the start but I was also concerned about cars stalling ahead of me.
I was totally focused and went off the line when everyone else moved and it was a good start as it turned out. I got a couple of cars off the line and it was pretty close around the first few corners. I then tried to save my [super soft] tyres at the same time as staying out of trouble.
I had a good pit-stop, undercut some cars, but then tried a move at the final corner on Ralph Boschung who had exited the pits just ahead of me. I went up the inside of him, he didn't make the apex, but then it got too tight in the middle of the corner for two cars. We touched and his race ended. I later got a drive-through for it which was annoying but understandable I guess.
My pace was very good in the middle of the race and I gained on the cars that were in traffic or battling with each other. I undercut a load of cars who pitted later than me. I certainly didn't expect this kind of result going into the race and the bonus for me was that I still led the championship after many of my title contenders suffered crashes - just like me 24 hours earlier!
So I was much happier heading to another McLaren function on the evening, a Q&A on the Dell Technologies yacht in the harbour. Afterwards I went to dinner with my Dad but then my scooter ran out of petrol heading back to the apartment we'd hired so had to push it all the way home. At least that exercise pleased my trainer Jon Malvern!
Saturday was a long day, just waiting around for the Sprint race to happen. I spent the time with the Carlin engineers and going through previous Monaco race videos with my manager Mark Berryman in the Carlin truck.
I made a really good start in the Sprint race, managing to pass Jack Aitken off the line, and seemed to have a better start than pole-sitter Antonio Fuoco who I pressed really hard during the opening laps. He didn't make any mistakes so I backed off a little to save my tyres but there were lots of interruptions - VSC/Safety Cars.
It wasn't an easy race managing the tyres and I wasn't as happy with the car set-up compared to Friday. But I was very happy considering where we were after Thursday and to have increased my championship lead. A number of drivers, including me, were called to the Stewards concerning issues with the Virtual Safety Car phases and it wasn't until late that evening the results were made official and circulated.
I was hit with a 1.1secs time penalty dropping me to third.
I had been due to attend a McLaren Partner Event at McLaren's Monaco Showroom with Zak Brown and Fernando Alonso that evening and so for the second consecutive Grand Prix, I had to miss it, which was a massive shame.
I had some media interviews at McLaren's Brand Centre late morning on Sunday then watched the Grand Prix from the McLaren box. I flew into Farnborough with Zak that evening, got a taxi to Gatwick to pick up my car then drove home.
It's a four week break now until the next F2 races at Paul Ricard where I'll start the Feature Race with a 27-point lead but I've got plenty of things going on at McLaren, with Jon at PAP putting me through my paces and the ADD Management guys - I'm not going to be bored!
LN