Lando Norris' F2 Diary: Hungarian GP 2018
Lando reflects on a busy few weeks at Goodwood, the German GP with McLaren and the F2 races in Budapest
By Lando Norris, Carlin F2 driver: @LandoNorris
Last Updated: 03/08/18 7:14pm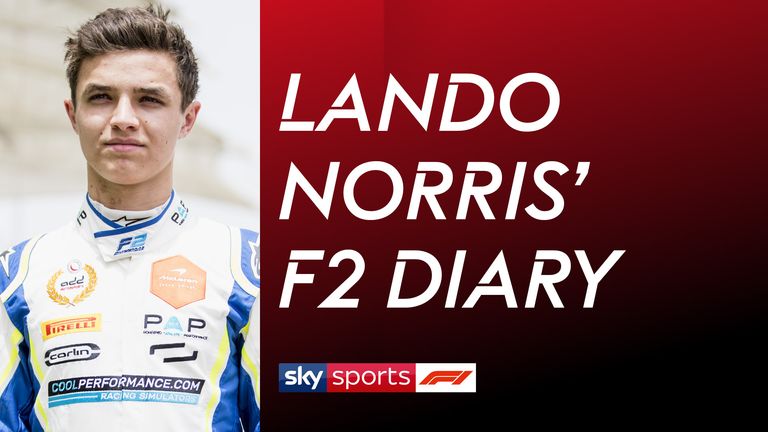 Goodwood, Hockenheim & Budapest...three very different events
So first off, I had a blast at Goodwood, it was awesome and the weather was perfect.
It was a cool experience driving the 1974 Emmerson Fittipaldi McLaren M23 at the festival. The 'H'-pattern was a challenge to me, it was the first time I'd driven a single-seater with this kind of gearbox and the first time since racing a Ginetta in 2014 - it's paddle shift these days - although I did change gear in my Renault Clio getting to Goodwood!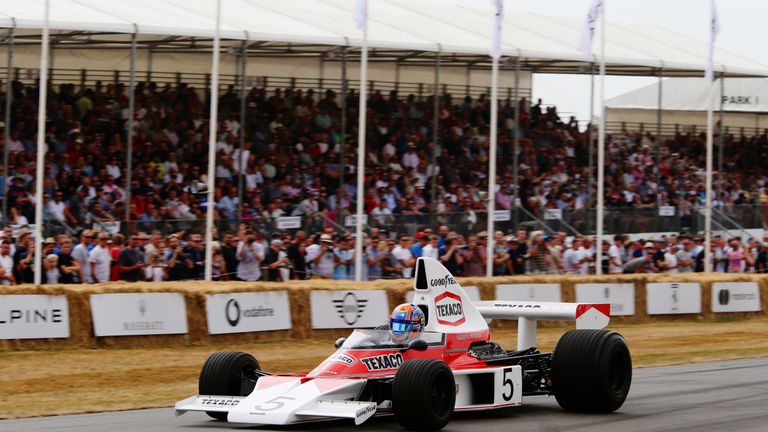 The M23 was a tight fit, it seemed so small compared to my F2 car. My arms and legs were fully stretched out, which again is unusual in a race car nowadays. One of the first things I noticed sitting inside the cockpit was not having a halo.
I was pretty nervous driving it up the hill for the first time. I kept the revs down, I didn't want anything to happen to the engine! I also had some fun setting a time on the McLaren simulator there and met loads of great drivers like Emerson [Fittipaldi] and Mika Häkkinen - I can't wait to go back there next year.
I then did some 'start' testing with Carlin at Rockingham. As most of you will know, clutch and electronic issues have hampered race starts for the opening half of the season for almost everyone on the F2 grid and after Silverstone, the championship took back all the teams' engines to update them and add new clutch and throttle mapping. I did five or six starts and it seemed to work better.
The next morning I flew to Germany to attend the German Grand Prix for McLaren, doing marketing and media work in addition to spending time in the team's garage, and it's always cool watching how those guys go about their work. I gave Natalie Pinkham a 'hot' lap in a McLaren 570S Spider, I think she enjoyed it, and also joined Crofty and Paul di Resta in the Sky commentary booth for a practice session on the Friday.
I'd never done anything like it before and I was really nervous. I had to talk a lap around with Stoffel Vandoorne shown on screen but I couldn't speak fast enough! Looking back on it now, it was fun. I was also involved in the Sky Sports F1 Show after qualifying then some more interviews on the Sunday. I also kept trying to beat Rudy van Buren's lap time on the race simulator in the McLaren Brand Centre but was never able to match his time. My excuse is that he's the world's fastest gamer!
I arrived in Hungary on Wednesday afternoon. From an overall Carlin perspective, qualifying on Friday afternoon was very good, possibly the best of the season with my team-mate Sergio Sette Camara getting pole and me sixth fastest.
I improved my time on the second run but I'd pushed too hard in the first two sectors and the tyres, which were good for only one real push lap, got too hot and dropped off. I had a couple of slides in the final sector. The potential was there in the car but I didn't put it together which was annoying.
There was a thunderstorm for F1 qualifying and still light drizzle as I lined up on the grid for Saturday's Feature Race. We all started on wet weather tyres but I had too much wheel spin and dropped places in the opening corners.
Visibility was really bad to begin with but then I started to push and took the lead and pulled away pretty easily. I think I was 14 seconds or so in front when I pitted for slicks, the stop went well, and for the first few laps, things weren't too bad but quite quickly I lost masses of grip at the front, I couldn't turn the car.
Nyck De Vries overtook me with around eight-laps remaining, it was a waste of time fighting him, and I just about managed to fend off Sergio and Antonio Fuoco in the last couple of laps to retain second place. It transpires the front tyre problems were caused by a mechanical issue and also a damaged front wing.
But the next morning I was able to show my true dry pace and what could have been in Race One. I made a good start and moved up to sixth pretty early on. I then did Artem Markelov and de Vries around the outside of turn two in one move which was pretty cool.
My pace was good and I managed to get within a second of Sergio who'd been over four seconds ahead in third but by the time I'd caught him, my tyres were gone. Fourth was about the best I could have hoped for and it was additionally satisfying as I had to work hard for it.
So now there's a four-week break in the F2 calendar but up next for me is an F1 test at the Hungaroring. I'll be out in the McLaren on Tuesday and Wednesday. I'll try to send you news later this week. Stay tuned and thanks for the support!
LN