Lando Norris' F2 diary: French GP 2018
Lando gives an insight into his simulator role with McLaren and reflects on his races in France
By Lando Norris, Carlin F2 driver: @LandoNorris
Last Updated: 10/12/18 1:23pm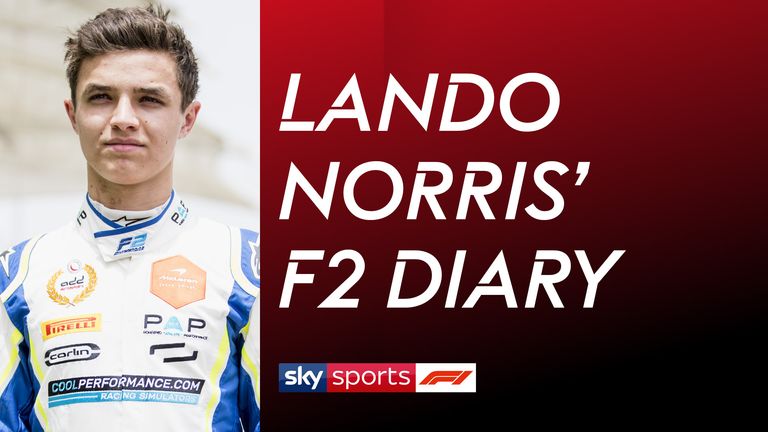 So, I was back in F2 action at Paul Ricard last weekend, more on that later, but let's briefly look back over the four-week gap since Monaco.
I've been working with Jon Malvern from Pioneered Athlete Performance [PAP] since winning the World Kart Championships in 2014.
He gives me stick and I give him stick, because to be honest, sometimes I just don't want to do the exercises that he wants to put me through in between the races. But he knows best, well that's what he keeps telling me . . . !
Anyway, as usual, we've spent a few days together every week, since Monaco. He comes to the McLaren Technology Centre when I'm on the SIM there so we can do some strengthening work in their very well-equipped gym.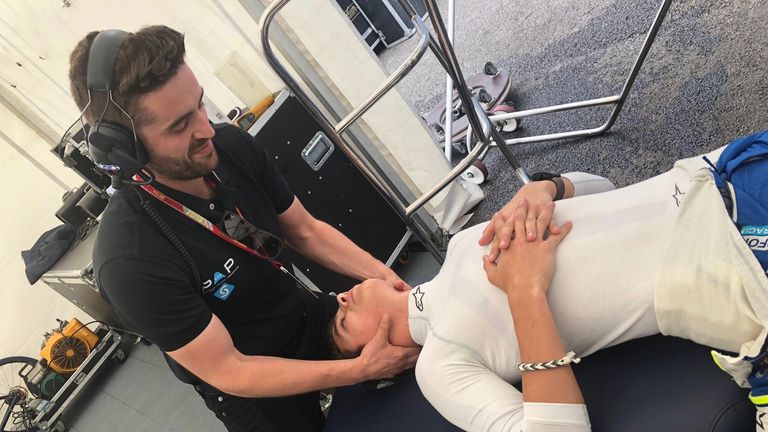 I've been clocking up the miles on my Specialized road bike, swimming at the Surrey Sports Park in Guildford - once I'm in the pool I'm okay but it's my least favourite form of exercise - all under Jon's supervision, as well as neck work at home - Jon's favourite!
The SIM work for McLaren is very interesting and I was working in it over the Canadian Grand Prix. During a race weekend what we do is take a car set-up from the track with all the environmental conditions like wind, ambient and track temperatures, air pressure, humidity etc.
We then exactly replicate the conditions Fernando and Stoff face wherever they happen to be, concerning for instance their fastest lap, and then make sure that the problems they had with the car balance are also replicated in the simulator.
We try to solve any balance issues and then attempt to evolve the set-up and basically try to make the car faster. The McLaren guys in Woking are in constant communication with the race engineers at a GP and they are sending feedback backwards and forwards all of the time.
We can do any set-up change, mechanical, aero, controls, tyres. Our job back at base is also in predicting how the car will behave the following day, for example, or in the race. We think about if the wind shifts direction and/or strength and how do we recover the balance.
In general on the SIM, I work on various procedures, launches, radio protocols, steering wheel changes, to make sure I'm comfortable whenever the opportunity arises to drive the MCL33 for real.
Jon and I flew out to Marseille last Wednesday. It took us almost two hours to collect our rental car - and then well over an hour trying to locate the actual villa my manager Mark Berryman had rented for us in the foothills close to the track.
It turned out about 20 villas had the same number as the one we were staying in and these were located off numerous tracks. Let's just say Mark's ears must have been burning red hot the names Jon and I were calling him! I did a track walk on Thursday afternoon, in 34C heat, and the track surface had changed since the championship tested there in March with new tarmac patches. Some parts of the track are very smooth and others very bumpy which makes being consistent lap on lap quite difficult.
That night, having smashed Jon at table-tennis the previous evening, my PR guy Martyn Pass turned out to be pretty nifty and gave me a good workout.
FP1 on Friday morning was pretty decent and got through the things we had planned and needed to do.
With the surface changes, some parts were grippier than others, even going through the same corner, so it took a few laps to adjust and get used to it. But I put in a decent lap to go P1.
We then concentrated on a longer run with a heavier fuel load and that felt pretty good. My first run in qualifying that evening was terrible, the balance was all over the place, and I struggled massively and was P9 over a second off provisional pole.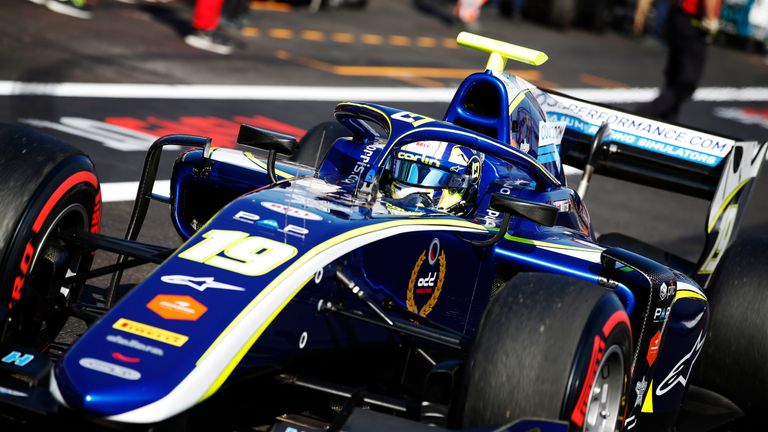 The team made quite a few changes on the car halfway through the session which improved the handling and I went P3 and was reasonably happy. I was hoping to get another lap in but coming out of the last corner onto the start-finish straight I was baulked with a gaggle of cars in front of me so I just boxed.
The Qualifying Press Conference wasn't until 8pm and by the time we'd gone through the race briefing, it was past 10pm on Friday evening when we got back to the villa.
Due to the really bad traffic problems around the circuit on Friday which had seen drivers get caught in jams, we headed to the track at 9.30am on Saturday.
The Feature Race was a disaster. Leaving the collecting area I stalled three times and then for the actual start of the race, I didn't do anything different from what I've done in the previous eight races without any issues, and it stalled again.
I eventually got going at the back and was so far behind that we just tried random things for the remainder of the race, changing on to 'wets', onto 'primes' then back again onto 'option' tyres but I struggled all race which began with a few spots of rain, increased and died off again.
After going through all the data with the Carlin guys, I did three laps around the track on my bike, reflecting on the fact that my 27-point lead had shrunk to 7 points all because of an annoying technical problem on the start line - something that has affected the majority of the drivers so far this season.
I tried something different for the start in Sunday morning's race, I wasn't confident at all after what had happened the previous day. I managed to make a clean start while the guy just ahead of me stalled but luckily I'd positioned my car in the grid box pointing slightly to the right in case anything happened.
The opening laps were good, overtaking a couple of cars while I gained another couple of places due to stallers. It was a long race so tyre degradation in the closing stages could be an issue but I still pushed as I knew when everyone was altogether that was my best opportunity to make up places.
But also in the back of my mind was I needed to get past a car quickly and not follow closely for 3-4 laps which would have affected the front tyres so that was quite difficult. But I maximised the opportunities that I had and my pace was good.
So coming from the back for a fifth place and some points was pretty pleasing after the previous day.
Overall I lost out quite a bit in terms of points. I had a start problem on Saturday and Feature race winner George Russell had an issue on Sunday so my championship lead is now 13 points.
These things are annoying because it's not just down to our racing but niggling technical issues.
And things didn't get much better flying home from Marseille last night - thanks Air Traffic Control for the 2.5 hour delay which meant I stepped inside my apartment at 2am this morning.
Okay, that's it for now, home for a couple of days then to Austria on Wednesday.
LN