Lando Norris' F2 Diary: Belgian GP 2018
F2 duties combined with an F1 outing at Spa
By Lando Norris, Carlin F2 driver: @LandoNorris
Last Updated: 06/12/18 11:06am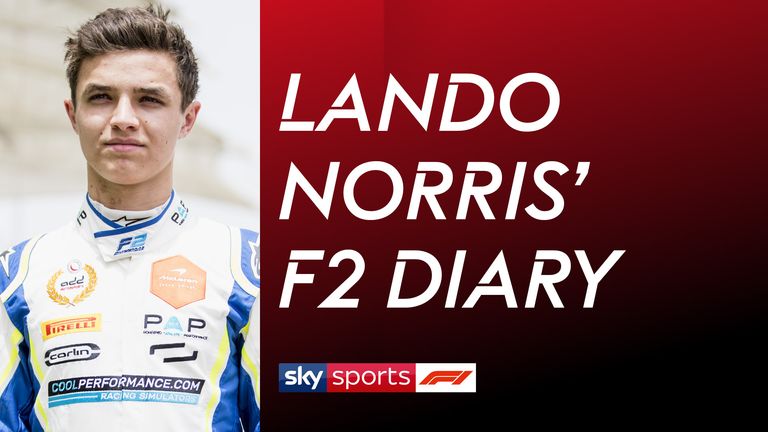 I arrived at Spa on Wednesday having driven over to Belgium with my physio/trainer Jon Malvern, he drove and I watched Netflix!
I'd had a nice break which was good as I knew the next few days were going to be pretty tough with me doing FP1 in the McLaren on Friday in addition the normal F2 stuff. I'd spent time on holiday in France with my family and also made a cool video with Fernando for Kimoa on paddleboards on the lake at the McLaren Technology Centre which was exciting.
Spa is my favourite track so I was really looking forward to racing there again. Eau Rouge into Radillion plus Pouhon, a tricky double apex left, are the stand-outs for me like most drivers. I'd gone pretty well in the past there in F4, Renault and F3.
Weather conditions can be changeable and after the first part of the Feature race in Hungary, I was quite happy if we would have rain again. Thursday was pretty full-on with pre-event briefings at McLaren, with Carlin engineers and the F2 Driver's Briefing going through until around 7.30pm.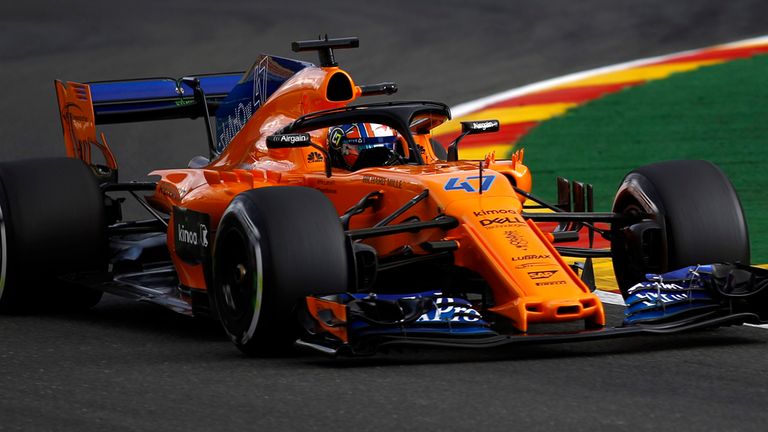 I was at the track by around 8am on Friday as McLaren had a 'run plan' for FP1 I needed to be at before it began at 11am. I was testing various aero elements in the F1 session and couldn't really show my true pace with no 'max' attack laps but it was a good, fun session overall. It was about me doing consistent runs and giving the engineers good feedback to help them for the rest of the weekend. It was a fantastic experience to drive a F1 car around Spa.
I only had 25 minutes from this session finishing until the F2 practice starting so it was a bit of a rush. I hopped on my Specialized bike from the F1 pits down to the old pit garages where my car was waiting for me - the Carlin guys had everything covered off. It was tricky jumping into the F2 car for practice, a slower car with a lot less performance in all areas. It took me time to readjust and I was quite surprised I was P4 as it felt really slow and weird. My first push lap in qualy was pretty reasonable, a couple of tenths off but good enough for P2 which then became P3. I then didn't do a perfect lap on my second run, making a mistake under braking at the final chicane.
I made a decent start in the Feature race, making up a place on the inside into La Source, but it was a tough, long race with not a lot happening and I never felt I had the outright pace. I had one real chance to get ahead of George Russell after the Safety Car but was too far back.
The most difficult part of the race was getting around the guys on the alternate tyre strategy. We made changes to the car after Saturday's race. I was clear in the direction I wanted to take it and was confident between Carlin and I, it would make a difference and that proved to be the case.
Nyck was extremely fast in the Feature but my car's set-up for the Sprint on Sunday was good and I felt confident. The last couple of laps were difficult as I needed to get past Nyck but not take too much out of the tyres causing me to drop behind Alex and Artem who were closing in fast.
Thankfully it all worked out and to go with fourth the previous day, managed P2 and head to Italy next weekend five points off the series lead. Jon drove me back home, got back to the apartment just after midnight. Sim work on Monday afternoon, Carlin on Tuesday for Spa debrief then to McLaren, now it's Wednesday and I'm off to Monza.
LN