Lando Norris' F2 Diary: Italian GP 2018
A huge week for Lando Norris as McLaren told him he'd be stepping up to F1 with them in 2019
By Lando Norris, 2019 McLaren F1 driver: @LandoNorris
Last Updated: 06/12/18 10:35am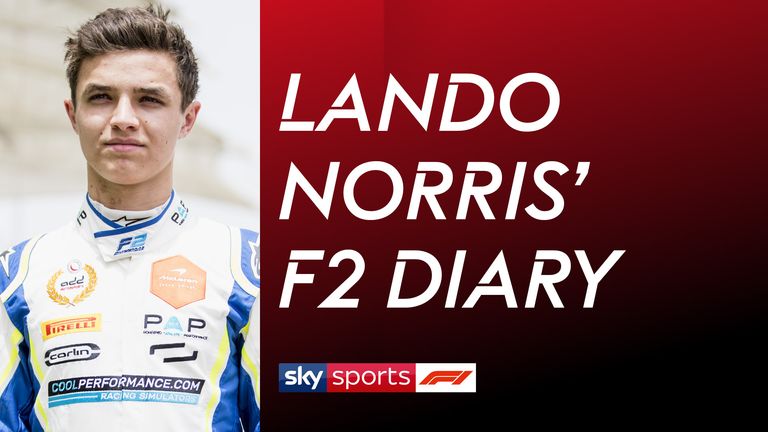 Where do I start this blog?!
As I'm sure most of you will have read, heard or watched, I was confirmed on Monday as a McLaren F1 driver partnering Carlos Sainz next year. It's a dream come true.
But let me start by looking back to Monza last weekend which, like the previous Grand Prix, saw me combining F1 with F2.
My second FP1 appearance was still fun despite the wet weather. It was short, just nine laps, but clean. McLaren needed to conserve tyre usage but I was happy with my pace, initially on wets then inters, in the few laps I did. I was set to improve my lap time but was baulked by traffic on two of my five or six 'push' laps.
I enjoy driving in the wet so a few more laps would have been cool.
I still learned a lot comparing data with Fernando, for example. Of course I'd have liked more laps but being able to compare my times and data with Fernando is a pretty cool thing. Both cars were doing aero tests, for this year and next, and so the team, and myself, will have learned different things.
With my F1 tests and doing FP1 at the last two Grands Prix it is making everything feel more natural for me. I don't feel as nervous but it's still a big deal for me each time I walk into the McLaren pit box - it's pretty special. Every time I get in the McLaren I feel more comfortable, my confidence increases and I feel more at home with the team.
At Spa I struggled going from the McLaren to my F2 car, but at Monza I didn't find the difference between the two so big - maybe because it was wet session here. It's not an ideal scenario jumping from one to the other but to do the F1 FP1 sessions is a fantastic opportunity for me.
Not surprisingly, I was being asked a lot about 2019 at Monza and my answers were simple: I want to be at McLaren and it's about me doing the best job I could in these FP1 sessions and in other F1 tests - it's essentially about me learning how to drive the car.
Hopefully the team see that I've done okay this year and am worthy of a drive, having driven in different weather and adapting from high to low downforce. Hopefully there will be more opportunities to compete in FP1 at other GPs this year but I'll just wait and see what happens.
Those were my answers to media on Friday evening, if I but knew what was around the corner!
Bad starts in both F2 races this weekend cost me possible wins as the car's race performance was pretty good. F2 practice was messy with the track half wet and half dry at the beginning so I waited until the last 10 minutes or so before going out on slicks.
But each time I was on a good lap I got traffic, both times at the last corner, which was annoying. I lacked pace in qualy, didn't get the most out of my tyres on my second run and made a mistake at Ascari. My start from P6 wasn't great in the Feature race, not finding the bite point which resulted in a slow getaway losing me places. For the first four laps, my pace on the 'options' was good but then I suffered big rear tyre degradation and struggled.
Unfortunately our pit-stop was a little slow so I had to push hard to get ahead of the guys I'd slipped behind again. I went around the outside of George (Russell) at Turn Three and pulled alongside but ended up off the track.
I got grass and gravel on my left tyres which took 2-3 laps to clean off. I eventually got ahead of him but he then got me back as my tyres went off and finished sixth.
My Sprint race start was poor with too much drive and wheelspin - the total opposite to my bad one the previous day - and also picked up some damage to my front wing. The car's pace though was pretty good and I tried my best to recover positions, which took a lot out of the tyres again.
There's a month's break until the next F2 races in Russia.
I was told by Zak Brown on Sunday just before the Grand Prix that I was to become a McLaren F1 race driver for 2019. It felt very strange and didn't really sink in properly until the news release was sent out to media on Monday at 12pm. That's when it felt really cool.
Only a handful of people knew before the official announcement. I was "introduced" to the entire McLaren F1 factory guys at the MTC on Tuesday, did hours of interviews with media and PR work before I flew to Paul Ricard for a two-day Pirelli tyre test. Although I've been part of the team for a while now, this is a special moment, one I could only hope would become reality.
I'd like to thank the whole team for this amazing opportunity and for believing in me. I'm also extremely grateful for the commitment McLaren has already shown in my development, allowing me to build my experience in a Formula 1 car in both testing and on Fridays during the past two race weekends.
I was working with 2019 tyres and by Thursday evening, had completed over 250 laps. For the remainder of 2018, my focus remains firmly on the Formula 2 championship. My objective is to win the title before joining McLaren full-time, which will be tough, but I will fight as hard as I can for the remaining four races.
I'll also be working closely with McLaren at every opportunity to learn as much as possible from the drivers, engineers and mechanics to give myself the best preparation ahead of next year. Thanks for the support guys!
LN