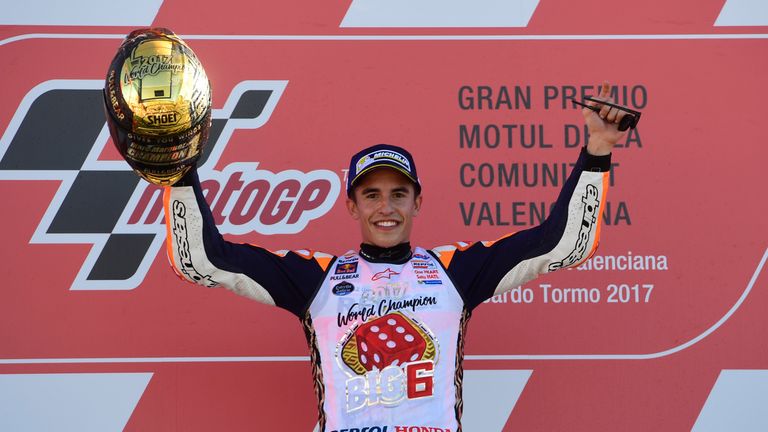 Defending champion Marc Marquez sealed his fourth MotoGP world title on Sunday as the 2017 season concluded in Valencia.
The 24-year-old Honda rider - also champion in 2016, 2014 and 2013 - had gone into the showdown in his native Spain very much on course to retain his crown, lying 21 points clear of second-placed Andrea Dovizioso (Ducati) in the overall standings.
And Italy's Dovizioso crashed out before Marquez, who had survived a scare himself at one point when he went off track, finished third behind compatriot and team-mate Dani Pedrosa, and runner-up Johann Zarco (Yamaha) of France.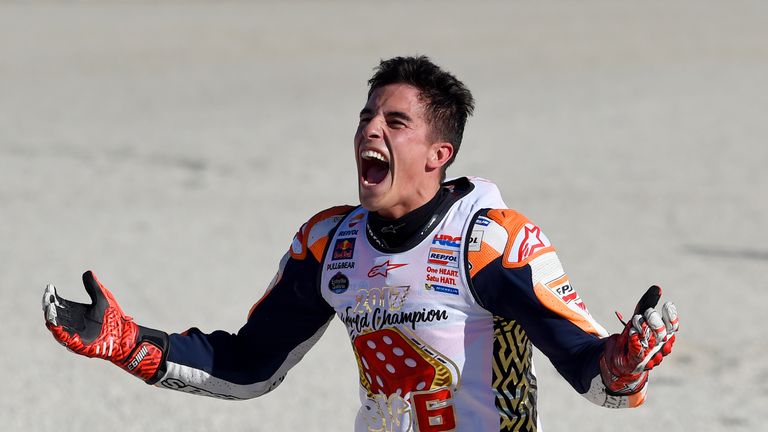 Marquez, the youngest man to win four titles in the class, ended the championship with a total of 298 points, ahead of Dovizioso on 261 and another Spaniard, Maverick Vinales (Yamaha), on 230.
Marquez only needed to finish in the top 11 to clinch the title but could not resist an attack on Zarco with eight laps left and ended up running wide into the gravel trap.
But the Spaniard did very well to stay on his bike and managed to rejoin the race in fifth place.
Meanwhile Dovizioso was unable to find a past his team mate Jorge Lorenzo for much of the race and the Ducati duo then both crashed out as they paid the price for pushing at the limit throughout.
The Italian got back on the track but then retired in the pits, as Honda started the celebrations.
Marquez said: "During the race I was trying to be calm and control the situation, but then I thought now it is time to push, because I felt really good.
"In turn one I lost concentration on the break point, I broke too late and, you know, (it was) Marquez-style until the end.
"That save will go down in history and that elbow gave us the title.
"I told myself 'I won't let go even if the bike flips. If I have to get hurt, then this is the time to do so.'"