F2 races at the Austrian GP and British GP to start behind Safety Car
Stalling has blighted the 2018 season
By William Esler
Last Updated: 10/12/18 12:59pm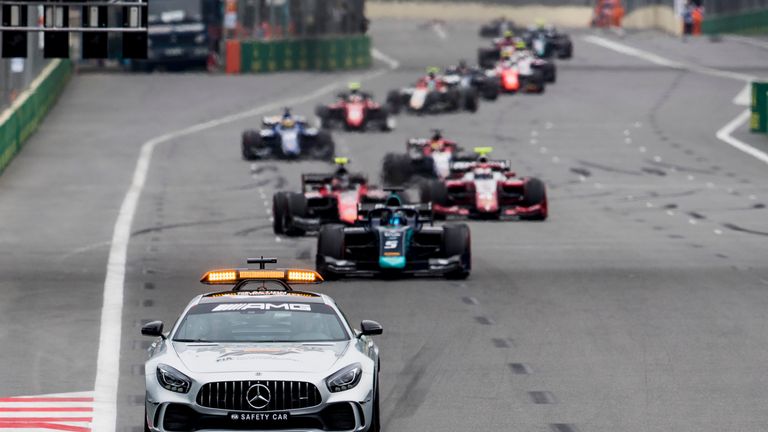 Formula 2 races at the Austrian and British GPs will start behind the Safety Car and have a rolling start.
The move comes as stalls have blighted the 2018 season, with drivers describing getting off the grid as a lottery.
Following a number of stalls at the French GP last week, modifications were implemented to the starting procedure at the Red Bull Ring with an extra session to for practice starts held on Friday morning.
However, series organisers say that as it is difficult to implement changes in the middle of the triple-header of races, "the FIA has decided that for safety reasons the Formula 2 formation laps of Rounds 6 and 7 at Spielberg and Silverstone will start behind the Safety Car and follow procedures set out in Article 39.16 of the F2 sporting regulations.
"The Safety car will lead the grid at the start of the formation lap, complete one lap and return to the pit lane. During the lap the teams will be informed that there will be a rolling start and "RS" will be displayed on the track light panels. At this point, the lights on the Safety Car will be extinguished and the leader may dictate the pace. The race will start when the first car crosses the line."
Formula 2 will not be at Hockenheim for the German GP, with the round after Silverstone to be held in Hungary at the end of July when F2 CEO Bruno Michel hopes to have a fix in place.
"This is not an ideal situation, but the drivers' safety is a top priority," Michel said.
"As we do not have the time to test and properly validate a permanent fix to the starting issues what the FIA has decided is definitely the safest decision.
"This will also give us enough time to work on a solution to the problem and return to a safe and normal situation for Budapest and the remaining of the season."
Britain's George Russell will start Saturday's Feature Race in Austria from pole, with compatriot and title rival Lando Norris starting second.