The Portland Trail Blazers' defense must match the variety of their offense if they are to turn around their series against the Golden State Warriors, writes Sky Sports NBA analyst Mark Deeks..
Live NBA: Golden State @ Portland
Maths and sport have become intertwined in a way that will never now be undone. What was largely catalysed by the so-called "sabermetrics" revolution in Major League Baseball now permeates all team sports, basketball included. Better video capture technology means a lot more types and points of data are available, resulting in far deeper and wider analysis, themselves resulting in new ways to analyse the game.
In basketball, this mathematical (or analytics) movement has changed some of the long-established precepts of how the game is played. To oversimplify the NBA's offensive paradigm shift as much as possible - three-point shots are held in much higher regard than they used to be (they are after all worth an extra point without being all that much harder than a two-point jump shot), post-up play is held in a much lower regard (it slows the game down thus making it easier for opponents to defend shooters, and results in far fewer free throw attempts than was often assumed), and the key to offensive efficiency lies in taking the highest percentage looks when measured by points per possession rather than shooting percentages.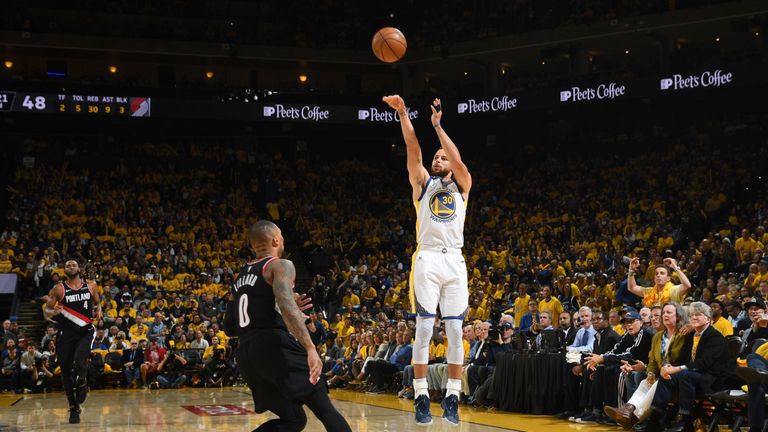 If for example a player makes his two-point jump shots at a 45 per cent rate, and three-point jump shots at a 35 per cent rate, it stands to reason that if he took 100 of each, he would score 90 points on the two-pointers and 105 on the three-pointers. Therefore, even though the two-pointer is more "efficient" by traditional means (in that he makes more of them), the three-pointer is more efficient as a mathematical exercise because it yields more points. Scoring is, after all, the point of the game.
Of course, the closer-in two-point shot is made more efficiently than that. If a player shoots 55 per cent right at the rim, for example, then they should expect 110 points over 100 possessions doing just that. This is also more efficient than the two-point jump shot, and thus something to be prioritised over it.
And notwithstanding complicating factors such as offensive rebounding expectancy, free throw rates, etc., this is the new way now - out are the mid-range jump shots and post-up hook shots, for it is all three-pointers and lay-ups.
The Portland Trail Blazers, however, have risen to title contention and the Western Conference Finals not by entirely adhering to this new orthodoxy, but by blending it with the old.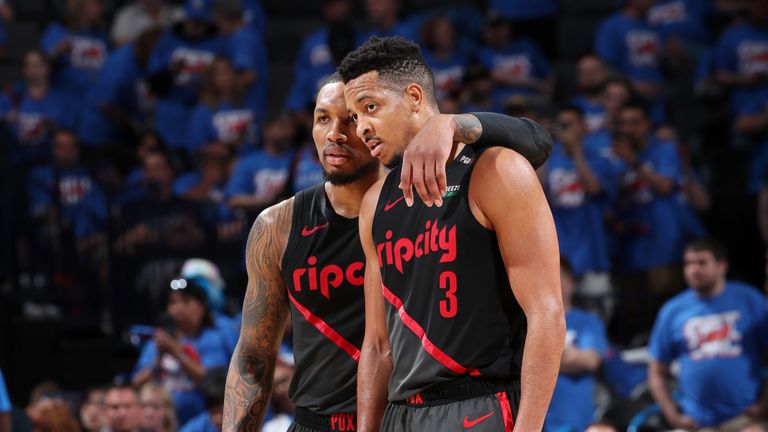 Having spent almost half a billion dollars on assembling/re-signing their team in the summer of 2016 alone, the Blazers have been burdened with an extremely sticky salary picture, one only slightly relieved when the Brooklyn Nets generously took Allen Crabbe off their hands two summers ago.
The downside of this has been a lack of opportunities to improve their team externally. The upside of it, though, is that by being somewhat forced to keep the same team together, the core they paid for in 2016 has now had three years minimum to gel together.
In the specific case of the starting backcourt of Damian Lillard and CJ McCollum, it has actually been six years. Six years together, four years as a starting backcourt, thousands of points, tens of thousands of possessions next to each other. But it is only really Lillard who does the modern things.
Long after Boston Celtics forward Antoine Walker tried to make it a thing, it was Golden State Warriors point guard Stephen Curry who made shooting the previously heinous extremely-long-three into a regular occurrence. And among the copycats, Lillard is perhaps the best. His 50-point performance in a close-out victory over the Oklahoma City Thunder saw him hit seven three-pointers, with the series-winning one over Paul George being a particularly fine example of the genre.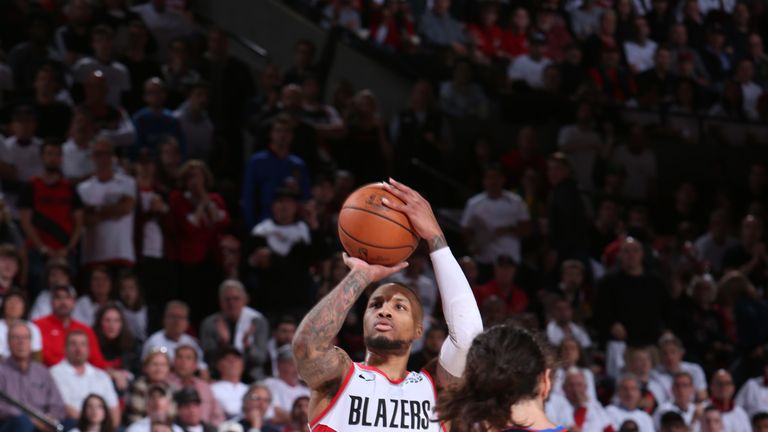 As tough as that shot was - George's post-game comment about the shot being 'bad' was, as bitter as it sounded, not entirely unjust - Lillard has been able to normalise attempts of that nature in his game by hitting so many of them. Of the 1,805 field goals he has attempted this season (regular season and playoffs combined), 768 have been from three-point range, almost all of which have been from above the break, and many of which have been from a step or two behind the line. On those attempts, he has shot 37.0 per cent. You can expect 111 points per 100 possessions accordingly.
Of the 1,037 remaining two-point shots, 531 have been taken right at the rim. On those looks - and remember, he is not dunking much - Lillard shoots 56.7 per cent on them. On everything in between, the demonised 'mid-range', he has shot 212-of-506 for 41.9 per cent.
Following the simple logic outlined above to its conclusion shows that Lillard is doing the 'right' things; notwithstanding how relatively good he is at the pull-up two-point shot, he instead takes many of those looks from three, and is all the better for it.
McCollum, however, does not. In contrast to Lillard, he has taken only 275 shots at the rim (shooting 57.1 per cent) and 536 from three-point range (37.9 per cent), versus a substantial 712 from the mid-range areas. Almost all of these are of his own doing; McCollum's ability to create a slither of space through tight dribbles, step-backs, feints and the like makes him able to get away much cleaner looks off the dribble than most of his peers. He is particularly good at the pull-up two-point jump shot, hitting an even 50.0 per cent on all attempts between 10 feet and the three-point line (234-468). And far from being wrong, this injects balance into the attack.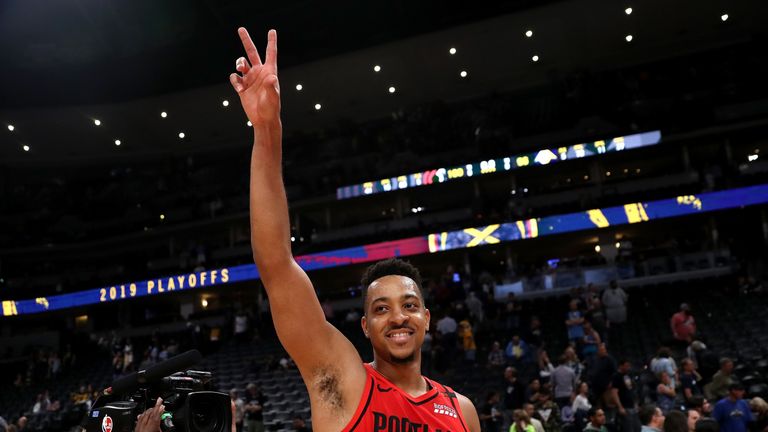 Further balance is offered up front. Although he is now out with long-term injury, starting center Jusuf Nurkic is the small-ball punisher, a classic posting and rolling center eschewing much of the new-fangled perimeter play permissible for centers, instead using his size to be just as big of a defensive mouthful around the basket as the opposing face-up five man was on the perimeter for him.
In his absence, mid-season pick-up Enes Kanter has done much the same, rather seamlessly integrating into the pick-and-roll offense and having a softer touch than Nurkic, making him more efficient in both categories.
As much as the threes-and-layups offense is a logical by-product of efficiency, it can suffer from predictability. Take the Houston Rockets, for example; the truest disciples of the philosophy, whose team three-point rate of 51.8 per cent this season was the largest in NBA history by some way. The only team even close to it historically was themselves, last season.
Houston relied largely on the individual brilliance of James Harden to turn their season around from a slow start and get to a Conference semi-finals rematch against the Warriors. With the only other shot-creators on the team being Chris Paul and Eric Gordon (and, if you're feeling generous, Austin Rivers), Harden had a huge amount to do; considering how poor Gordon was through the first two-thirds of the year, Harden's workload was even greater.
But doing so in this way wore him out. In the final few minutes of their must-win season-ending elimination game, down on both points and time, a fatigued Harden was walking the ball up court at a time when greater urgency was needed. He was spent. Yet due to the self-limiting style of attack, no one else could do it for him. They had become overly reliant. And thus, they lost. They didn't have another approach
In spreading their options around, Portland always do.
By diversifying the attack, Portland expand the court and test a defense. Defenses are increasingly focused on and trained at stopping the very types of look that the orthodox mandates, meaning that those who can do more than that have an advantage in going against the relatively unprepared opponents normally taught to allow stuff like McCollum's pull-up twos. You cannot win with just pull-up two pointers, yet as Houston showed, you also will not win with just pull-up threes and drives to the rim. A little of everything takes full advantage of the otherwise-cramped 47-by-25 feet that makes up the offensive half of a basketball court.
However, as is so often the case, Portland's strength is right next to their Achilles heel. Namely, in Game 1 of the Western Conference Finals, they showed an inability to defend Curry's Lillard-esque bombs.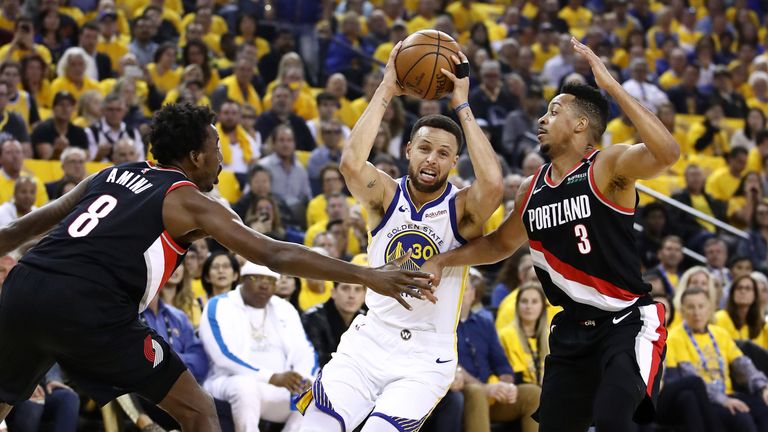 While it also means having an excellent offensive presence, having Kanter on the court means always having an exploitable defensive one. It is not for the lack of trying, yet Kanter's slow feet and lack of length and shot-blocking ability make it difficult to put him anywhere on the court.
You can start him off by the basket, but if his man goes to set a screen, what does he do? If he goes with him, the ball handler will just attack him, and he is too slow to do anything meaningful about it. If not, if he stays back in what is often called a "drop" defense, you are choosing to give up a two-versus-one situation on the perimeter.
For whatever reason, whenever Curry called for Kanter's man to set a screen, the Blazers left Kanter back in a drop defense. They had played the drop defense much of the season with Nurkic - who has similar issues on the perimeter yet who can at least protect the paint - but an emboldened Curry playing without Kevin Durant just kept raising up and shooting in the availed space. Casting up 15 three-pointers and hitting nine of them, Curry was back to his old self; he took what the defense gave him, and the defense gave him the thing he is best at.
It was not just with Kanter, either. The Blazers also did this with his backup Zach Collins, a man whose extra size, length and speed make him theoretically more capable of stepping up to the perimeter. The two platooned for every single second of the 48 minutes available at the center spot, and it thus follows that the drop-defense was a strategic choice. Contrary to assumption, this Golden State team really does struggle to score outside of the big three of Curry, Durant and Klay Thompson, and especially without Durant, yet they were bailed out of this shortcoming by having their best shooter consistently being allowed to take the shots he wants.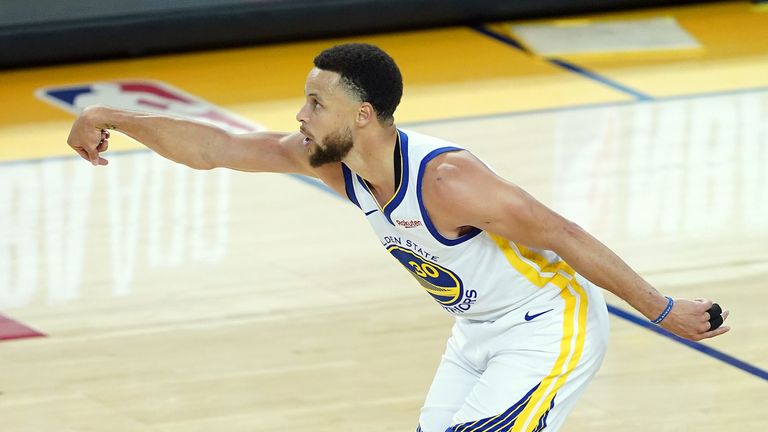 Portland need only look at themselves to see the value in a diversified offensive portfolio, which makes it so striking that they could not control the relatively limited package of options of their opponent when going the other way. Curry as an individual is incredibly diverse, combining anywhere-in-the-frontcourt range with an ever-present sneakiness to the rim, and flanking his pull-up shooting with endless off-ball movement. Thompson is the ultimate no-dribble gunner who needs only a slither of space to blow the court open with a catch-and-shoot threes. But without Durant available, they really do not have many other options offensively beyond that.
The Blazers' defensive personnel is flawed, admittedly. Kanter by his very nature is prone to this, and aside from potentially using Al-Farouq Aminu as a small-ball center option, there are no good candidates for stepping up to check Curry.
The Warriors, though, have little to offer beyond that without Durant. There are no McCollum-esque mid-range merchants, no post option while DeMarcus Cousins remains injured.
So why did Portland choose to keep giving them what they want?
Watch Warriors @ Blazers Game 3 live on Sky Sports Arena in the early hours of Sunday morning (2am).
Want to watch the NBA but don't have Sky Sports? Get the Sky Sports Action and Arena pack, click here.