DeMar DeRozan suffered a loss on his return to Toronto with the San Antonio Spurs but still wowed the Raptors fans with an acrobatic 360 lay-up.
DeRozan became an All-Star and beloved fan favourite during his nine-year tenure with the Raptors before he was traded to San Antonio in the deal that bought Kawhi Leonard to the Raptors last summer.
Leonard got the better of their duel on Friday night, picking DeRozan's pocket to steal possession in the final minute of the game and hammering home what proved to be a decisive breakaway dunk as the Raptors sealed a 120-117 win.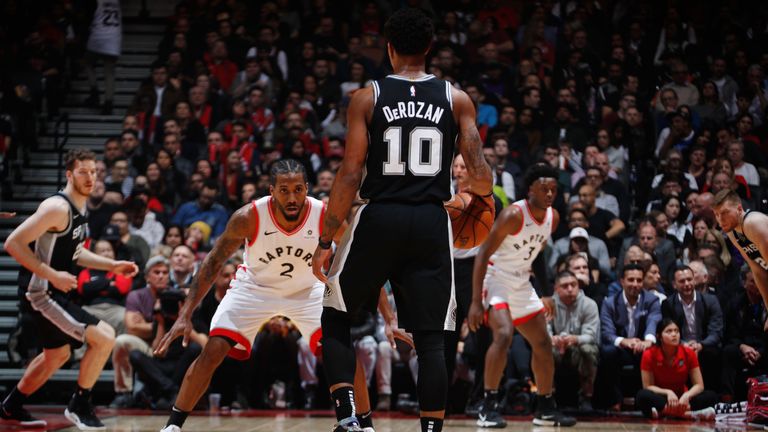 But DeRozan, who scored a team-high 23 points for the Spurs and received a video tribute and subsequent warm ovation during a first-quarter timeout, bought the fans at the Scotiabank Arena to their feet with 9:09 left in the second quarter.
Friday night's scores
San Antonio Spurs 117-120 Toronto Raptors
Utah Jazz 147-148 Oklahoma City Thunder (2OT)
New Orleans Pelicans 111-126 Indiana Pacers
Denver Nuggets 114-104 Dallas Mavericks
Los Angeles Clippers 112-106 Memphis Grizzlies
Detroit Pistons 125-122 Atlanta Hawks
Minnesota Timberwolves 115-104 New York Knicks
Chicago Bulls 110-109 Orlando Magic
Washington Wizards 110-123 Charlotte Hornets
LaMarcus Aldridge held possession in the low post and found DeRozan at the top of the key. The former Raptor drove the lane, executing a beautiful aerial spin to evade his ex-team-mate Serge Ibaka before laying the ball home off the glass.
Click the video at the top of the page to watch DeRozan's spectacular 360 lay-up.
Want to watch the NBA but don't have Sky Sports? Get the Sky Sports Action and Arena pack, click here.