James Harden recorded a double-double, with his final assist resulting in a critical basket that helped cement the Houston Rockets' 108-102 win over the visiting Phoenix Suns on Friday night
Friday night's scores
Phoenix Suns 102-108 Houston Rockets
Milwaukee Bucks 113-98 Miami Heat
Los Angeles Lakers 97-111 Detroit Pistons
Sacramento Kings 114-123 Philadelphia 76ers
Portland Trail Blazers 122-110 New Orleans Pelicans
Chicago Bulls 121-128 Los Angeles Clippers
Charlotte Hornets 116-110 Washington Wizards
New York Knicks 83-109 San Antonio Spurs
Phoenix Suns 102-108 Houston Rockets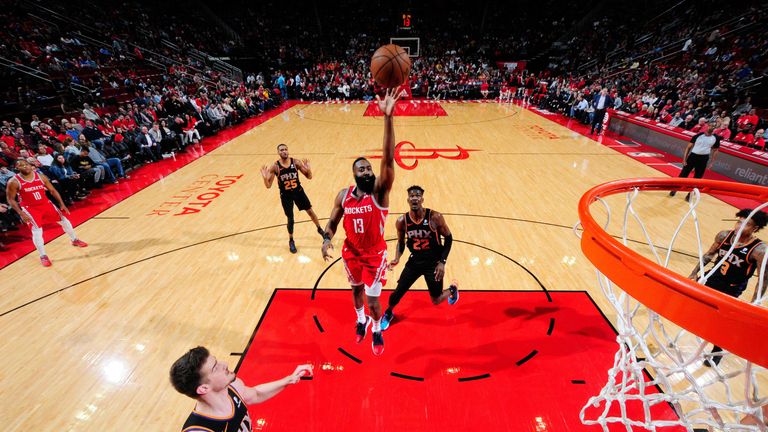 James Harden recorded a double-double, with his final assist resulting in a critical basket that helped cement the Houston Rockets' 108-102 win over the visiting Phoenix Suns on Friday night.
Harden posted 41 points and 11 assists and finished a rebound shy of a triple-double. He added six steals, but his final assist, a pass that resulted in a Danuel House Jr three-pointer with just under a minute left, provided Houston with a 105-100 lead and sealed the Rockets' 10th win in 11 games.
House, seeing his first action since January 14 after a contract dispute punched his ticket back to the G-League, scored 18 points and finished 4-of-8 from behind the arc.
House challenged a lay-up by the Suns' Josh Jackson inside the final 30 seconds. He was whistled for the foul but Jackson missed both free throws with the Suns down three.
Eric Gordon followed a 1-for-7 start on shooting three-pointers to hit consecutive treys through the fourth quarter on his way to 19 points.
Clint Capela added 14 points and 11 rebounds in what was a spirited battle with Suns rookie center Deandre Ayton (17 points, 14 boards).
Devin Booker scored 29 points for the Suns, including 14 in the third quarter. Kelly Oubre Jr tallied 17 of his 22 points in the first half. Jackson added 13 points but shot 5-of-15 overall.
Milwaukee Bucks 113-98 Miami Heat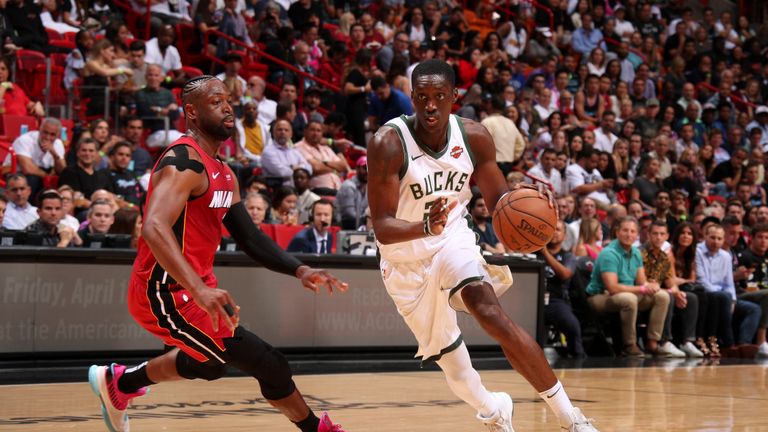 The Milwaukee Bucks overcame a 23-point first-quarter deficit to rally past the host Miami Heat 113-98.
Giannis Antetokounmpo tallied 33 points, 16 rebounds and nine assists, giving him his 49th double-double of the season. Khris Middleton and Eric Bledsoe had 21 and 17 points, respectively, for the Bucks, who top the NBA with 52 wins, including 25 on the road.
The Bucks outscored the Heat 71-36 in the second half to seize control of the game, and Milwaukee won their league-best 16th game when trailing by more than 10 points in a game this season.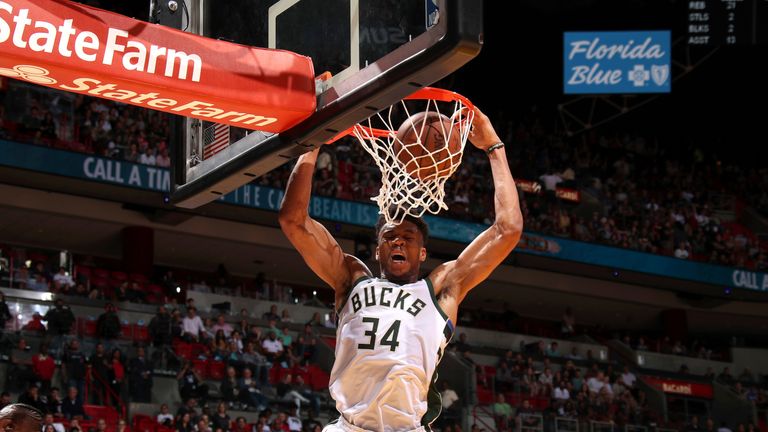 Justise Winslow scored 20 - all in the first half - and Hassan Whiteside had 14. Josh Richardson scored 11, while Dwyane Wade, Bam Adebayo and Dion Waiters each had 10 for the Heat.
The loss left Miami just one game ahead of the Orlando Magic and Charlotte Hornets for the eighth and final playoff spot in the Eastern Conference.
Miami led 62-42 at half-time - the Bucks' largest deficit at the break this season - but Middleton and Ersan Ilyasova stepped up their game as the Bucks outscored Miami 37-18 in the third quarter to trim the deficit to 80-79.
The Bucks gained control in the fourth quarter as the Heat struggled to find offense, outscoring Miami 34-18.
Los Angeles Lakers 97-111 Detroit Pistons
Langston Galloway scored 23 points off the bench, one shy of his season high, as the host Detroit Pistons downed the depleted Los Angeles Lakers 111-97.
The Pistons snapped a two-game losing streak, while the Lakers lost for the seventh time in eight games. The Lakers rested superstar forward LeBron James. Tyson Chandler (neck), Josh Hart (knee) and Lance Stephenson (toe) also sat out.
Reggie Jackson had 20 points, five rebounds and five assists, while Andre Drummond powered his way to 19 points and 23 rebounds for Detroit.
Blake Griffin added 15 points and nine assists, while Wayne Ellington scored 12 points.
JaVale McGee led the Lakers with 20 points, 13 rebounds and three blocks. Kentavious Caldwell-Pope had 17 points, Alex Caruso tied his career high with 16 points, and Rajon Rondo supplied 15 points, eight rebounds and seven assists.
The Pistons led 85-71 going into the final period before the Lakers answered with an 8-2 spurt. Ish Smith reestablished a double-digit advantage with a pull-up jumper.
Galloway hit a pair of treys 45 seconds apart with under four minutes to go, giving Detroit a 104-90 advantage. Los Angeles trailed by double digits the rest of the way.
Sacramento Kings 114-123 Philadelphia 76ers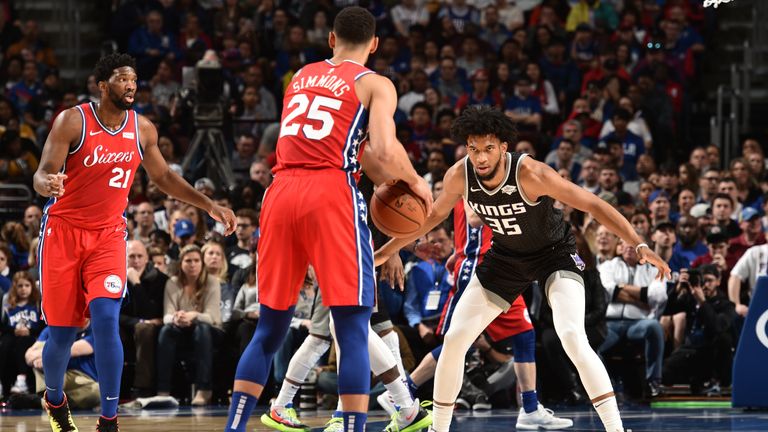 All five Philadelphia starters scored 18 or more points, propelling the 76ers to a 123-114 victory over the visiting Sacramento Kings.
Joel Embiid had 21 points and a game-high 17 rebounds, while team-mate Jimmy Butler collected seven assists to complement a game-high 22 points as the 76ers (44-25) moved back into a tie with idle Indiana (44-25) for the No 3 playoff position in the Eastern Conference.
The 76ers led by as many as 10 in the first quarter, 11 in the second and 13 in third, but couldn't put the visitors away until the final minute.
The Kings clawed within 116-112 on a three-pointer by Harrison Barnes with 3:38 remaining in the game, and hung within 119-114 after a dunk by Willie Cauley-Stein with 2:35 left.
But Sacramento never scored again, missing their last three shots and mixing in a turnover.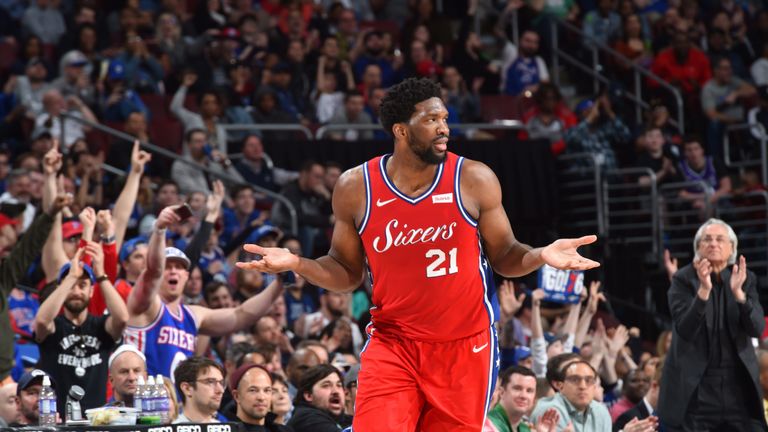 Meanwhile, Embiid capped his 21-point effort with a jumper and Butler put the finishing touches on his 22-point night with a jumper.
Starters Tobias Harris (19 points), JJ Redick (19) and Ben Simmons (18) also scored 18 or more points for the 76ers, who completed a perfect three-game homestand.
Barnes and De'Aaron Fox had 16 points apiece for the Kings while Marvin Bagley III chipped in with 15 points and Buddy Hield added had 14.
Portland Trail Blazers 122-110 New Orleans Pelicans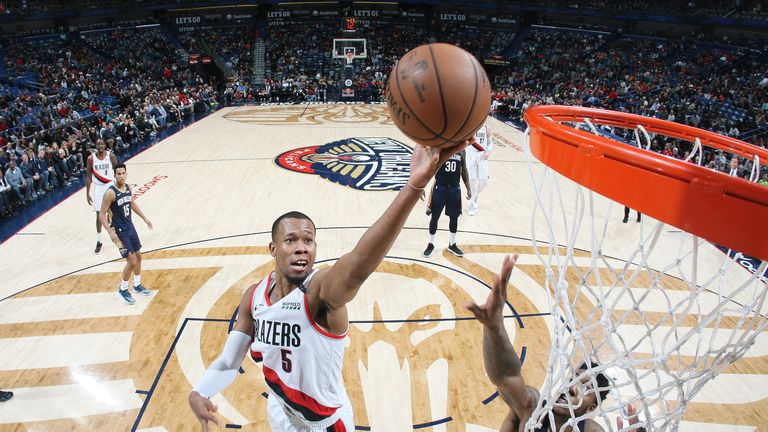 Damian Lillard and CJ McCollum combined for 47 points as the visiting Portland Trail Blazers held off the short-handed New Orleans Pelicans 122-110.
Lillard scored 24 points and passed current Spurs forward LaMarcus Aldridge for second place on Portland's all-time scoring list. Clyde Drexler is the Blazers' all-time leading scorer.
McCollum finished with 23 points, Enes Kanter and Rodney Hood added 17 points each, Zach Collins scored 12, and Jusuf Nurkic had 11 points and 12 rebounds as the Blazers improved to 8-3 since the All-Star Break.
New Orleans lost their fifth straight game despite outstanding performances from Elfrid Payton, who had his third consecutive triple-double with 14 points, 12 rebounds and a career-high 16 assists, and Julius Randle, who had a career-high 45 points and 11 rebounds.
Jahlil Okafor, starting in place of All-Star big man Anthony Davis rested on the first night of a back-to-back, had 10 points.
Portland led by as many as six points before settling for an 87-82 lead at the end of the third quarter.
Seth Curry's three-pointer started the fourth-quarter scoring and pushed the lead to eight before New Orleans pulled within two on Frank Jackson's dunk with 9:02 left in the game.
The Blazers twice increased the lead to six before Payton's three-pointer pulled the Pelicans within 102-99 midway through the period.
But McCollum, Lillard and Hood each made a three-pointer as Portland took a 115-103 lead with 3:51 left.
Chicago Bulls 121-128 Los Angeles Clippers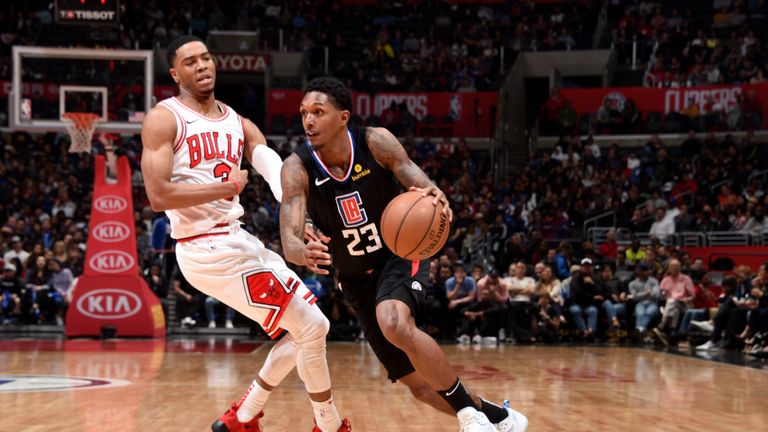 Danilo Gallinari scored 27 points as the Los Angeles Clippers continued to better their playoff chances with a 128-121 win over the visiting Chicago Bulls.
Montrezl Harrell scored 26 points off the bench and Lou Williams had 21 in a reserve role for the Clippers, who remain tied for eighth in the Western Conference with the Utah Jazz.
Los Angeles also moved six games ahead of the ninth-place Sacramento Kings for the final playoff spot.
Shai Gilgeous-Alexander had 17 points, seven rebounds and seven assists, and fellow point guard Patrick Beverley finished with 13 points, eight rebounds and seven assists for Los Angeles, who have won six of seven.
Zach LaVine returned after missing the past two games with a knee injury and finished with 31 points, seven rebounds and seven assists for the Bulls, who have lost four in a row and six of seven.
Robin Lopez added 22 points and eight rebounds, as all five starters scored in double figures for Chicago.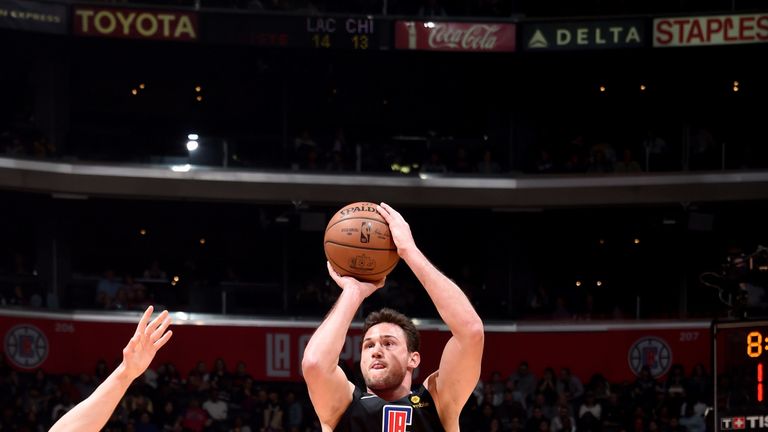 The Clippers trailed by six at the half, but began the third quarter with a 13-2 run to go ahead 70-65. Los Angeles took its first double-digit lead at 81-71 on a three-point play by Gallinari with 3:55 left in the quarter.
Clippers coach Doc Rivers and Chicago coach Jim Boylen were each ejected after exchanging words near the scorer's table with 1:14 left in the third quarter and Los Angeles leading by 15.
The Clippers took a 102-84 lead into the fourth quarter and the Bulls didn't get within single digits until the final minute of the game.
Charlotte Hornets 116-110 Washington Wizards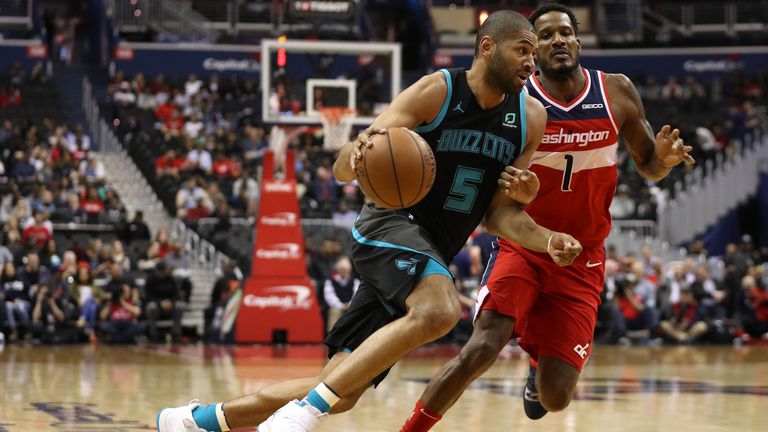 Kemba Walker scored 28 points and Jeremy Lamb added 18 as the visiting Charlotte Hornets defeated the Washington Wizards 116-110.
Nicolas Batum and Tony Parker had 16 points each for Charlotte in a game between two of the teams chasing the Miami Heat for the final playoff berth in the Eastern Conference.
Bradley Beal scored 23 points by half-time and finished with 40 points on 15-of-29 shooting. Jabari Parker had 17 points and 11 rebounds for Washington and Jeff Green scored 20 points.
Charlotte led 66-53 at intermission, and Bismack Biyombo's basket made it 79-60 early in the third quarter.
The Hornets twice led by 21 points in the quarter and were ahead 95-78 to start the fourth, but Parker's floater cut Charlotte's lead to 107-97 with 5:26 remaining.
Beal's two free throws cut the deficit to eight, and Troy Brown Jr's lay-up made it 107-101, but Batum hit a three-pointer, and Lamb followed with another.
The Wizards closed again, and Green's two free throws made it 113-108 with 1:56 to play. Lamb picked up a three-point play and the lead was back to eight, beyond Washington's reach.
New York Knicks 83-109 San Antonio Spurs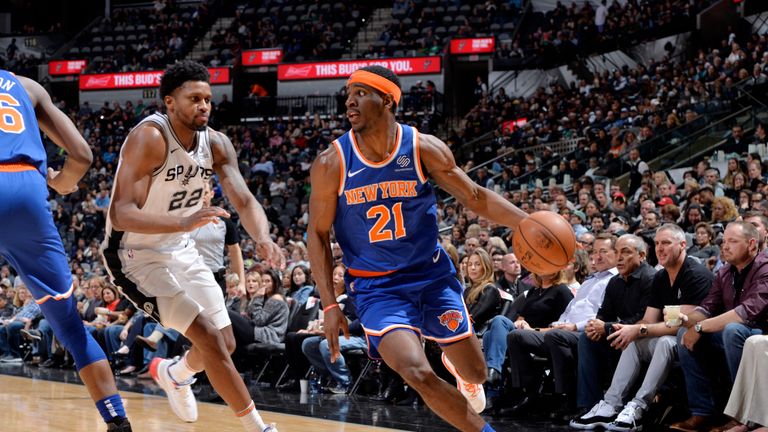 LaMarcus Aldridge scored 18 points and grabbed 11 rebounds in three quarters of work to lead a balanced San Antonio scoring attack as the Spurs throttled the visiting New York Knicks 109-83 to capture their seventh straight victory.
The Spurs (40-29) have used their winning streak to fly up the Western Conference standings and to move 11 games above .500, their best mark of the season.
San Antonio posted their ninth consecutive victory at home and dominated hapless New York, who have the NBA's worst record at 13-56.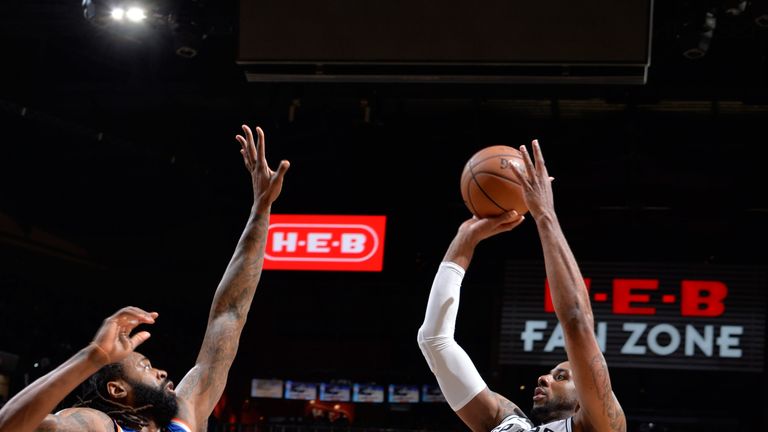 DeMar DeRozan and Bryn Forbes added 13 points each for the Spurs, with Jakob Poeltl, Marco Belinelli and Rudy Gay hitting for 12 points apiece for San Antonio.
Damyean Dotson led the Knicks with 21 points, while Kadeem Allen added 16, Emmanuel Mudiay hit for 14 points, and DeAndre Jordan scored 11 points and pulled down 13 rebounds for New York in the loss.
San Antonio led by just nine points with 2:55 to play in the third quarter, but reeled off 12 of the game's next 14 points - including the first six points of the fourth quarter - to go up 88-69 and put the Knicks away.
Want to watch the NBA but don't have Sky Sports? Get the Sky Sports Action and Arena pack, click here.