Kyrie Irving believes the Boston Celtics' Game 3 104-96 victory over the Indiana Pacers shows the team 'have come a long way'.
Friday night's playoff scores
Boston Celtics 104-96 Indiana Pacers - Celtics lead 3-0
Toronto Raptors 98-93 Orlando Magic - Raptors lead 2-1
Portland Trail Blazers 108-120 Oklahoma City Thunder - Blazers lead 2-1
The Celtics experienced a turbulent campaign on and off the court thanks to injuries, inconsistent play and concerns over Irving's future with the team. They eventually finished the regular season with a 49-33 record, earning them the No 4 seed in the East.
However, their Game 3 victory in Indianapolis earned them a 3-0 lead in the first-round playoff series.
Speaking after the win, Irving explained the pressure of postseason basketball had enabled the Celtics to find their identity.
"We've come a long way," said Irving. "We're all making sure we're giving each other confidence and doing the little things to ensure we win.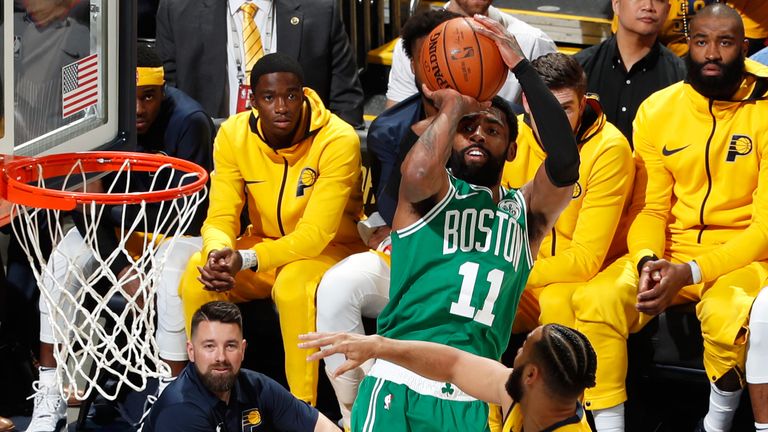 "When you have that type of camaraderie, executing is a lot easier. Now that the stakes are higher, we're settling into who we want to be. And that's just an overall great team with everyone ready to play. [A team where] it could be anyone's night. You've just got to be ready to support that."
Irving scored 19 points and handed out 10 assists as the Celtics extended their unbeaten start to the playoffs. He had a hand in 11 of Boston's final 16 points as the team withstood a late Pacers charge.
The Pacers trailed by a single point at 88-87 with 6:05 to play. That's when Irving took over. He had two hoops, assisted on three and two-point baskets by Al Horford and made two free throws down the stretch, helping the Celtics pull away.
Even Irving's only missed shot in the final six minutes turned into a positive, as Gordon Hayward tipped it in to increase the Boston lead to 100-92 with 1:34 to play.
Celtics coach Brad Stevens praised Irving's performance. He said: "What Kyrie did, some of the shots he hit… the driving lay-up was a good move but the floating shot he hit was just a joke. He's ridiculous!"
Irving himself said he exploited mis-matches and picked the right moments to assert himself.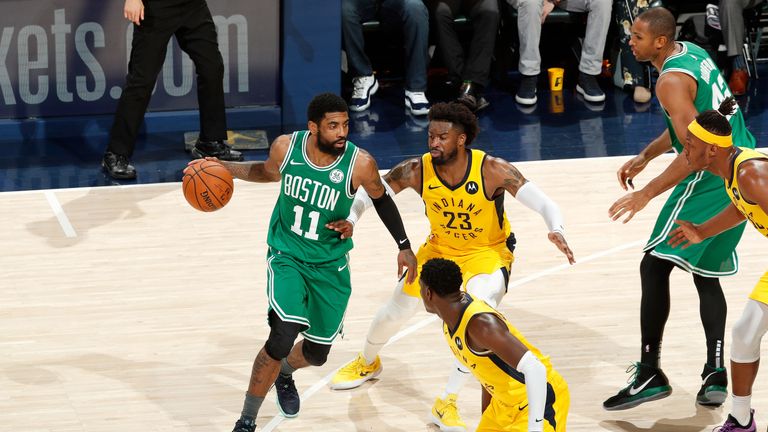 "It's my responsibility to see where I can be aggressive," he said. "If I see (Pacers forward Domantas) Sabonas on me, or any 'big', or anybody for that matter and I feel like I have an advantage, I should go and attack."
Second-year Celtics forward Jaylen Brown scored a team-high 23 points and made eight of his nine shots, hitting all but one of his five shots from three-point range.
"I just try to be locked in and aggressive when I'm out there," Brown said. "Things are going to change, line-ups are going to be switched around. I just try to come out and be aggressive. Tonight some shots happened to fall.
"In Game 4, we expect [Indiana] to take it to another level. We've got to come out and not take our foot off the gas. We've got to come out and play great basketball and try to close this thing out."
Game 4 takes place in Indianapolis on Sunday at 6pm (UK time) - watch live on Sky Sports Arena. Want to watch the NBA but don't have Sky Sports? Get the Sky Sports Action and Arena pack, click here.